Thanks. I don't feel very nervy. Non-threatening to those who catch me, maybe.

There is this condo construction in my neighborhood that I have been watching for a year. There's usually a security guard (maybe always), and the rental fence is always closed up at night. It looks like the building is now as tall as it will be, so I feel time is running out for the crane. All I really have to do to enjoy the view (with or without the crane-climb) is wander in late one afternoon in a reflective vest and hardhat, or brazenly open the fence some Sunday afternoon. But I haven't been able to nerve myself to do either. There's perhaps a good chance of getting caught, but I doubt that this would be a big deal. (Most security guards I encounter politely apologize for not being able to let me look around.) A recent evening, winds had knocked down some fencing, and several people were repairing it. I thought: the perfect time to climb over the fence on the opposite side of the building! But I didn't go; I talked myself out of it. I decided that I'm overvaluing the target because I see it every day. But perhaps I'm just not that much of a ninja.


[last edit 11/13/2014 9:40 PM by billgeorge - edited 1 times]

Not much going in North Vancouver by way of hotel pools, but I did do a few lengths here: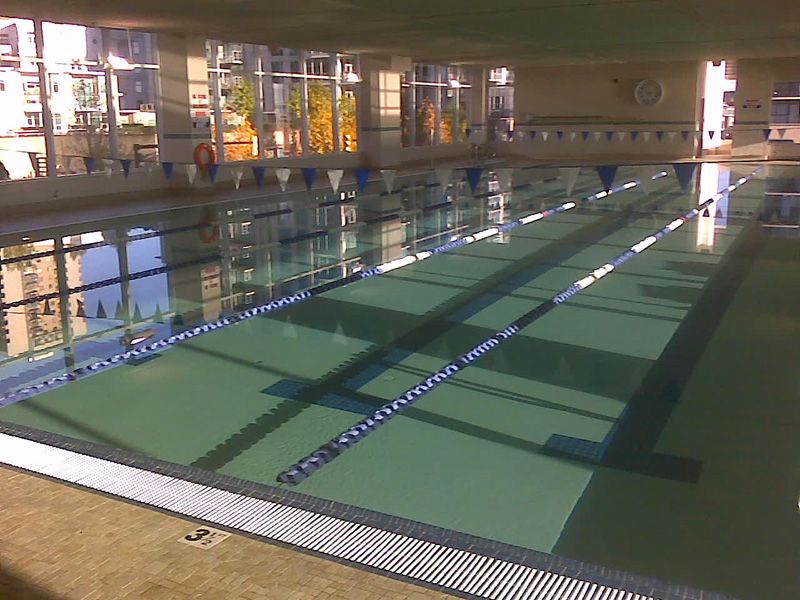 I got into the card-locked change-room by pressing the handicap access button. First time that's ever worked!

I rounded out my afternoon with a stroll around Ln's Gt Hospital. There are some nice subbasements, giving access in one spot to the newest $62-million building, which is nearing completion.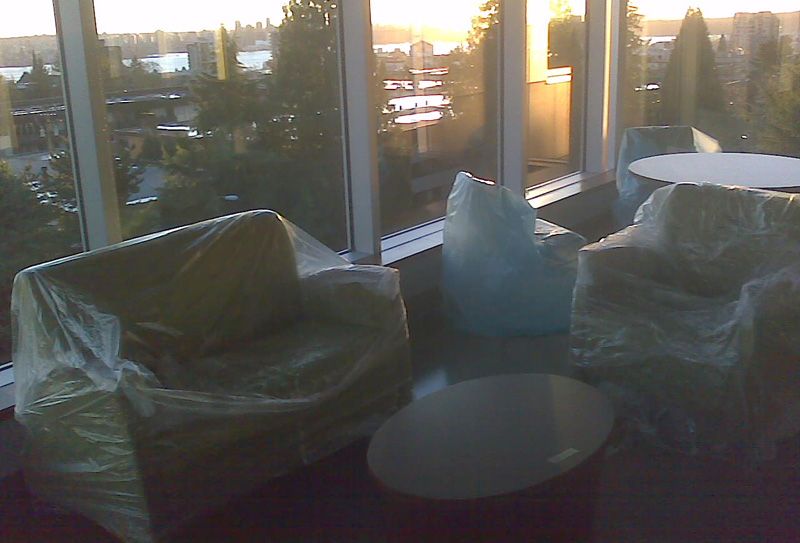 Public-area furniture still fresh in its plastic.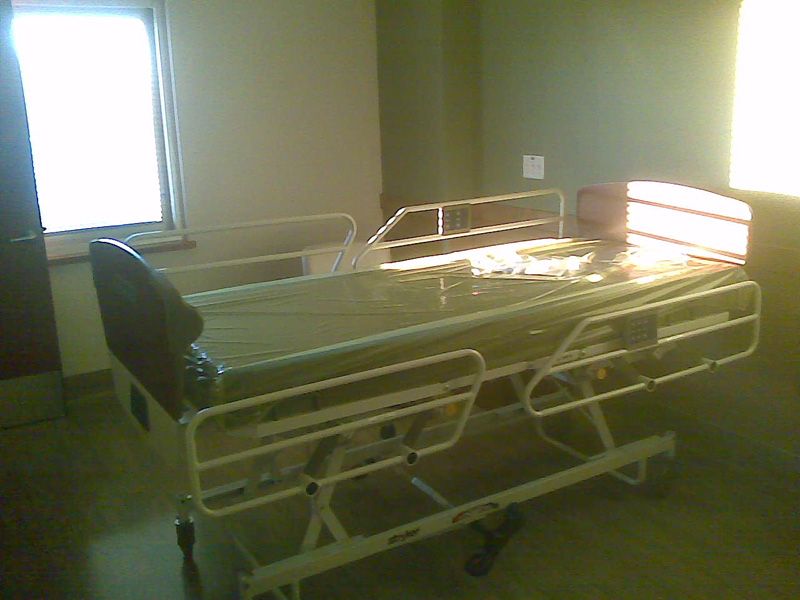 Hospital beds too.



While still in the parking garage and looking for a stairwell up, I ignored a couple of women, hoping they'd ignore me. But then someone else called out to them, "Can I help you?" They were looking for their dog, so they claimed. They were informed that this parking lot wasn't open yet. I just kept walking, without looking back. Their presence at that exact moment probably saved me from the dreaded "Can I help you."

I finally resigned myself to using the elevator. I got off on the fourth floor as two construction or hospital personnel got on. They didn't even glance at me! I had the place mostly to myself. With my sights set on the roof, I tried another couple of stairwell doors, but they were card-locked. Finally in a third stairwell I found a twenty-foot ladder leading up to a roof-hatch. I climbed it, shakily opened the hatch, and peered out onto the roof. Climbing up over the lip of the hatch was going to be hard, but I knew the hardest part would be getting back onto the ladder from the roof. I talked myself into doing it.

Happily, there was on the roof an open door leading into one of the locked stairwells, which I was able to take down.

Some views from the roof: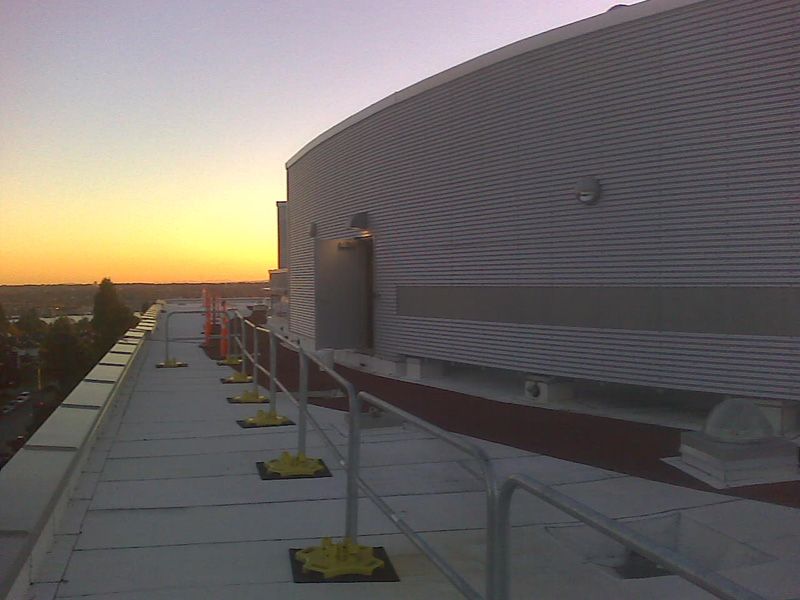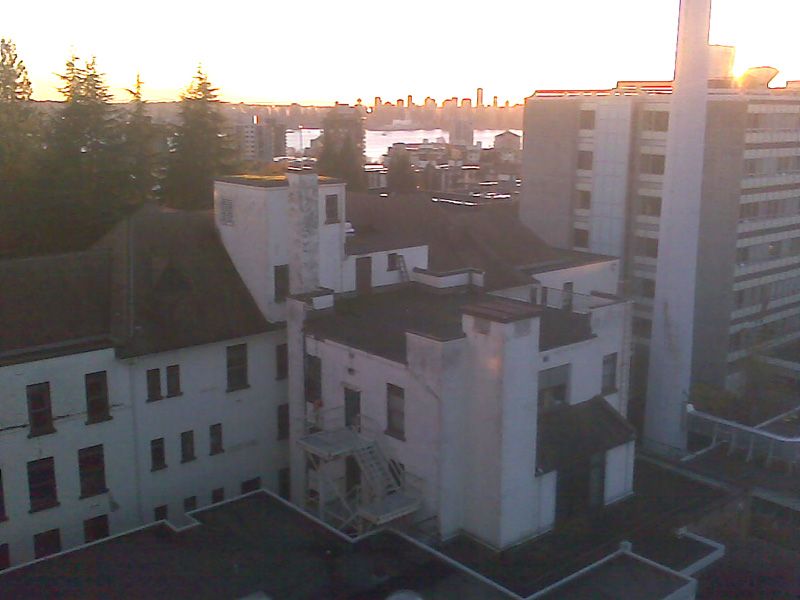 [last edit 11/16/2014 12:37 AM by billgeorge - edited 1 times]
I just stumbled across this thread and enjoyed reading the whole thing. This is great stuff. I used to spontaneously get into a lot more construction sites and active buildings when I lived where there was less abandonment (Bellingham, WA, sort of near you, actually). I've been neglecting to keep my eyes open to opportunities for that sort of thing since moving to Syracuse, where there's an overwhelming amount of abandoned buildings.

After reading this and getting excited about your adventures (I particularly like the condo demo and hotel pool posts), I feel like I should spice up my routine a little. I should try less time looking up tax records and property auctions and more time using my brain and getting creative. I'm sure my lungs would appreciate the occasional break from mold and asbestos, anyway.

Thanks for the posts, I'll look forward to reading more.



Thanks, ripcity, and I look forward to seeing your infiltrations of some active buildings around Syracuse!



Before the rainy season set in here in the Big Drizzle, I made a point of checking out some drains.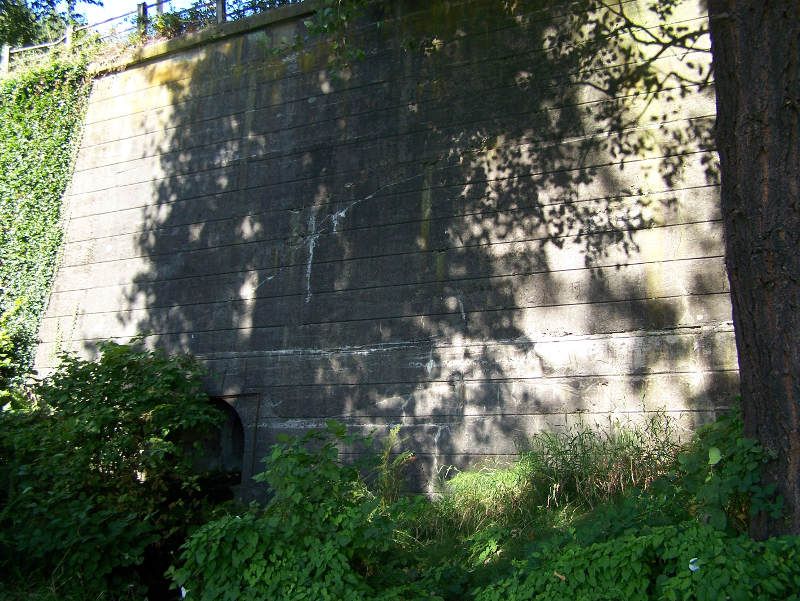 I call this one MacGregor's Folly: "MacGregor" after the cute little planned community in South Burnaby where it is located ...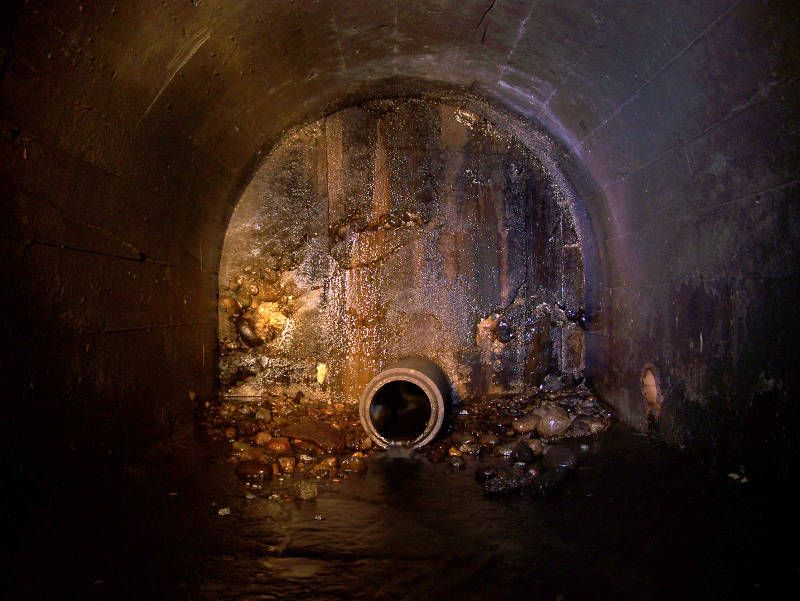 and "Folly" because it only runs the width of Marine Drive before it ends in this wall.

I didn't realize this at first. My flashlights are so weak that I couldn't make out what was ahead of me. The water dripping down the wall seemed to shimmer like a giant spiderweb, beyond which I caught glimpses of what appeared to be maybe plants in a ditch ... This was my first drain, and it was dark and damp and spooky in there, and, though the explore only lasted about five minutes, kind of exciting.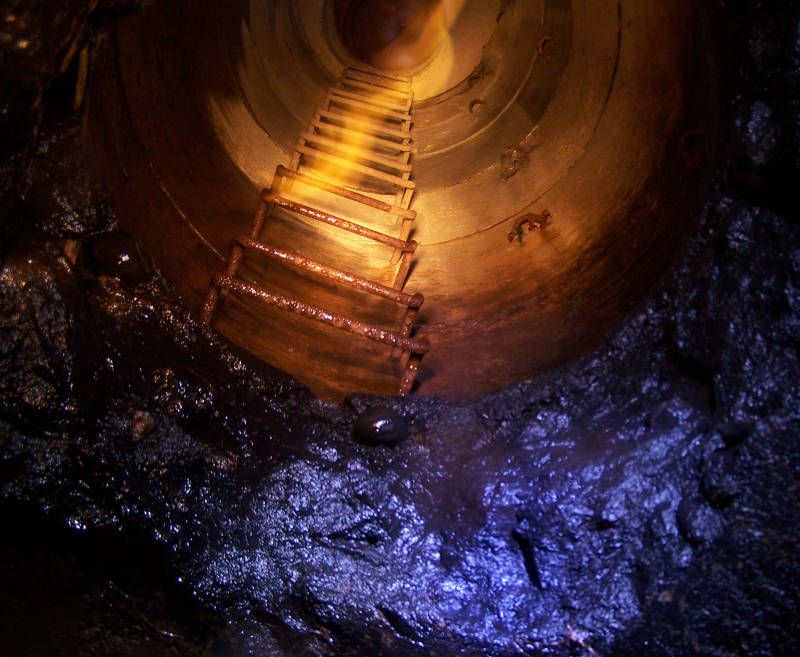 These stepirons, which I couldn't quite lift myself onto, appear to lead to the sidewalk on Marine Drive. No reason to climb them really, anyway.

My next drain I will call Crüe Tube.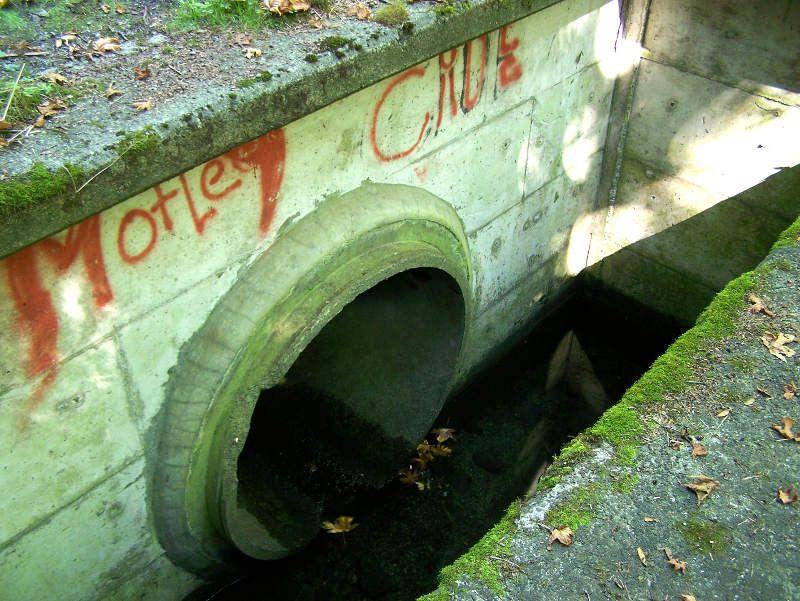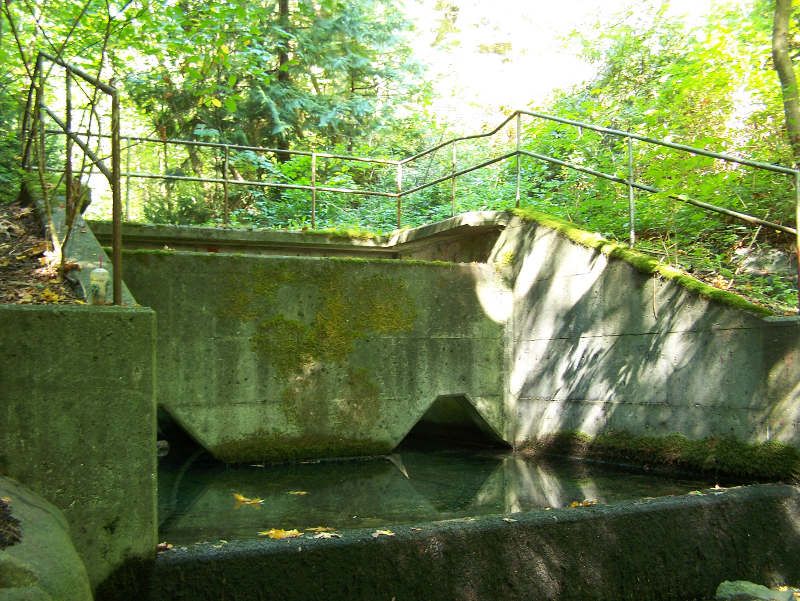 This outfall lies near the bottom of a ravine path on the south slope, adjacent to an open stream in a manmade bed. I had to wade through the basin in swim shorts and sandals, ducking under that concrete barrier.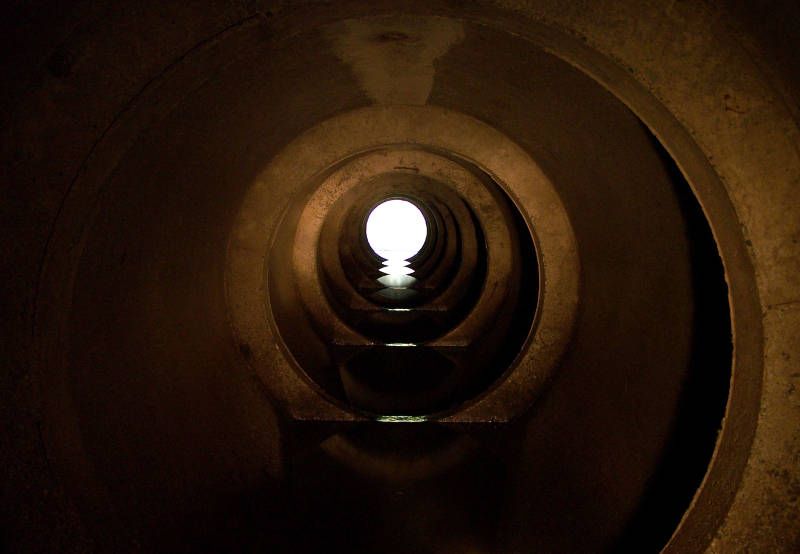 Crüe Tube is a round segmented drain that appears to be quite new. It is remarkably clean and unslimy. Even in rainy weather, it never seems to have more than a trickle of water coming out of it. And it has great acoustics. I sang a few bars of some song, and the reverb, especially on certain notes, was tremendous.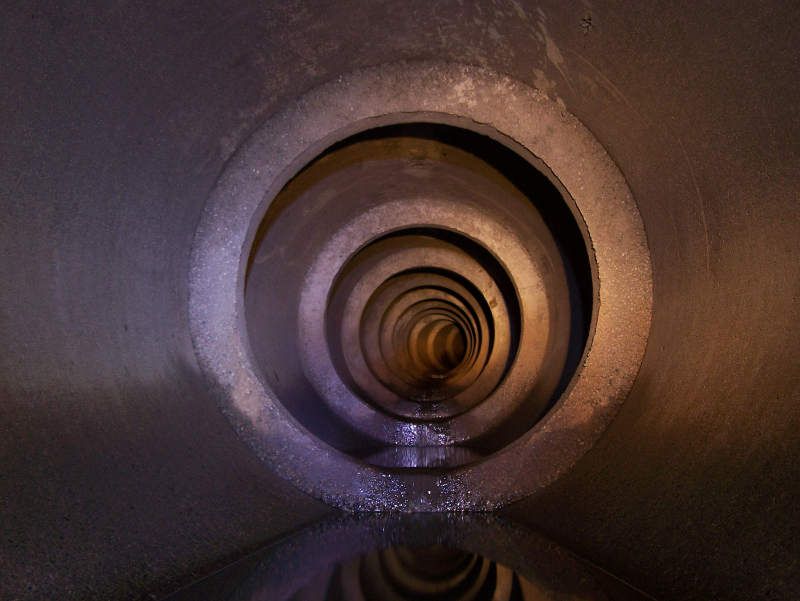 The stream which it appears to run alongside of extends about 400 meters down the slope, but I was never able to progress very far in Crüe Tube. It's a backbreaker. (The first time I visited I was also paranoid about oxygen deprivation.) There are stepirons up to manholes at intervals, but they are bolted down. Back topside, I could not determine where exactly the manhole covers were: they weren't in the path where you'd expect them. (But there are some covers in the path higher up the hill.) Alas, I'll probably never explore to the top of this drain.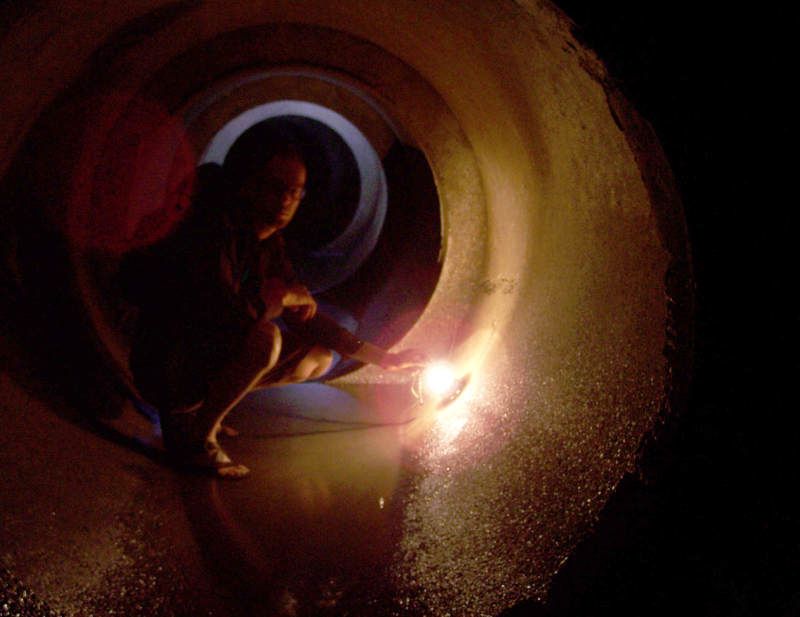 I also spent some time investigating Still Creek. Here is your intrepid adventurer more or less directly underneath 29th Avenue Skytrain Station, I think:




If any beginner drainers are looking for a nice entry-level drain, you can't do any better than the section of Still Creek that runs under 22nd Avenue, by Renfrew Community Centre. It's extremely easy to access, you can move through it upright, and it's just long enough to be dark and exciting. Call it a super-culvert.

I upgraded my flashlight, and elsewhere, I won't say where, I found this place:




It's the best thing I've found in a drain. Not just because of the memorial, or the canning jar of goodies (including a map! which I photographed), but because it's large, light, and airy, due to the overhead grate, and has a dry barrier you can sit on, if you don't mind some grit falling on you from passing cars. It feels both cozy and exotic.

All in all, my first foray into draining was pretty rewarding. But I still prefer a good hotel pool.





Hey, nice post! I've been wanting to go draining as well, but from what I am able to gather there aren't very many standing-room drains in the Seattle area, just sewers. I guess the call of the sewers hasn't been strong enough yet to inspire me to enter them.

That memorial in the drain is really neat! What a good find. It looks like a nice quiet spot for reflection.

Nice to see you posting again, thanks for sharing.




If you have a problem, if no one else can help, and if you can find him, maybe you can hire... Tunnelrunner33!
Posted by billgeorge
Before the rainy season set in here in the Big Drizzle, I made a point of checking out some drains.




A backlog post! Love the underground.

I've been in the other drains, but never bothered with the Crüe Tube. Seemed like it would be too small. Those baffles are interesting, but I'm sure they made for an exhausting trip.

FYI, an upper portion of the left branch in that 29th Ave drain has some sanitary sewer connections.




reduxzero - DrainsofmyCity
Posted by reduxzero
FYI, an upper portion of the left branch in that 29th Ave drain has some sanitary sewer connections.




Yeah, I thought there might be. Eww. Next time I'll wear something other than sandals, maybe.





A couple of neighborhood rooftops: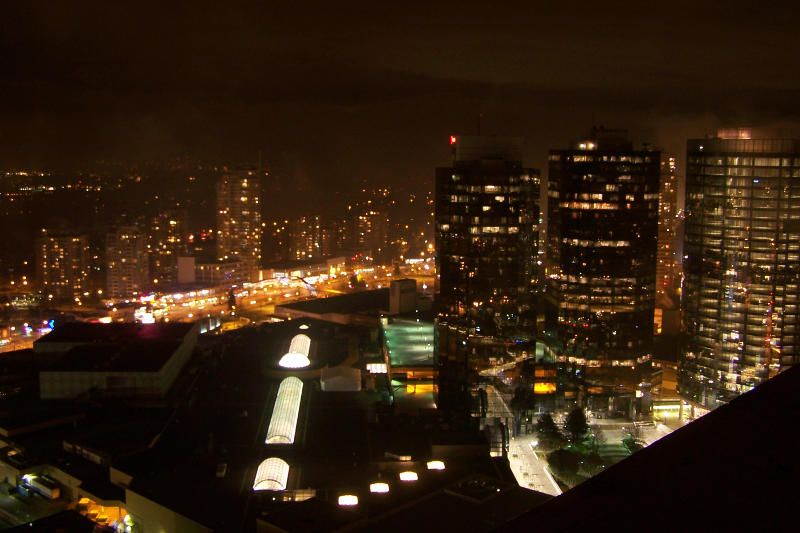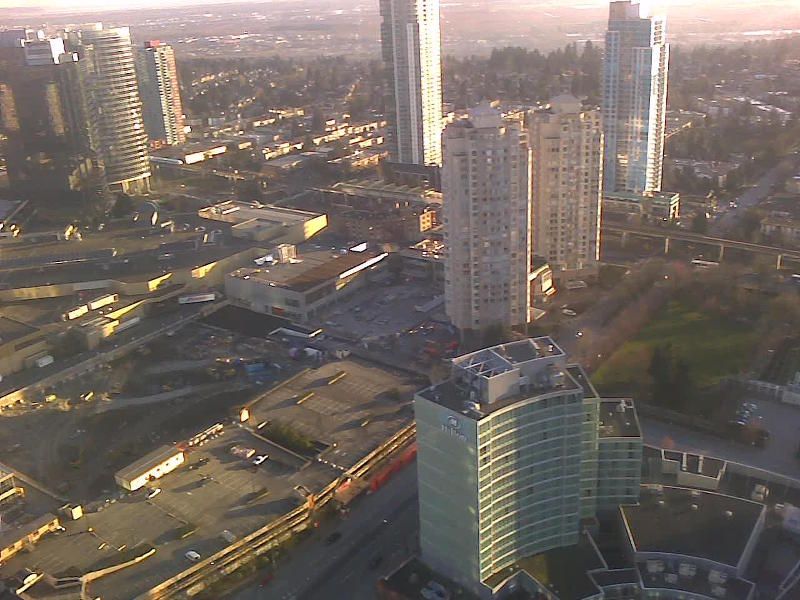 The first is from the roof of Slvr condo, which I've been eyeing for a year. On a recent evening, I steeled myself for a run-in with on-site security, and took advantage of a POE (there haven't been many). I made a dash for the underground parking, then started systematically trying stairwells. None took me up the tower. One took me right into the room where the security guard was sitting (perhaps sleeping). Finally, by roundabout means, I managed to get into the tower stairwell and climbed thirty-odd flights to the roof. It was lovely and still up there, and the fog slowly rolled in and obscured my view.

The second is from Lmnt by Wstn, one of the tallest buildings in Metrotown, which has just opened for business and is currently one big POE. This won't last much longer.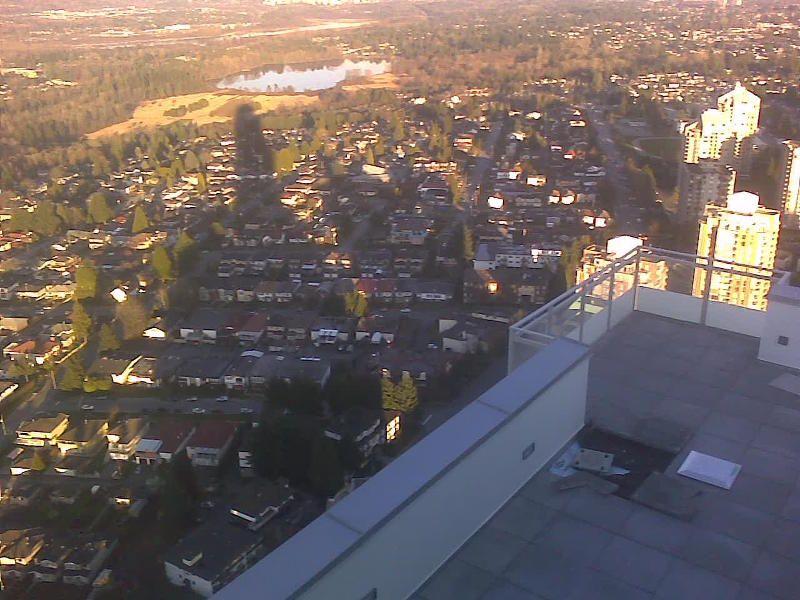 By a very roundabout route, I managed to sneak into the swimming pool, but by my count I had to pass through three unlocked or taped-open doors, all of which will no doubt become secure within a month, if not a week.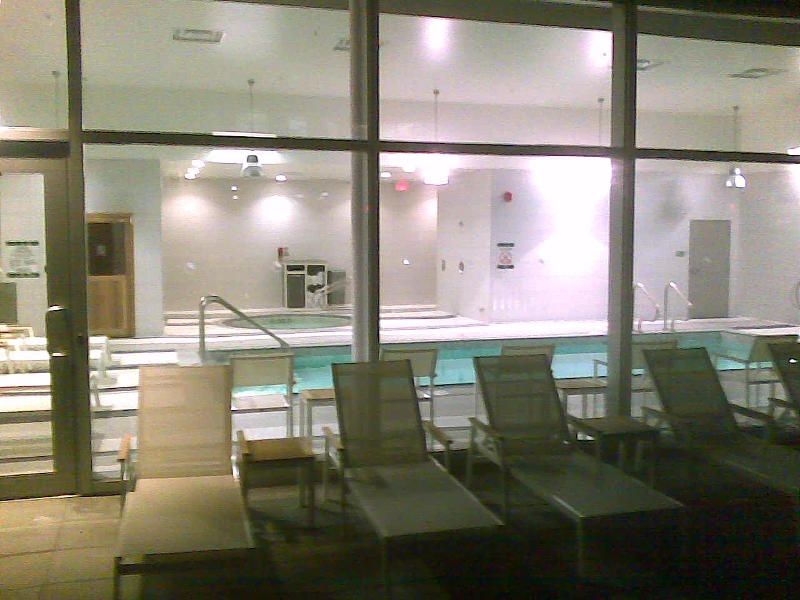 The penthouse apartments will probably be finished in the same sort of time frame, after which this lovely view will become private property (and divided in thirds).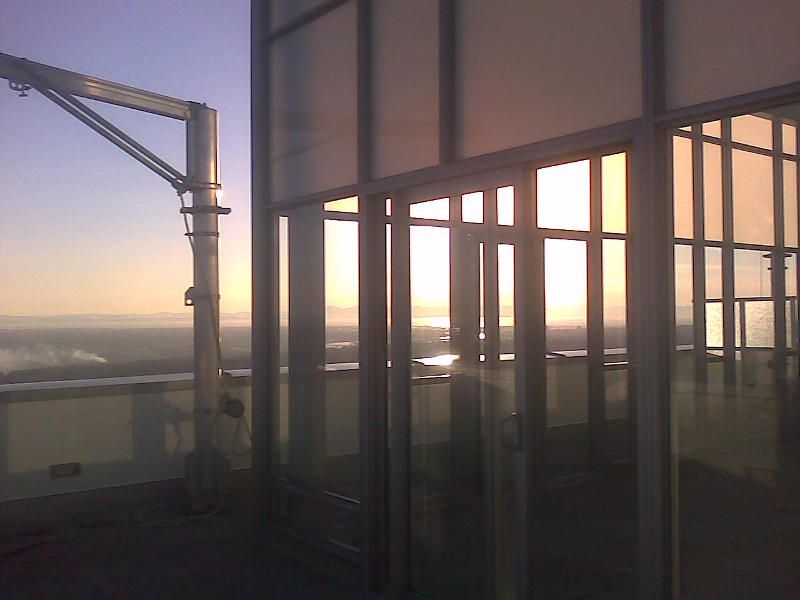 But I will always be able to say, "I was up on that building."


Posted by billgeorge
But I will always be able to say, "I was up on that building."




Quoted for truth.
Also, neat shot of Deer Lake. I always thought the view from the Metro area condos would be good.




reduxzero - DrainsofmyCity
Tls Grdn was a fun explore, largely because I just strolled in the wide-open loading dock late one weekend afternoon. I think there was a "Be back in 10 minutes" sign. The place seemed totally empty, and I had to snoop around quite a lot looking for a stairwell up to the rooftop.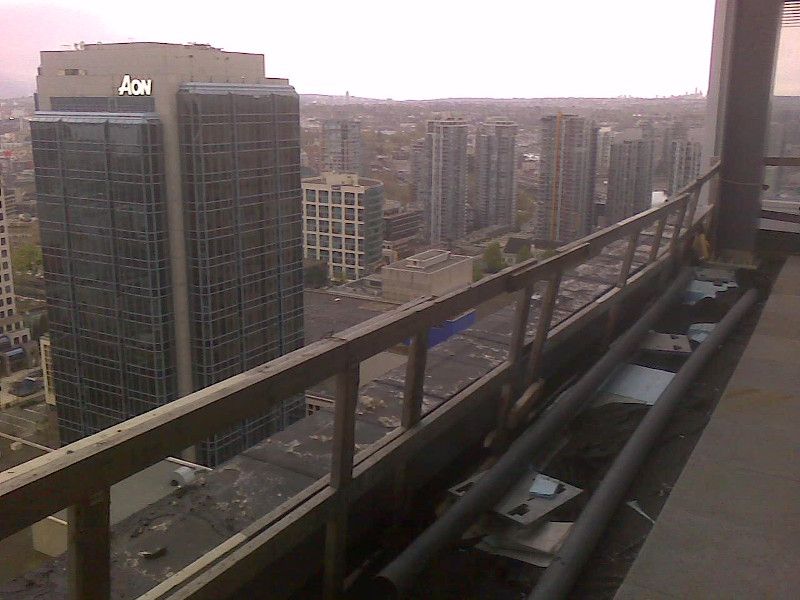 A not-bad week of exploring.

After sitting in a gritty hottub at Sndmn Sgntr hotel in Richmond (which was nevertheless wide open to infiltrators), I made my way to Sea Island and got on this hotel's rooftop: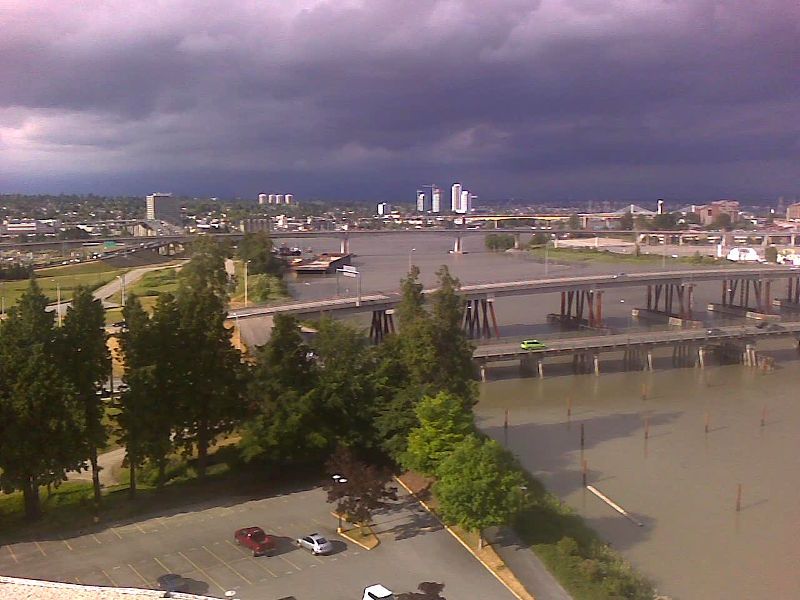 There were fire exit doors leading out to the roof marked "Emergency Exit: Alarm Will Sound" but they lied.

A few days later on a weekend afternoon, I strolled into a condo construction site in the heart of Metrotown carrying my bag of groceries. This was one of the last towers in the neighborhood that I hadn't been able to get inside yet. It was a somewhat roundabout entry from an adjacent parkade where only construction personnel are supposed to park, but on the weekend it was empty, it was easy to ignore the signs, and a naive person could quite plausibly just have found themselves inside the fencing, and decide to take a little look around. Or climb the 41 flights to the roof and drink in the view.

I didn't have even my crappy cell-phone camera, though.

A few days later, up at SFU, I found my way into the Nvrsty Thtre through an improperly closed door -- just that easy.

The basement seems semi-abandoned. There's a dirty dance studio, a couple of empty rehearsal rooms, a former recording studio (I think), and dingy dressing rooms.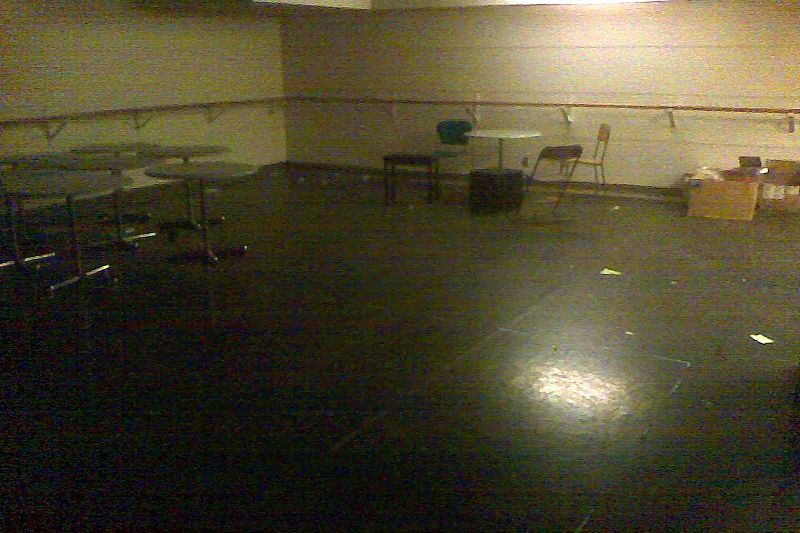 I moved this chair into place from another room and played a couple of songs on this unloved piano: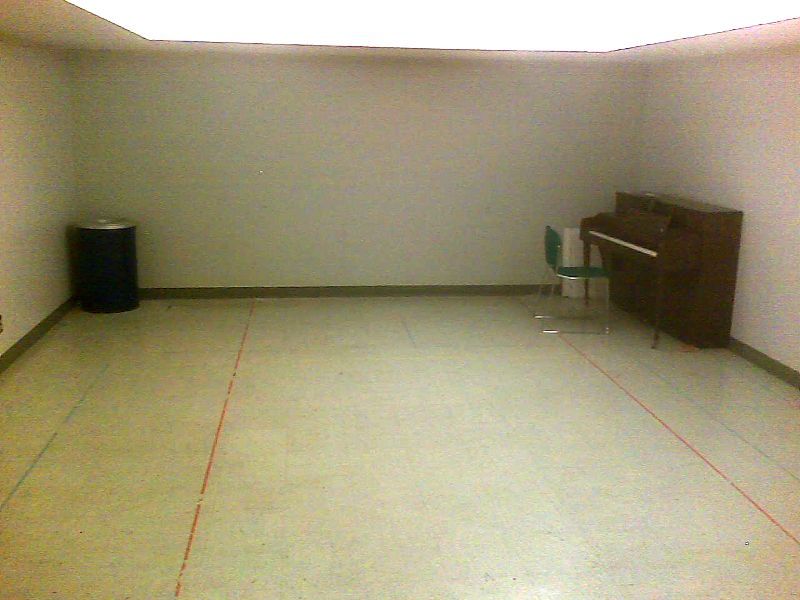 I looked all around the upstairs theatre, too, backstage and even above stage in the catwalks, but the photos I took were too dark. But I sure enjoyed myself.




More hotel rooftopping, this time in Burnaby, thanks to some construction on the penthouse floor, and lots of doors left open.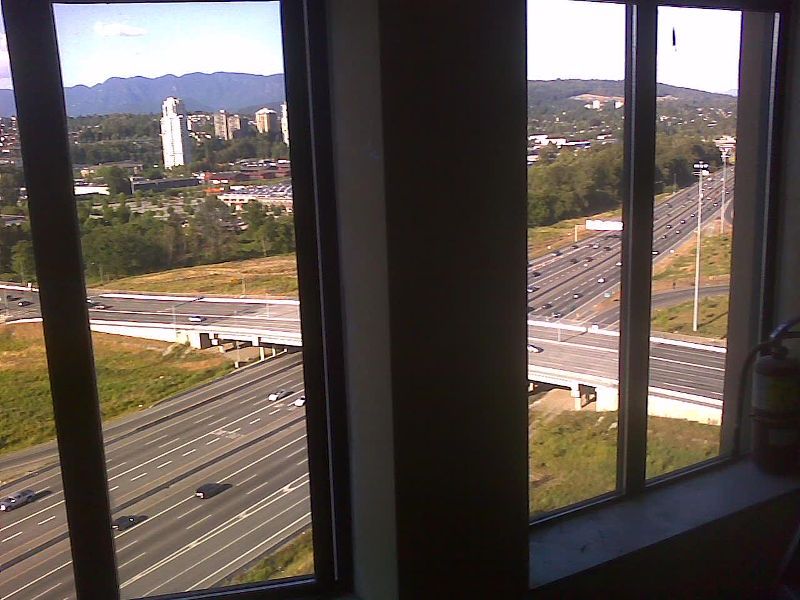 Looking down on BCIT with contempt.
I broke my own rule, and wandered inside an (newly) active condo, which was just too appealing with its doors propped open.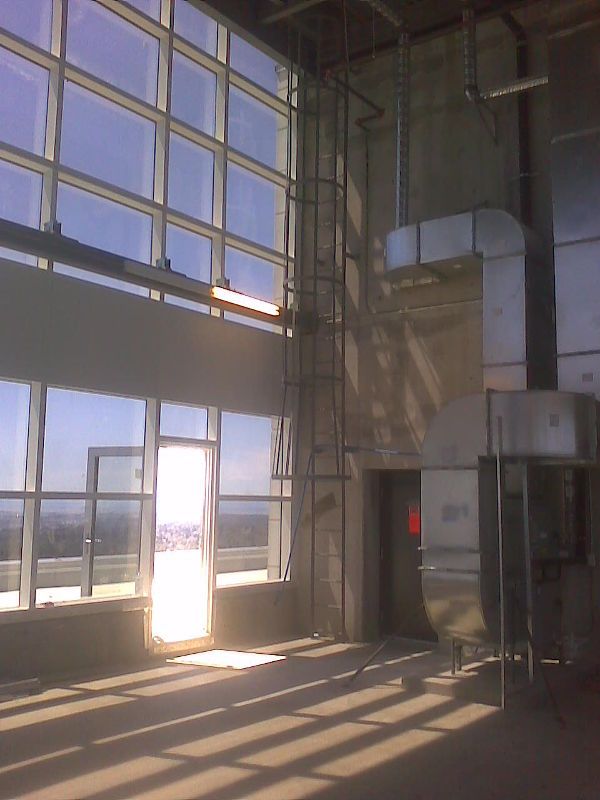 Inside the "Lantern" at the top of the building



I'd been up here once before, at night, before construction was completed.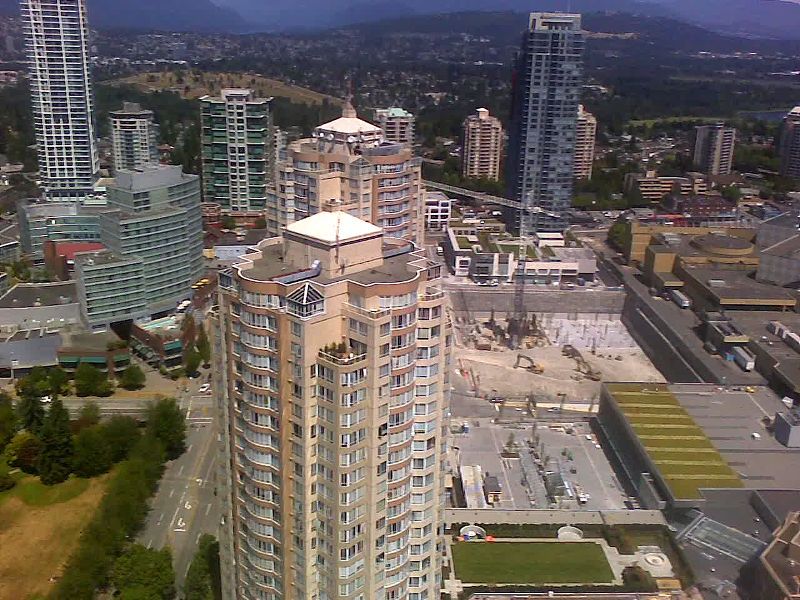 The easiest rooftop I've ever accessed: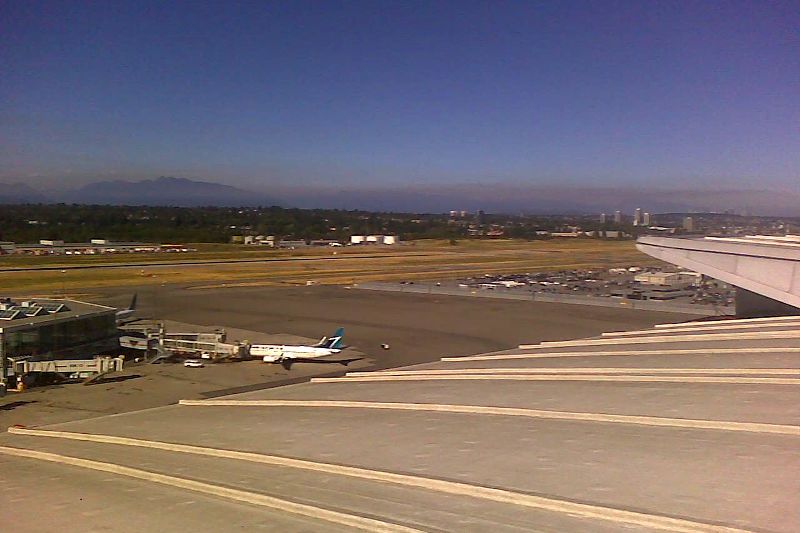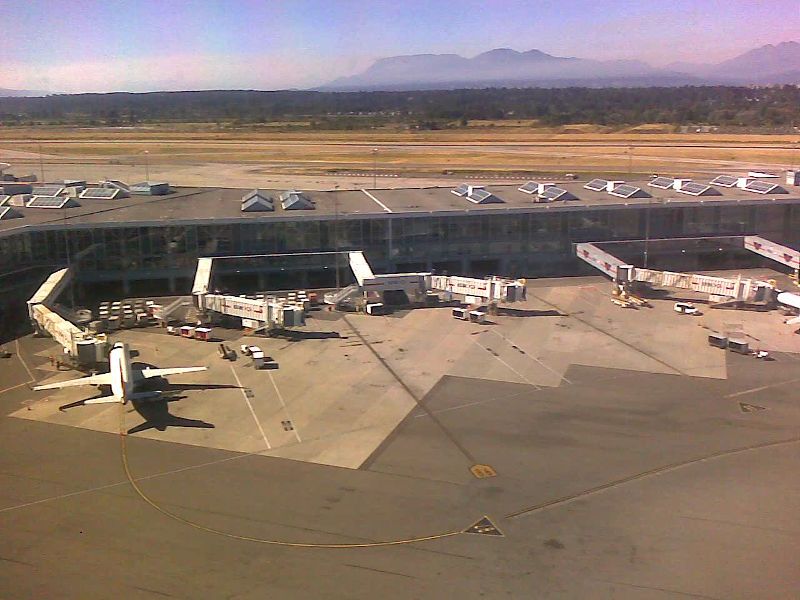 To be honest, this photo was not taken from the rooftop, but from the penthouse Gold Members' Lounge.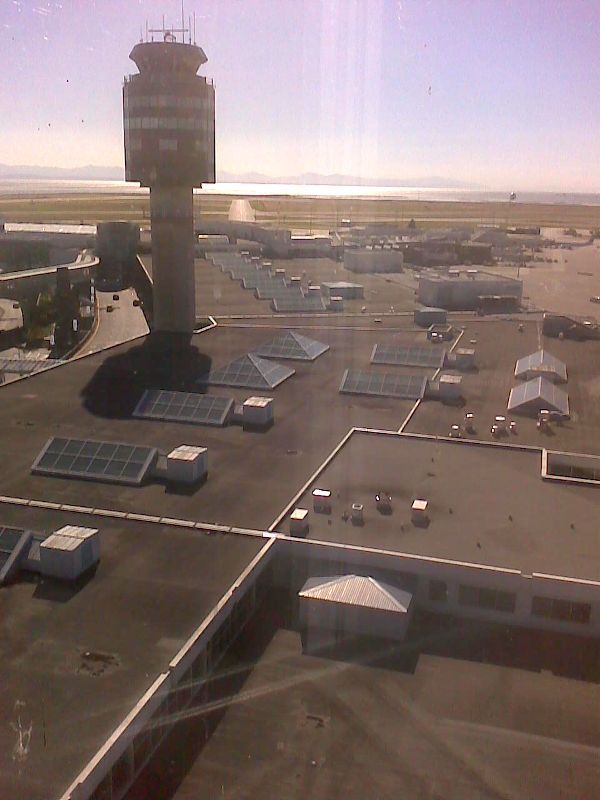 And this one from a stairwell.



And for good measure, one from the basement of the domestic terminal.




One of my new favorite places to explore. There's a lot to see, but also a lot of people around, so I didn't whip out my camera much. I was amazed by how many off-limits areas are "secured" by nothing more than a do-not-enter / authorized-personnel-only sign. (To be fair, I don't think I ever found myself on the far side of security.) And I found a lot of unlocked or improperly closed doors. Next time I'll dress a little less like a tourist, a little more like an office drone, or perhaps a construction worker.




Your posts are so fun to read. Very similar to Ninja's writing in the old zines. You've got massive balls exploring the airport.



Great series of posts! I thoroughly enjoyed them all!



I got on the roof of this condo tower, and it wasn't easy: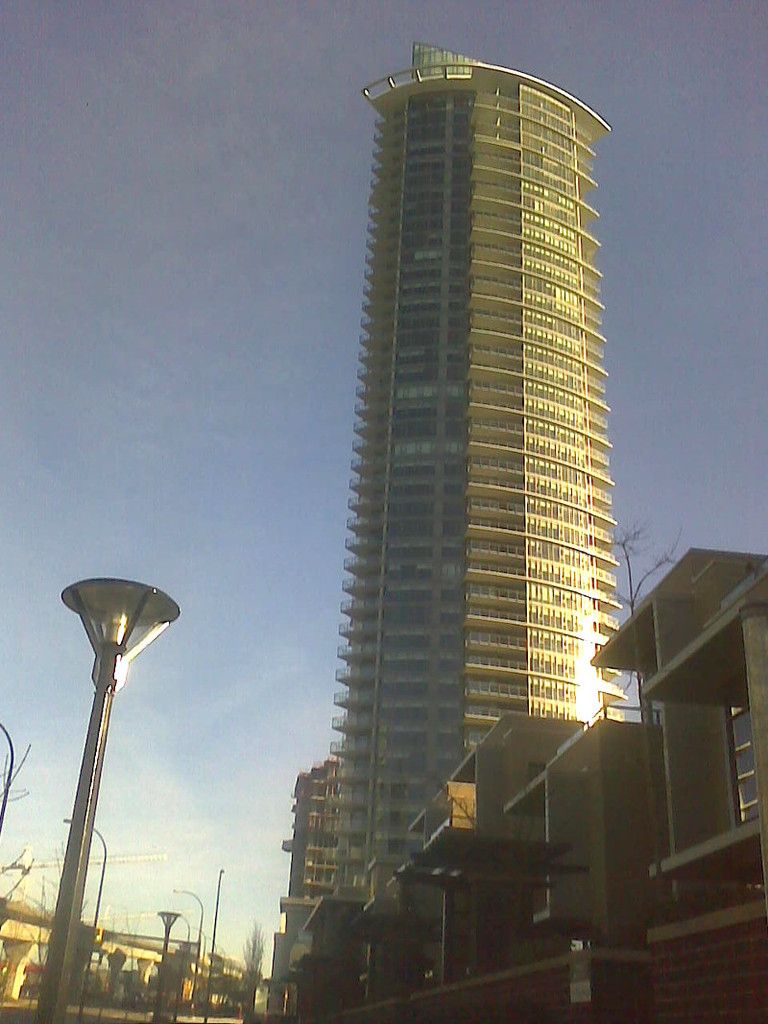 I'd been watching it for a few months. While it was still under construction, I found a gap in the fencing, and was promptly kicked off the premises on two previous visits. One evening last week I noticed that it was still dark, so I dropped in for a closer look. The fencing is down, but nothing is quite finished or open for business yet. I spotted a couple of security guards sitting in stairwells, and one in his car. When I passed by this guy a second time, he told me to go away. I waved and thanked him and wished him a good night and left.

I came back midday, midweek, wearing a reflective vest. I wanted to blend in, without being in disguise. That is, I wanted to be able to deny that I was dressed up like a construction worker if I got stopped or questioned. ("This reflective vest? I always wear it when biking. I just came in looking for a toilet.") It worked well. Right away, some passerby asked me if the grocery store was open yet. I said, knowingly, "No, sorry, not yet."

There are at least three parkade entrances. One, whose gate was closed last week, was now open. Another, gated, seemed to lead into a loading dock. I started with the third, which appeared to be public parking. I checked out several stairwells and elevators that went no higher than the 2nd floor. No surprise. I wasn't going to get inside the condo from here. After many twists and turns, I found myself in the loading dock. I gazed inside a freight elevator, but it also went no higher than 2. I turned around, and a few feet away was a security guard seated at a desk. "Just trying to get out of here," I said, and, pointing at the wide-open gate leading out into the sunshine, added, "I guess that's the way out. Thanks."

I finally walked down the ramp of the first parkade entrance, following a guy pushing a garbage bin, and passing a couple of other workers who paid me no mind, and found myself in a small parking lot of maybe twenty stalls. Where the hell did the residents park? (I still don't know where their parkade entrance is.) There was however a hallway, and an unlocked door to a fire-exit stairwell. It was locked from the stairwell side, though, so I stuck a bus ticket in the latch to keep it from shutting.

I went up, and found a locked door to the condo lobby. I went down two floors to P2, and found two doors electronically locked -- but rather loosely: the latch and deadlatch were both behind the electric strike, so, feeling more and more like a criminal, I tried shimming the door open with a credit card (actually an old hotel passcard cut diagonally). It worked! (It almost never works.) I was in an anteroom, with two unlocked doors leading out to the parking level (I saw one parked car), and another locked door leading to an elevator lobby. That's where I wanted to be! I spent a few seconds trying to shim that lock, but felt rather exposed. If someone came along and spotted me, I could probably no longer say I was just looking for the toilet. I thought maybe the door on the opposite side of the elevator lobby would be more secluded, so I went back in the stairwell and tried shimming the other door. No luck. I went down to P4 and tried both doors. Back up to P3, where I managed to get out to the more sheltered side of the elevator lobby, but could not get inside it. Back in the stairwell, I got out the other door, and then finally got inside the elevator lobby. Phew! (That's four doors I shimmed open!)

Called an elevator and got inside. I pressed 20 -- the highest floor. The button lit up, and I started moving. Luckily, no one else got on. The twentieth floor looked finished; nothing but a bland hallway and closed apartment doors. I got in the stairwell (putting another bus ticket in the latch behind me) and started climbing. A sign listing crossover floors mentioned 43, which surprised me, until I remembered how tall the building was. The elevator I got in must have been only for the lower floors.

Occasionally I heard voices, but not inside the stairwell. I went past the penthouse floor, 45, and found a door marked "Mechanical Room." This was locked. Went up another floor, where two more doors were also locked. I went down to 43, where I got in the elevator. It was the same elevator as before: the buttons for the higher floors were on the other side of the door! I rode it up to 45, got in the other stairwell, and went up. This only went to 46, and I could see through the locked door another (unlocked) door marked "Mechanical Room / Roof Access." I gave the door a little shove, and succeeded in getting the deadlatch to fall into the latch hole, but had no luck shimming it open. Back down to 43, where I heard someone jingling keys, and into the other stairwell and back up. I couldn't get into either of the doors on 47, but on 46 I had some luck.

In the mechanical room, there were two double doors leading to the roof. Dammit, they were both locked! Or were they? There was almost an inch gap between the doors, and there wasn't even a deadlatch. You could have shimmed open those doors with your finger.


Looking towards downtown.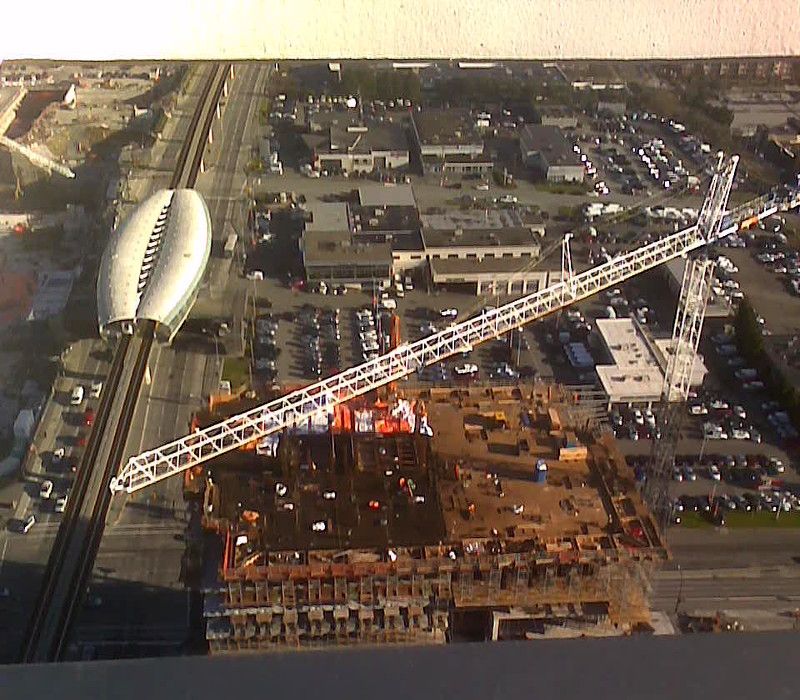 Looking down on the sister tower being constructed next door.



The roof was a bit awkward, built to be stylish to look up at, not convenient to look down from. And there was not even so much as a railing in some places. Nevertheless, I enjoyed the view, feeling pretty good.

Finally, I climbed up onto a platform to get this view to the south, towards Metrotown.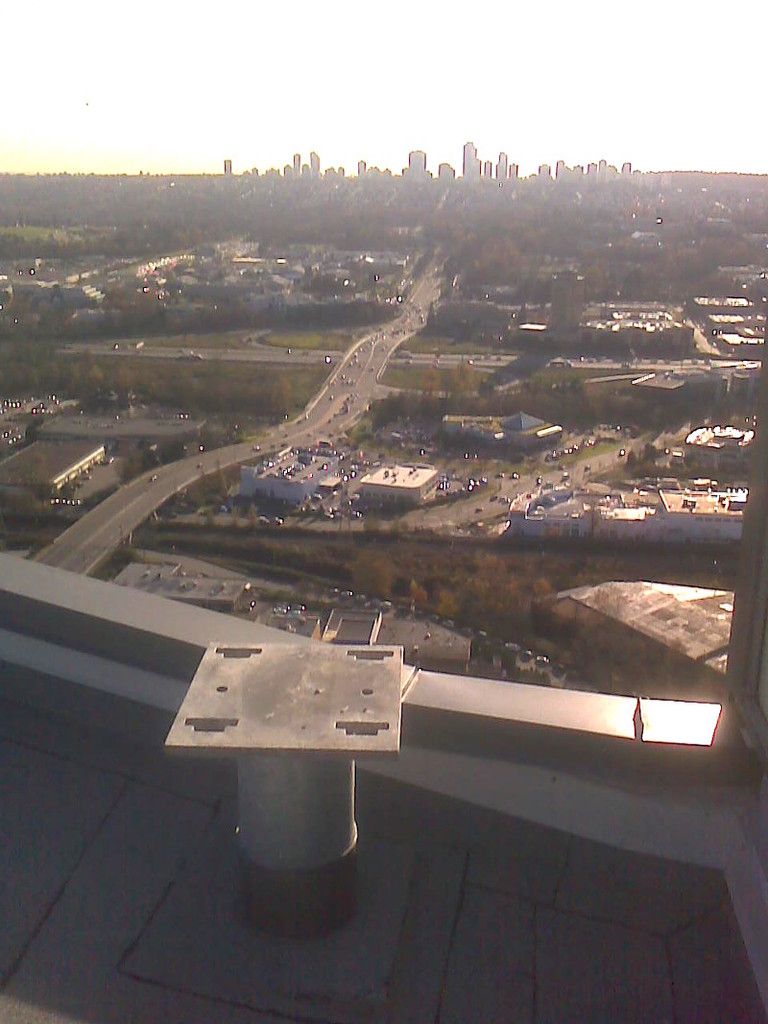 There was also a dome security camera up here -- the first camera I'd seen all day -- which made me nervous. So, after another minute of rubbernecking, I went back inside. Time to get out of here.

At about the 44th floor, a couple of guys entered the stairwell. They were so close, I couldn't tell at first if they were below or above me. I expected someone to shout, "Hey, stop!" at any moment. One of them said something like, "The door is closed." I hurried down as quietly as I could.

To finish off the afternoon, I crossed the street and enjoyed a complimentary cappuccino and cupcake at another condo's presentation centre.




Crematorium and utility tunnel systems look surprisingly identical everywhere. I thought they're cool the first time around, but then they started look all the same to me especially new tidy ones.

Personally, I don't find ordinary construction site photos interesting. I think they look like workers snuck a few photos while on the clock or something than exploration.



I've been in the round ball place and may have skipped admission. What do I win?


[last edit 11/27/2015 4:41 AM by Deuterium - edited 2 times]

Posted by Deuterium
Personally, I don't find ordinary construction site photos interesting.




Me neither. I'm taking less photos these days myself. I prefer a good infiltration story. The more construction sites I go inside, the duller they seem. But I hope I'll always enjoy the rooftop views.



I've been in the round ball place and may have skipped admission. What do I win?




My respect and gratitude, if you tell me how.







Add a poll to this thread
This thread is one of your Favourites. Click to make normal.
Click to make this thread a Favourite.
This thread is currently Public. Anyone, including search engines, may see it.
---
Powered by AvBoard AvBoard version 1.5 alpha
Page Generated In: 125 ms