August 23rd, 2005: Jeff Chapman, or as most people knew him, Ninjalicious, dies quietly in his hospital bed, surrounded by his family. Today marks the 5-year anniversary of his passing. He was not quite 32 years old.

The world of Urban Exploration has changed a lot in the last five years. There are many of you here to whom the name Ninjalicious evokes no feelings. I'm hoping this post, and the replies sure to follow, will show you what Ninj was all about.

Ninjalicious was, of course, the founder of Infiltration, the zine about going places you're not supposed to go. I found Ninj's site way back in 2001, when someone had mentioned in passing to me that there was an abandoned subway station in Toronto. I breathlessly read every article, and quickly whipped out my credit card to order the complete back issues of Infiltration. They took more than 6 weeks to arrive, and I couldn't wait.

Infiltration represented a rarely-seen look into the underworld... a place devoid of warning signs, protective barriers, and safety features. As a 17-year-old kid growing up in a quiet suburb in Scarborough, these ideas were new and scary to me. But they were also terribly exciting.

The story of how UER began is long and not very interesting, but UER owes much of its success to an early partnership with Ninj. I came up with a concept of having one forum spanning multiple UE sites, allowing each site to retain its individual look and feel, but providing a united, larger community. I approached Ninj in 2002 and asked if he was interested in participating in this concept, and he agreed. There were four sites initially (Infiltration, Wraiths, UEC, and mine). Thus, a "Forum" link was added to Infiltration, and UER grew.

It wasn't until many years later that I first met Ninj in person. In 2003, I had an opportunity to see "behind-the-scenes" at TTC's Wilson Yard, and I invited Ninj to come along. He jumped at the chance, and I got to meet him for the first time. For me, it was meeting my idol. He was nothing like what I expected. In my mind, I had pictured an "extreme"-type, like you see on those sports shows on TV. In reality, Ninj was quiet, but his eyes betrayed his immense intelligence. I was astounded by how "ordinary" he looked -- clean-shaven, well-dressed, quiet haircut. In fact, he looked so ordinary that he would easily be forgotten, a fact he used to his advantage.






Liz on the left, Jeff on the right (2003)




I was consistently impressed with Ninj's social engineering skills. He preferred to explore "active" places, using his words to talk himself out of confrontations. People just looked at his face and listened to what he said, and they believed him, trusted him. I don't have many photographs of Ninj, because he hated being photographed. He was very protective of his identity.






The basement of the unfinished student residence on Willcocks, UofT (2003)




In 2004, someone suggested the concept of a global Exploration meetup, to be held right here in Toronto. Ninj jumped on the idea, and he quickly helped organize what would eventually become the "Office Products Expo '94", a tongue-in-cheek name to confuse non-attendees about our actual motives.

The event was a blast, and everyone had a great time. Over 75 people attended, from as far away as Europe, Alaska, Texas, New Mexico, and of course all over Canada. At one point, over 30 people entered the same drain at once. The final event was a huge game similar to 'Capture the Flag', played in Toronto's extensive 'PATH' network of underground arcades.






Ninj inflates the buffalo that was used as the 'flag' (2004)




Something I respected most in Ninj was his ability to lead. He could find a compromise in every argument, and somehow he was able to defuse any situation before it got out of hand. He had a way of listening to both sides of an argument and making suggestions without coming off as patronizing.

Those who knew Ninj, often only knew the Urban Exploration side of him. But Ninj was a goofball at heart, and had created several really silly projects over the years. Some of these are still online: Yip, a really goofy zine, can be seen at www.yip.org . Ninj also enjoyed swimming in public fountains, and photographing knock-off "Coffee Time" places (called Cloney Time).






Av & Ninj in the OCAD Tabletop while it was under construction (2003)




After his death, in September 2005, I helped organize a memorial for Ninj. Over 40 people attended, and some gave wonderful eulogies. I didn't say much. It has taken these last five years for me to fully comprehend what we've all lost.

Jeff Chapman, you live on in each of our hearts.

Bonus: In January 2005, I did a fake radio show with Ninj. A friend of mine worked for a major radio station, and Ninj and I went in there one night and had a discussion about Urban Exploration. We also did our own fake news reports and other silliness.







See the thread and listen to it here.

Are you an organ donor? If more people were, early deaths like Jeff's would've been avoided. Please consider becoming an organ donor today.


---


Read the original announcement of Ninj's death here. A lot of people shared their feelings for Ninj.

Donate to the Toronto Western Hospital

[last edit 8/23/2010 4:23 AM by Avatar-X - edited 1 times]

huskies - such fluff.
I was truly inspired by his love for Urban Exploration after reading some of the brilliant stories in the book Access All Areas and at online at infiltration.org

I wish I could have explored with him.






And when you finally disappear, We'll just say you were never here.
i only spoke with the dude on this site, but he was just that, a dude. He was a decent guy with a good sense of humor. In many ways, he was one of the guys that made this forum something special, something that I still enjoy even as I close in on 7 years here.

Someone made this shortly after his untimely death. I hope now is a good time to share it.






[last edit 8/27/2010 8:55 PM by Avatar-X - edited 2 times]

I didn't get in to UE until 2005 and I didn't find UER and Infiltration until 2006, so I was never lucky enough to meet Ninj. Exploring is such a huge part of my life and I feel like I owe a lot of that to him.




UE Magazine: http://www.uemag.c...home1/about-3.html

http://www.flickr....s/smsailorneptune/ http://smsailorneptune.deviantart.com/
Definitely a somber 5 year anniversary. I myself found Infiltration early on in my experiences here and was immediately hooked.


Quoted From Access All Areas Foreword.

"To have great dreams is a blessing, but to live out those dreams, even in whatever small measure time allows you, is a greater blessing yet. That the world has been shortchanged the continued wisdom,inspiration and humor of one of the world's finest explorers is a tragedy."

~Liz Clayton, Toronto 2006


Though we all do our share of Trolling, Flaming, Etc. I think Ninj would be proud of how he helped to bring this community together. Truly an inspiring individual.

~JC






[last edit 8/23/2010 5:54 AM by JC - edited 1 times]


Keying up at KJ4ZNR

<a href="http://www.r...e/southernshutter?>
I'll do a fountain tomorrow.




flickrgrrrrl :: boyfuckingracer
A couple of Ninj photos from Liz.




I may posted these in the original Ninj RIP thread.




Taken from back page of Infiltration #10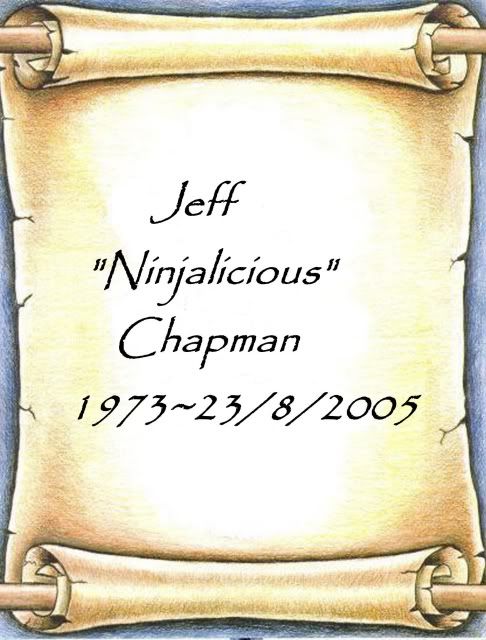 Fountain Jumping


Cheers,

Doug




FacialBook is killing online forums.
http://www.amazon....tion/dp/0973778709


Yes, props to the ninja



It was Infiltration that lead me here, and reading over the site of Ninj's adventures that really helped push me in exploring further. I was looking forward to meeting him one day. But sadly it was not to be.




Celer at Audax
Para la Victoria Siempre Alemanes!
Jeff was a big inspiration. He is very missed.

This is my favourite photo of him:



From:
http://www.torarchcons.org/jeff.html





"Great architecture has only two natural enemies: water and stupid men." - Richard Nickel
I haven't been around here long enough to meet or talk to ninj, but he has been a huge inspiration to me and my views of life. Thanks to him, I am currently reading the greatest and most valuable piece of literature that I have ever gotten my hands on. Guys like him make the world a better place. RIP brother.



He also used to place ads in 2600 Magazine (hacking magazine) that said something like "Try hacking... but in real life" and had a URL for Infiltration. Is anyone else enough of a dork to remember this?



oh god, I hadn't thought about those ads in forever.....

Thanks for the reminder.





Keying up at KJ4ZNR

<a href="http://www.r...e/southernshutter?>
I really enjoyed this short memorial. Without him the community wouldn't be nearly as extensive as it has become. A lot of people I have noticed reference Infiltration as how they have found the community. I have respect for someone like him who is able to make an impact with people all over the world in such a simple manor.




"The older they are the longer they last"
I remember the first time I ever saw Access All Areas on the shelf at my local book store years ago. I read it all in one sitting. Eventually I discovered a community of quirky folks like myself and have had some of the best adventures.

I never had the pleasure of meeting Jeff, but because of him I've met some of the most wonderful people in the world
I wish I had had he chance to meet ninj, I can't put down Access All Areas. seems like he was a great guy and a fine explorer.



He made the hobby what it is today. I never knew him but he is still missed.

clyde


[last edit 8/23/2010 6:28 PM by bonnie&clyde - edited 1 times]


The question is not when are we gonna stop, It's who's gonna stop us?


Seems like a nice guy but I wasn't one of the lucky ones to meet or explore with him.

Sorry for your loss and RIP Ninj.




I was exploring the cave last night. That's why I was late.

I remember someone emailing me a link to one of his exploits that involved finding a way into an aerial connection between two buildings that was meant to be artistic. The details escape me, since it was so long ago, but the thrill I felt just reading the write up has stuck with me to this day. His stories have stuck with me for all of these years and kept me going. Wish he was still here :[ RIP



http://www.flickr.com/photos/lansiar
Wish I could have met him....

RIP




"A preoccupation with the next world clearly shows an inability to cope credibly with this one."
Add a poll to this thread
This thread is one of your Favourites. Click to make normal.
Click to make this thread a Favourite.
This thread is in a public category, and can't be made private.
---
Powered by AvBoard AvBoard version 1.5 alpha
Page Generated In: 85 ms