| | |
| --- | --- |
| | |
| | UER Store |
| | sweet UER decals: |
Activity
133 online

Server Time:
2022-12-06 01:23:40

MAMU2v2 - Day 2
entry by MindHacker
3/11/2010 6:23 AM

---
Before we begin, guess the height that I took this picture from.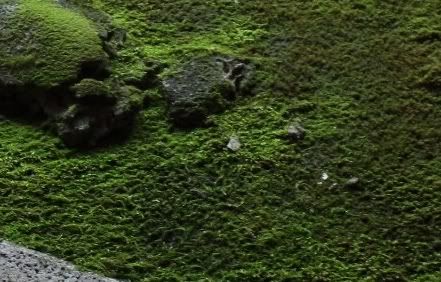 Click through for the answer.

DJ had some classes to get to, so we decided that Jerms and I would spend a few hours exploring on our own, so DJ planned on showing us a site that we could explore on our own. I think we would have done better on our own... but more on that later.

We parked at a park (which sounds retarded to type), and walked down a nature-trail next to the river. After checking out the first building, we decided to move on since an ancient SUV with an exhaust leak was idling near the building. So we hiked down to the next building, maybe 1/8th mile away. DJ was showing us the entrance and the hole in the fence when we heard a low rumble again. So we moved back... and saw the old 4x4 driving towards us over the field. We decided to write this one off, and headed back to the cars.

As we neared the cars, the 4x4 stopped and the "owner" yelled at us / threatened us, etc etc, and we told him we were just hiking and kept walking. Douchebag must have already called the cops though, because as soon as we saw our cars, two police flew down the access road. I decided to pretend they weren't after us. I'm actually surprised DJ didn't leave, since he was in a different car, and they didn't park him in. Luckily, we got our bags in the trunk (and covered w/ a blanket) before they got out of the car.

I told everyone not to admit to anything, since we hadn't committed any crimes (yet) and they all listened! This whole "experienced explorers" thing really has it's upsides, that's 2/2! Anyways, they told us how dangerous the buildings are, and we agreed, while admitting nothing, and gave them ID (didn't want to spike their curiosity for no good reason, especially since my plates were right there).


---

After departing from the police, and deciding not to chance the location for a second time this visit, we left for a military facility. We drove by, and DJ showed us the gap under a fence, and then went off to class. On our way around the site however, we saw someone parked infront of the building. A white pickup truck, like they always are. We decided "effit" and went for it anyway, since the gap was on the opposite side of the compound.

The fence gap was a little brutal, since a car showed up as we passed the point-of-no-return (like they always do), and in our haste we scratched ourselves. Anyways, the back lot was pretty boring. A few manholes, a miniature graveyard, lots of trees, some animal droppings.

I'm not proud of this part of the story: we spent 25 minutes sneaking through the treeline, trying to stay out of site of a bus idling on the street on the other side of the lot. I'll skip to the punchline - as jerms predicted, the bus was abandoned, not idling, in a scrapyard. Regardless, that bus didn't see us. F*ck we are good.

The rear garage was almost interesting, but compared to what we'd seen the previous night seemed a little tame. We thoroughly checked it out though, hopefully giving Senor White Truck enough time to finish whatever he was doing.

Then we snuck up to the building... it's windows smashed open, doors off the hinges. We peaked around the front corner, and... we're good! Our visitor has moved on. So we jumped in the window (What? It's not like we could walk in the "alarm will sound" door, could we?)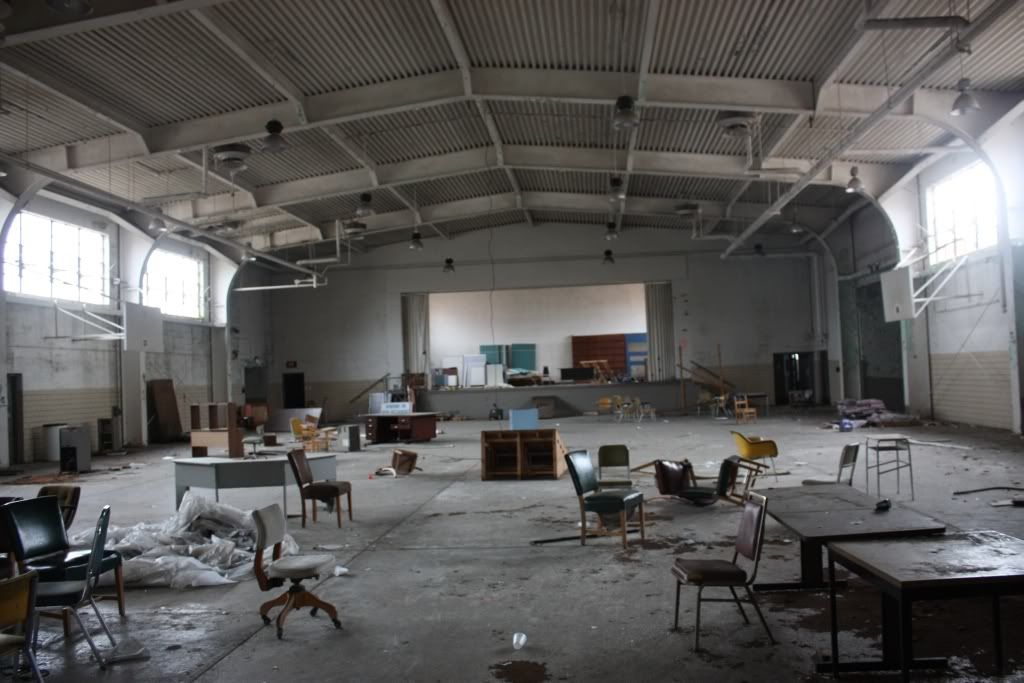 This building is much more interesting. Highlights include syringes scattered all over the floor, giant vaults that used to be the armory, casings from paint rounds scattered through the medical wing, expired chemical weapon detection strips, and a shooting range. I dug up a bullet a) to check to see if it was what i thought it was, and 2) souvenir. The sierra club can f*ck themselves a tree. Easily the coolest non-industrial site I've ever seen.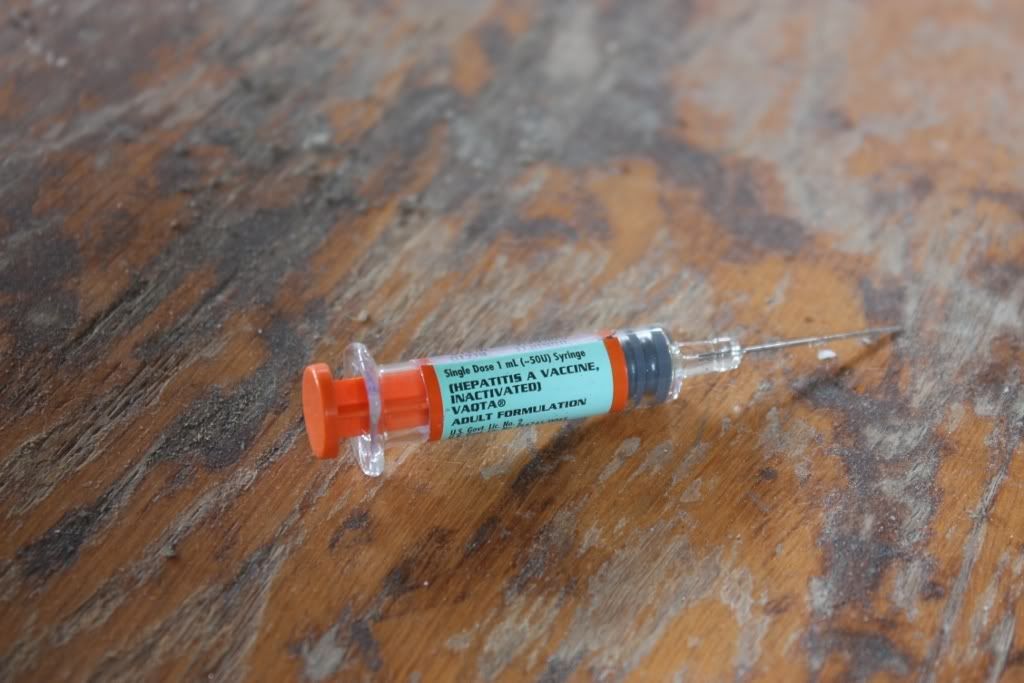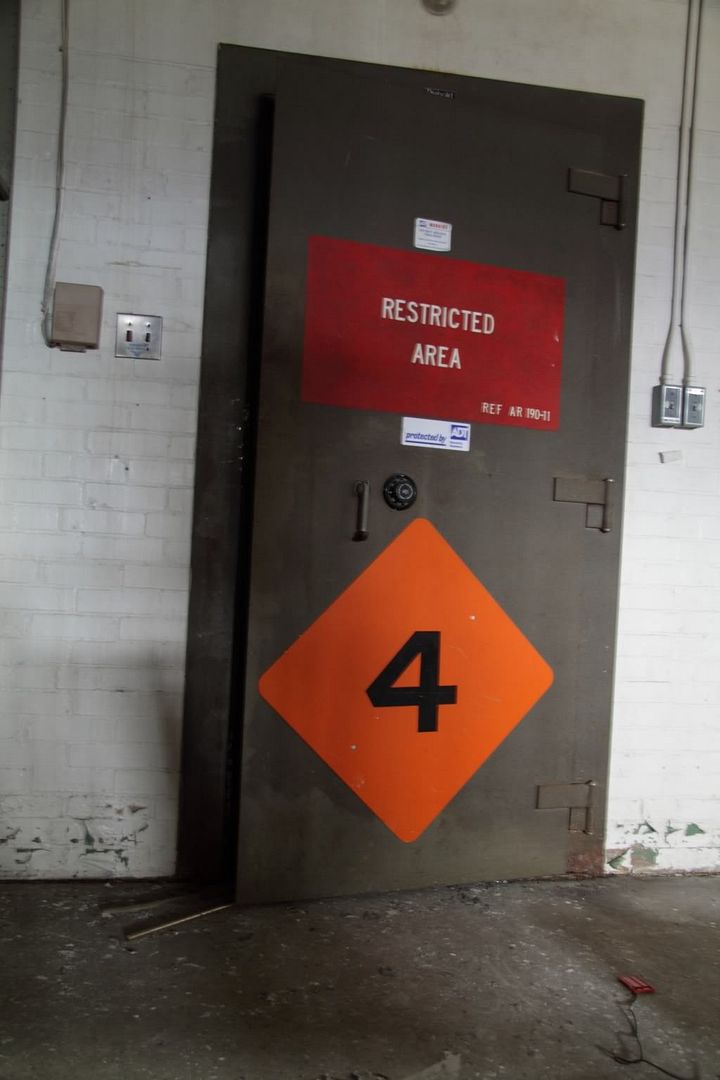 Final image by Jerms

We wandered all over, up to the roof, and finally left. On our way back, we heard from DJ. Instead of class, he ended up trying to track down the owner, who wasn't the man who had yelled at us, so it was a fruitless search. We met up at a restaurant across from the site we visited last night, and watch the cop in the parking lot. After deciding he was asleep, we set off into the building again.

We had a lot more light, which made things easier this time. DJ met up with us, and set off to set up a rap down the old man-o-vator (belt-o-vator). But then DJ texts us, telling us he heard a radio. We checked the windows for cops, but then heard the metallic-filtered voice that only comes over radios down the stairwell. We text back and forth, and retreat behind a hastily constructed office at the end of the top floor (in this section, at least). Stealthily, I might add, like ninja's in combat boots.

After 20 minutes? Maybe more? We decided we were safe. Guess what? This time, instead of an abandoned bus, we were hiding from a garden-mart PA system. Spookily similar in sound, much less threatening in nature. So we continued on.
As DJ set up the rappel, I wandered more of the building, finding some large chemical tanks, and an old workshop. DJ, then Jerms (in what I believe was his first ever rappel) successfully navigated the circles in the floor. Rappels in daylight, in front of large windows are much easier to photograph. We headed up to the top floor / attic of the main section of the factory to tear down the rappel, and then checked the roof for the view in the daylight (no cop to photograph, unfortunately) and headed out.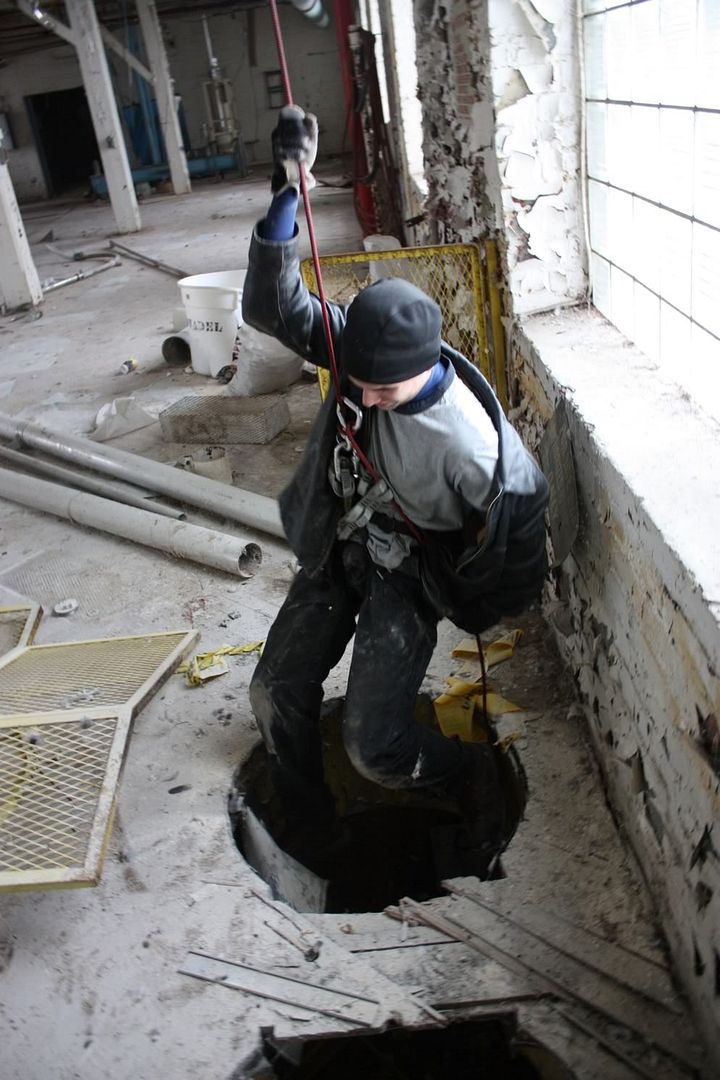 ---

We headed out to DJ's parents house so he could take care of some things, and his parents fed us. His parents who are amazingly welcoming, both to us and to the hobby. My dad would never (well, maybe, if could convince my mom he'd be keeping me safe or something) explore with me, and my mom is so paranoid she can't stand to hear me talk about it. As opposed to it being normal dinner conversation. For the record, dj, your accent changes to match that of your parents. I read "On Rope" (which I later bought) and learned all about rappel racks, and decided I needed one (which I later bought).

While we are in the area, we decide to visit the quarry. The quarry is fun, and decidedly tame until we start climbing, which is doubly interesting since there is an inch of rock dust on every horizontal, or somewhat-horizontal surface. For the picture I included, I realized half-way through the exposure that I was sitting on a roller, that could, well, roll. Which is somewhat unsettling 40' over packed gravel. You'll note I didn't move, or even jar the camera a little. What can I say? I'm well trained.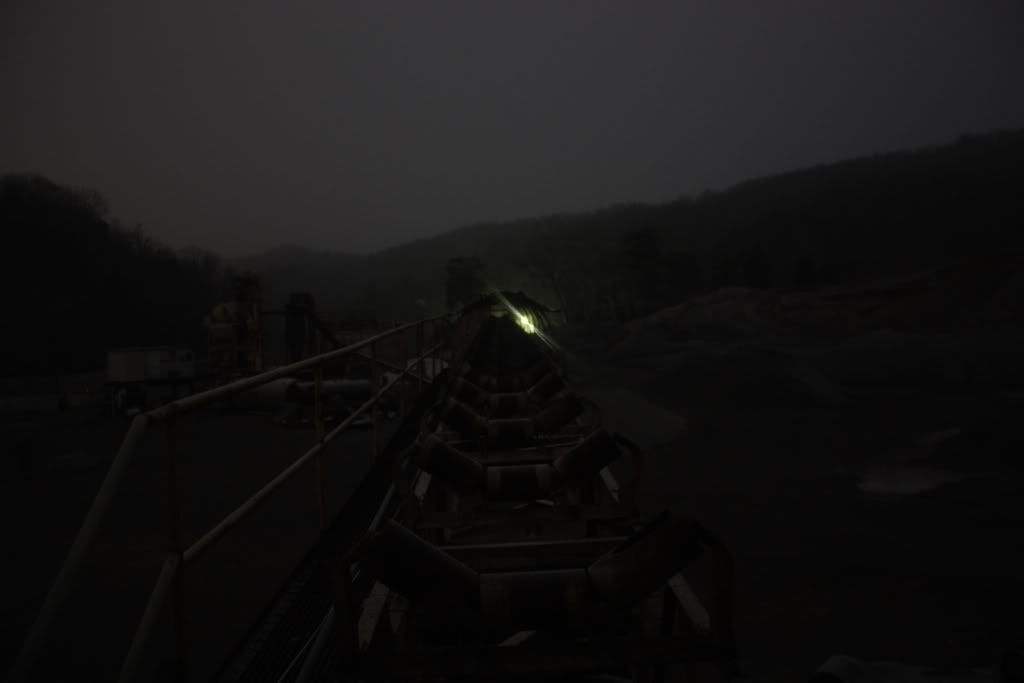 After observing the various equipment thrown away like a crumbling playground for giants, and butt-sledding down the hills, we left to continue on our urbex-high, and went to:


---

MY FAVORITE LOCATION OF MY LIFE THUS FAR.

So it's not GS, but it's still freaking cool. The closer you get to it, the more it looks like a fortress, which it kinda is, so that's fair. We walked up to a spot where you could shimmy under the fence, but I went right over the barbwire (there was a corner, that's child's play). As we wandered around to the other side of the building inside the perimeter DJ told us the local's all have government conspiracy legends, which is retarded for them, but awesome for us, since it's untouched inside. No litter (apart from what was left there, which is minimal) and no graf.

Walking in the basement / first level the first thing that hits you is the scope of the place. Everything is double, or triple what it should be. This gives it a really alien feel, which is only compounded by the layout of the location. To thwart terrorism, the place is built like a maze. Fortunately, DJ has the floor plan memorized (like I said, he's the most dedicated/crazy explorer I know). There's a half inch of water on the floor, but we walked along the edges, so it was shallow enough to fill our boots. The condenser chamber was different.. It was open to the sky, somewhat, so it was boggy, and the boards across it would only usually keep you dry. And there were huge pipes that would soak and possibly trap you. Like I said, coolest place ever.

I didn't have my tripod though, so I couldn't experience the joy that is photography. That and it really was almost pitch black in most these places. So my shots didn't show up anyway. The snow that started to fall while we were at the quarry continued to fall, giving the whole place an even more unworldly feel. DJ lead us in to the core, or at least as close as we could get and stay dry (there was a moat in the way), and I wish sooooo bad I had brought my tripod, and maybe a manual shutter release. I took some really cool shots that didn't turn out. At all.

To get to the next section, we wandered through more of the maze, (now including pits 20', but invisible when I didn't have a light (I was bumming off them) because, like the floor, they are flooded too. Then we climbed out on the wall, walked 40 yards while 25+ feet up, and then walked a (large) I-beam bridge to the other area. To be fair, I think it was hand-and-knees. I was gonna man up and go for it until I saw it was covered in snow, which is less confidence-inspiring than steel.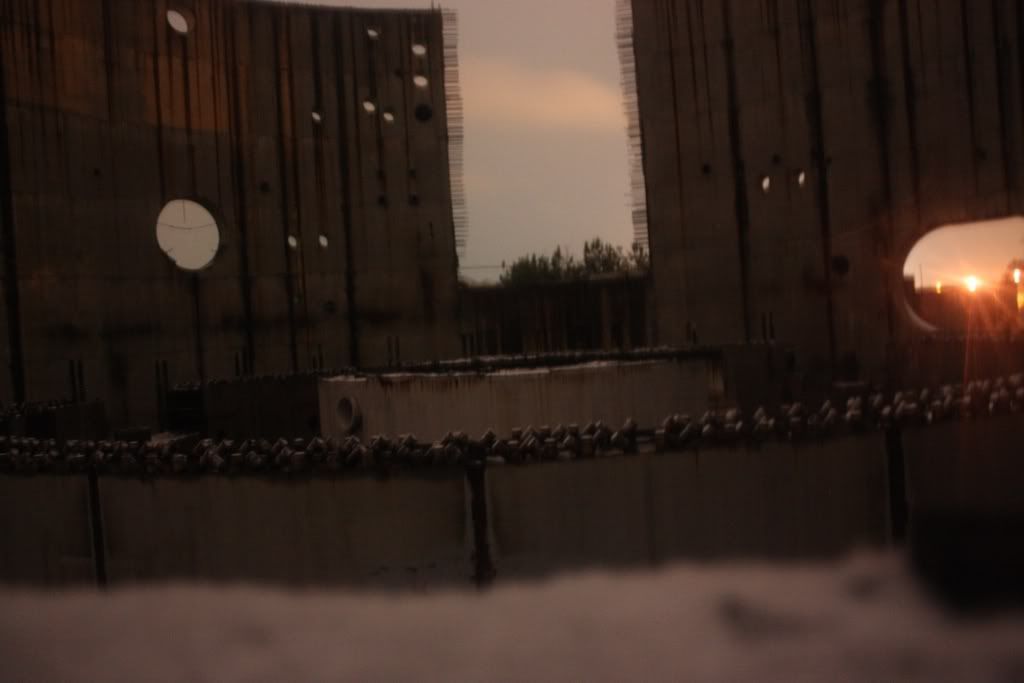 After grabbing a few pics of the containment from above, we headed up to the roof, which included a slippery 12' wooded ladder, 4 or 5 stories up, while on a 3' ledge. Then a climb up a 10' ledge, but this time w/o a deadly fall on your left. Once on the roof I wanted to go snap the transmission yard, built for this reactor but repurposed when construction stopped, and now distributing power from hundreds of miles away. Walking across the roof was just as odd walking through the building. Missing sections, oddly built sections, an area where there is a 4' high slot leading to the condenser chamber, 60' below. I grabbed a few pictures and we headed home another way, where we got to see the Z shaped hallway, but not the 45* angle doors (which had fallen in), both features designed in case there was an explosion.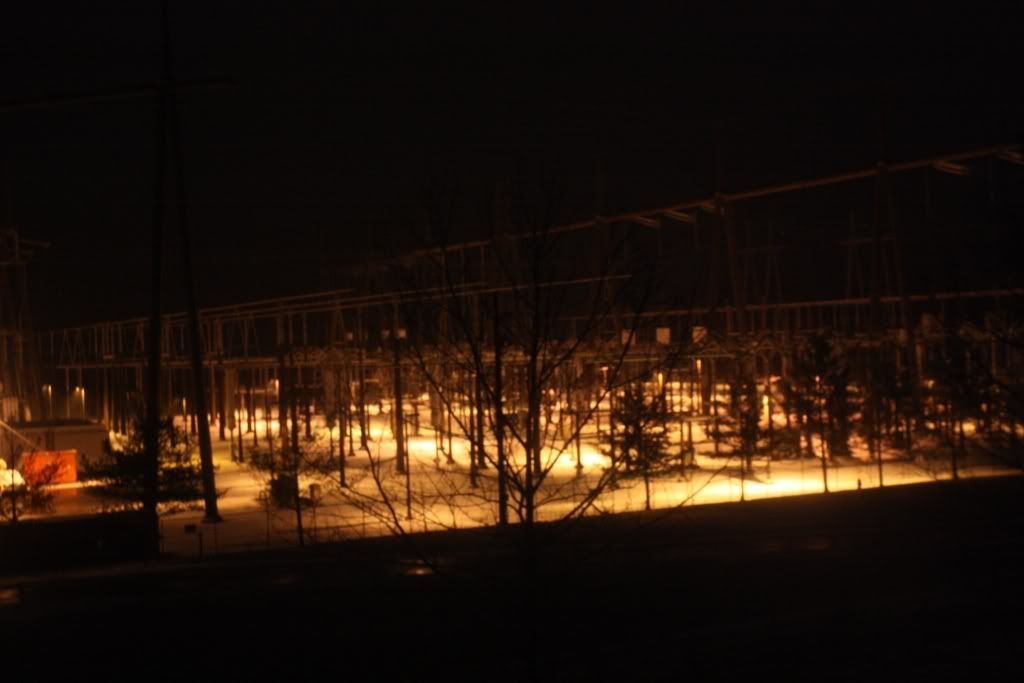 ---

The roads weren't too bad at this point, so we decide to try for GS. After stopping by the apartment we head out, and, well, the snow's gotten worse. And down south, they don't know how to do with this cold, white, novelty. After heading about an hour out, the roads got worse and worse. We were supposed to be driving out of the storm, but that didn't seem to be the case. We decided to turn around, and the roads got even worse. At one point, we even slid sideways, despite AWD, antilock brakes, and doing 35 under the speed limit.


We got home at... late. And the town had still not been plowed. So, of course, we went where we always went: above the city. We walked into town, past the police station, and up the tower. By this point in time I could navigate the building blindfolded. Which I didn't, of course, but I did do it w/o a light. Up top, it was worth it. It was even worth spending hours on the horrid highway. The town looked like a fairytale, or a model-train set.

On our way home dj told us the rumors of Capone's tunnels in the city (which he looked for, but couldn't find; so they're probably false), and we ran into some more people he DJ knew (he knows tons of people), one of whom went on to sleep out in the snow that night. Weird. We walked (slowly) home, and collapsed in bed.

For the first question, you were supposed to guess over a mile, while the answer is actually 5 feet. Sorta didn't work, I know.


[last edit 3/11/2010 8:15 PM by MindHacker - edited 1 times]
Modify Entry
---
Comments: (use Reply to add a comment)
This thread is in a public category, and can't be made private.
---
All content and images copyright © 2002-2022 UER.CA and respective creators. Graphical Design by Crossfire.
To contact webmaster, or click to email with problems or other questions about this site: UER CONTACT
View Terms of Service | View Privacy Policy | Server colocation provided by Beanfield
This page was generated for you in 1640 milliseconds. Since June 23, 2002, a total of 691834994 pages have been generated.