| | |
| --- | --- |
| | |
| | UER Store |
| | order your copy of Access All Areas today! |
Activity
76 online

Server Time:
2021-10-21 17:31:45

MAMU2v2 - Day 1
entry by MindHacker
3/9/2010 6:52 AM

---
First off, I'm sorry for being vague. I don't want to f*ck up anyone's locations, so this triplet is going to be less-than-precise.

Jerms (a uer lurker / personal friend) and I drove about 7 hours south thursday, planning to spend the weekend exploring, focusing on Gov Spiders (we both specialize in risky heights, and a 500' tower, logically, must be at least 8.3 times better than a 60' watertower!)

This meant we had harnesses, ropes, quickdraws, scaffolding carabiners, food, water, sleeping bags, everything we could need for a weekend in the cold. Conveniently we both had new camera's too, Christmas had been good to us.

When we arrived in town we dropped our bags off with our host for the night (couch-surfing is amazing. UER people are so nice in person!), and met up with DJ xxxx, who may be the most dedicated explorer I know.

DJ showed us how to squirm between some rubble well away from the building, pointed out an open window we should close to keep security off our backs, and went to pick up his rope bag and card the door at a local college.

We crawled through the innocuous rubble pile and entered a basement, extending out away from the building. The original architect, when adding this tunnel, never could have imagined it would be used not to ferry supplies to the factory, but rather to slink under dozens of locked doors and boarded windows.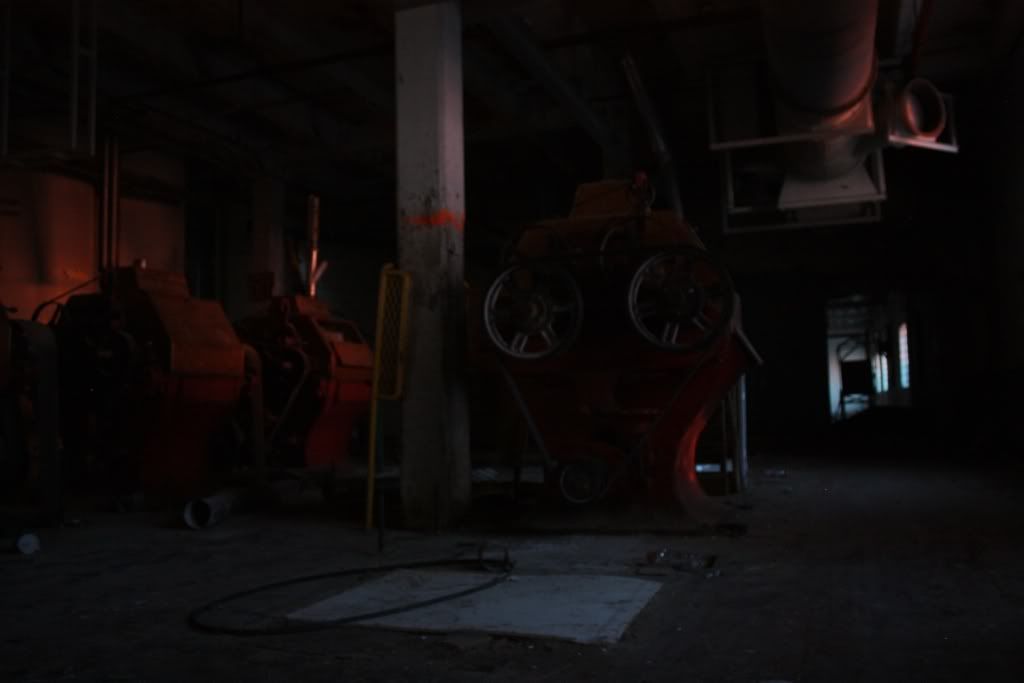 We made our way from the smelly basements to the daylit factory floors, and admired the industrial decay surrounding us. We took care of the window and slacked off waiting for DJ, at which point we finally went up to the midlevel. At first glance through the manhole sized opening in the ceiling the floor looks like it's only 20' away. Then slowly, the flashlight dances around the floor, your eyes begin to see the details, and you realize it is much wider at the bottom than the top - and (fatally) deeper than you expected. We helped DJ set up a redundant anchor, and watched as he rap'ed 100' down into the smooth sided, bottom-exit-less chamber. We tried to snap some picture of his rappel and ascent, but a free-swinging climber in low-light is not a camera-friendly target.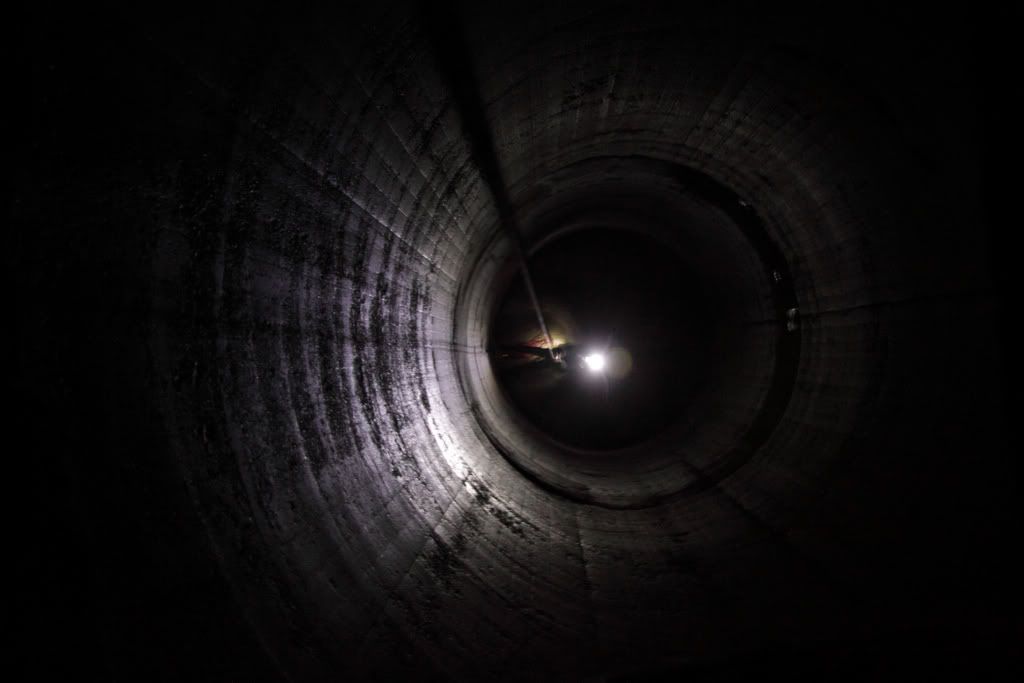 Second photo by jerms


After he made it out, and after we turned down the offer to give it a go, we made it up to the second level roof, where we had a fantastic view of the city. DJ saw g----'s car, and gave her a call. We made our way up the superstructure (200' up, but you only had to swing out 100' over a lower roof to climb up - an easy but fun free climb).

g----- met us once we got back down to the roof, so after admiring the view - and of course snapping a few pictures - we made our way back down for dinner.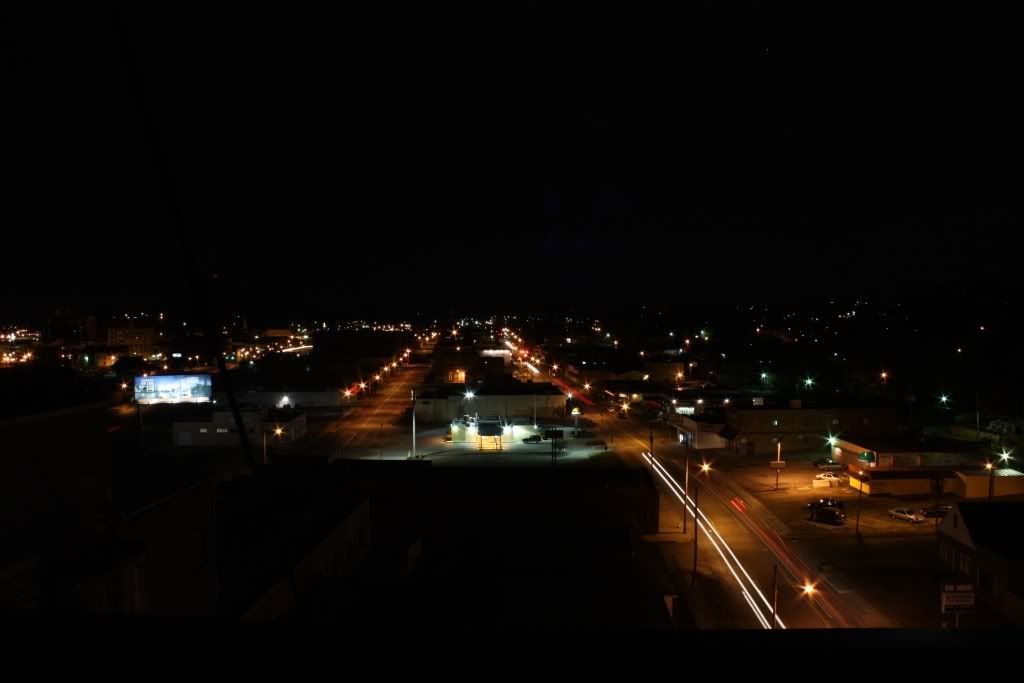 Trip two for the night was to the drains! Well, actually, trip two was to the stuff-mart. We bought the last two (cheap) pair of waders, moderately ill-fitting as they were, and then we headed to the drains. Gearing up, I decided I hate waders. They are awkward and ungainly. Anyways, we set off up the drain, allowing me to meet the first half of my New Years Resolutions (drain taller than myself, tower crane) for the second time in the just the first month of the year.

I quickly decide that I love tower waders. Not only do they keep you dry and warm, but they are like huge kangaroo pouches! Need to take a picture? Drop the flashlight down the waders. Need to walk? tripod will clip on and hang inside. It's great. Anyways, as we walk, the roar in the drain builds and builds. Eventually, we end up at the water-slide, which looks quite painful. DJ says that it used to be slideable, but it's only gotten worse over time. After taking a few pics (they sucked), we head back to the junction room. While Jerms takes a piss I put my light down on the flow-redirection blocks.... and it rolls into the drink. Luckily, the flow only pushed it half a dozen feet. And it still worked! +1 for maglights.

Anyways, we headed up the more interesting of the branches, and then did a pipe that DJ said was one of the few he hadn't explored. Dumb idea, after 100yards or so it turned into a shrinker, so and then we had to pass pipes, and then it started to smell a bit CSO'y, and there were dead spiders all over the place. As someone used to knee-breakers, the back-breaker.... sucked. It sorta encourages you to run, which is pretty hot in waders. Jerms dropped his jacket off and we headed further up the "interesting branch."

Features included a section with a missing roof, mud that would suck your boots off, sections deeper than my hips, and disconcertingly close to the top of the waders. After passing a few girders and pipes, we entered the section that blurs with an active basement. Well, semi-active. DJ turned the light on, and we admired the bizarre idea to run electricity through a drain that never empties, and occasionally floods. As dj told us about the tenants of the location (a medical company, of all things), a little pipe would occasionally hiss steam out, perhaps explaining why it was connected to a drain. Then the other pipe started hissing. This was a 2" pipe, as opposed to the 3/8" pipe that we were used to. I figured: no big deal. Jerms and DJ jumped immediately. But after a second, when it hissed with more and more violence and no sign of stopping, I got seriously freaked out as well.

DJ grabbed for the light switch, missed, and we all took off as fast as we could - which isn't that fast in waders, at least not after you get into the water of questionable depth. After a few more seconds (which, of course, is forever when you think a medical company is trying to poison you / gas you out of their basement) the pipe shut off, and DJ went back to get the light. Still freaked out, we all left anyways, and headed back towards the surface.



Picture by Jerms. My drain shots failed to capture the scale of the drain sucked.

The rest of the night was without incident, the doors were locked on every side of the building we tried for on campus, so we went back and collapsed on couches.


[last edit 3/11/2010 6:24 AM by MindHacker - edited 2 times]
Modify Entry
---
Comments: (use Reply to add a comment)
This thread is in a public category, and can't be made private.
---
All content and images copyright © 2002-2021 UER.CA and respective creators. Graphical Design by Crossfire.
To contact webmaster, or click to email with problems or other questions about this site: UER CONTACT
View Terms of Service | View Privacy Policy | Server colocation provided by Beanfield
This page was generated for you in 93 milliseconds. Since June 23, 2002, a total of 660526330 pages have been generated.