| | |
| --- | --- |
| | |
| | UER Store |
| | order your copy of Access All Areas today! |
Activity
96 online

Server Time:
2022-12-06 01:54:50

DCMU 3
entry by MindHacker
2/25/2010 6:43 AM

---
So, after slacking off at Corley's and using demonstrating the gamut of satellite stalking software on a longlines tower, we head off to a power plant. Sorry. I keep being vague, and I'll probably stay that way for the next set of posts too. I'd feel horrible if I a) got someone caught, or b) got someone's site sealed.

Anyway, we park (at a park!) and head over to the site, using lights as sparingly as possible. Then we cross a canal (with nice, 6' drains feeding it! Maybe next time), and head down the fence 20 yards through bushes and wriggle through a small slit in the fence. Then we walk 25 yards back up the fence and admire a huge huge whole. Without bushes. Oh well.

We peek around the building, and FL describes the next few moves to us. In view of the road, we jog around the corner to a gaping wound in the sheet metal. We throw our bags through and follow, climbing up over a railing right inside. As last person, I'm exposed a bit longer, but tonight is a lucky night, or a luck-unneeded light, so it's not real concern.

Since it's already 1am, we head straight for the roof. There's talk of having a race up the stacks! Wandering a power plant without a light is a bad idea, but since I don't have a red filter (really gotta get myself some brakelight tape) I'm relying on other's lights, and checking suspect area's with my own light, pointed into my trenchcoat. These suspect areas are almost entirely when we are walking over mesh. If you've ever walked over metal grates in pitch black, it'll turn your stomach. There's nothing quite looking where you're gonna put your foot and seeing nothing but streetlights faintly lighting the ground. 60 feet beneath you. And to ice the cake... there are no railings.
I'd love to go back, it was impressive seeing a room full of catwalks and machinery even in the dark. Daylight would either ruin the mystery, or reveal a fascinating labyrinth.

Anyways, we ascend stairs, dodge ladder-holes waiting to trick us, and make our way to the roof.

I sat on the corner (trying to kill off my self-preservation instinct. Sitting isn't as unnerving as standing, although all I could think was "if I just shimmy forward slightly, I'm gone. Frik. And they did this on a ledge twice as high!" So if anyone asks, I blame the construction board.) and took a few pics. They didn't turn out well. The first weekend with a camera with a working backlight, and exif tells me I left the iso @ 800 - which was way too high. I also, time after time, blinded myself with the screen. And almost let it shine as a "hey look at me" beacon trying to get a picture of the cop car driving beneath us. Only after hearing the shutter click shut did I realize what was about to happen. Lightning fast reflexes let me get my hand over the lcd in time. I credit ninja training.

Anyways, then it was time for the smokestack race. Me and FL started, then paused as he got his gear reconfigure, and then went for it again. Only to satisfy your curiosity, dear reader, will I mention the results. Utter domination. By a factor of 40%. Also, in the sake of being fair: I was out of breath. Quite out of breath.

I did manage to get a bad picture:



and a good picture! (possibly my only really good one the whole weekend):



After that we went back down and chatted, convinced vadder to give it a go, and chatted some more. Box? I think box... told us he went down they conveyor and out the house, so I checked it out (After balance beaming my way over (with a cheating hand against the building) across a window frame, long devoid of any glass), and decided I'd head back that way. Vadder followed agreed, but asked we take the easy (inside the building, out the door, not 12' high window frames) way to the path. The rest of the group start back via the interior. In the artificial sodium moonlight grating is much less disconcerting. Especially with railings. However, there were missing lengths of panels, from 6 inches to 6 feet long, requiring careful foot placement to the edges. We even saw FL and crew 40' below us through one of these gaps. Once inside the building it was down a flight of stairs, through a broken window in a locked door, out a second floor window, and down a power pole. Rather fun.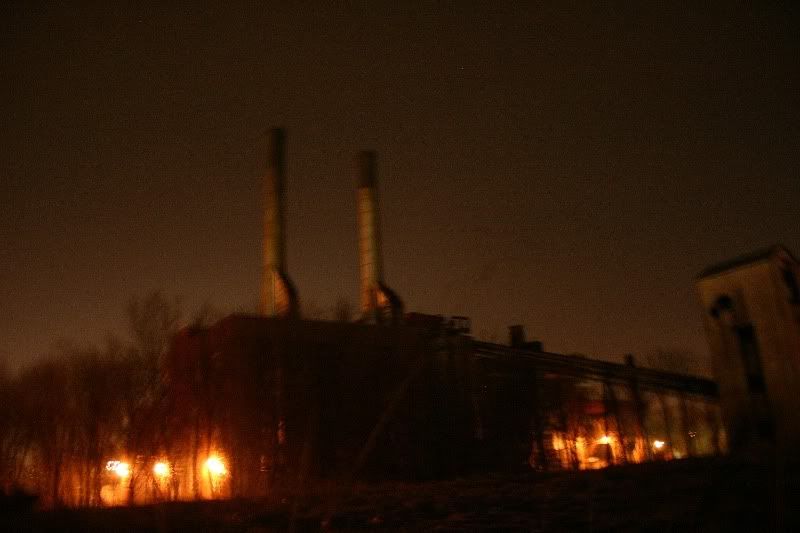 [last edit 3/9/2010 6:01 PM by MindHacker - edited 2 times]
Modify Entry
---
Comments: (use Reply to add a comment)
This thread is in a public category, and can't be made private.
---
All content and images copyright © 2002-2022 UER.CA and respective creators. Graphical Design by Crossfire.
To contact webmaster, or click to email with problems or other questions about this site: UER CONTACT
View Terms of Service | View Privacy Policy | Server colocation provided by Beanfield
This page was generated for you in 109 milliseconds. Since June 23, 2002, a total of 691836518 pages have been generated.