| | |
| --- | --- |
| | |
| | UER Store |
| | sweet UER decals: |
Activity
167 online

Server Time:
2022-12-06 00:28:31

Philadelphia is an abandonment.
entry by MindHacker
11/21/2009 8:03 AM

---
My ex moved to philly, and, well... it's a completely different world from the suburbs. Across the street: For rent, empty. Next door: Abandoned, starting to fall in. We even hit an abandonment missing an abandonment. Saw a kirkbride on our 10-minute trip to a site.

Basically, we were bored waiting for furniture to show up so we could move her in, so we went to the library, pulled up some tourbooks, and the UE-DB, which I never loved so much as I do now. I picked out some likely candidates, and we decided on the coal pier, and the Church of Transfiguration - which I promptly forgot the name of and referred to as the church of transmogrification.


---


Google maps, as hastily jotted down, is only so-so accurate. We got to the right street, but then drove a few miles up and back, before guessing "probably here-ish." For those of you playing along at home, we hit 39.967961,-75.123653 looking for 39.9717759024611, -75.1137614250183. It's not all bad, we saw some cool stuff, half sunk barges and unused piers. We started off towards the proper location, and dirt mounds, people, and a lack of daylight intervened, and we said effit. Next time though... next time. There's also parking along with other cars and a lack of hobo's, although some of the buildings might house some. Next time I'm also bringing a folder or my hobo light.


---


On day two we went for the Church of Transmogrification, and this time our ghetto-maps worked out great! Decently inconspicuous parking again, but us being white got us a few stares from the passing schoolboy. Anyways, same as UnSafeWay, the demo-fences left nice gaps that I just walked up to and in. The intention was just to walk around it, but sometimes these things just beg you to walk in... so we did. The back of the building was actually pretty secure. We got in by going down a side stairwell and scampering over the rubble that partially blocked the entrance way.

We saw the back rooms, an office or two, a stack of folding chairs... There was even a hatch that went down to a culvert/drain. Part of me wanted to jump in and see where it went. But the rest of me is afraid of dark water, especially without a light, any idea of where the bottom is, spare clothes/boots/anything, etc etc. Then we saw the basement, or maybe half of it. There were holes in the floor / our ceiling, rubble pouring in, and it turns out the front of the building is the exact opposite of "pretty secure" - meaning, of course, that it is wide open.

After going up a back staircase (w/ a F/RoX sticker) we found another office, and stepped out into the front of the church - where you could survey the knave over twisted girders and crushed concrete. We had to climb out there- a nice 18" rubble-strewn ledge - because, you know, it's pretty. Tile work and etc. In my paranoid "they-didn't-just-start-that-bulldozer-did-they?" checks, I saw someone who looked like a manager. When he came up to us I spit the proper urbex lines (We just moved here, but I've seen pictures of the interior from before, and I love the contrast of the beauty of the church and the chaos of the wreckage). Turns out he works in the neighborhood, and instead of coming to kick us out, he came to grab some of the stonework. I thought about it. There were some steps that really looked like nice marble... but come on. That'd be 500lbs, and too hard to get out. As much as I like the Sierra Club motto, it totally doesn't apply to active demo sites. I still couldn't bring myself to kick through a plywood door cover though. There was a good inscription too - "Jesus entering the sepulcher" or somesuch - I'll find a pic of it. Kinda fitting, right over a doorway and everything.


Finally, we made our way across the rubble-strewn floor, safely away from the holes (except to grab a nicely glazed casting, which is her new doorstop), and past the other basement door - which was held by the chain from bursting and pouring out the rocks within - and left. No cops even.


Yeah, this article needs some work. I'll probably rewrite some of it, atleast the second part. And post pics. When she sends em to me.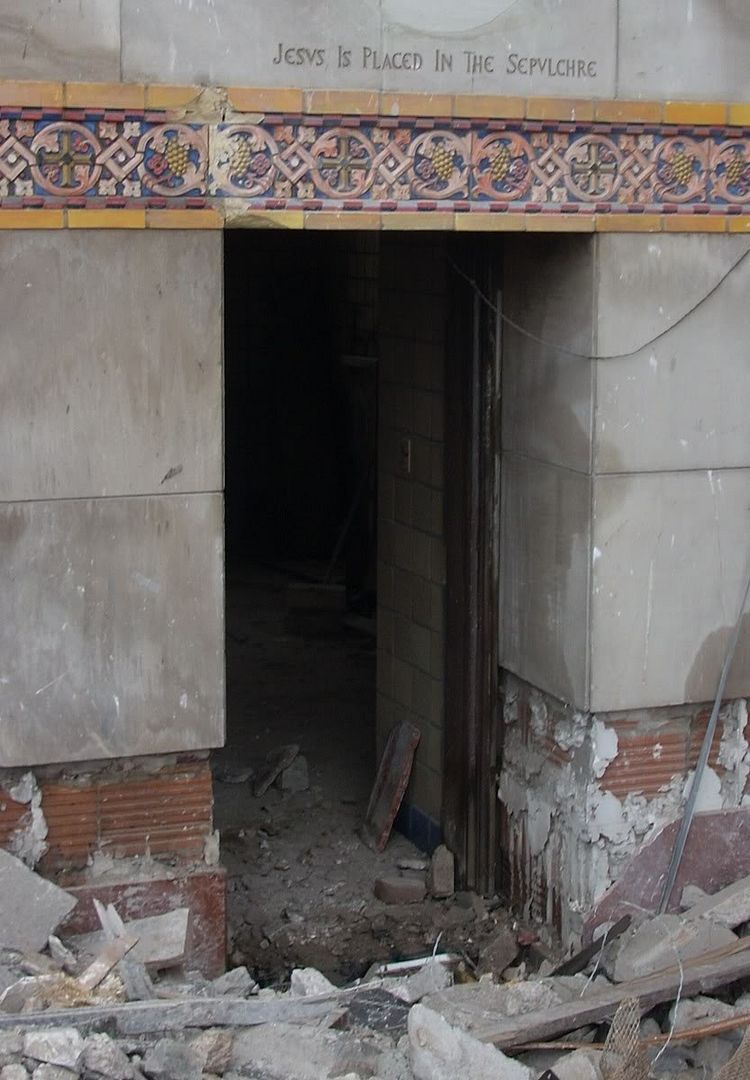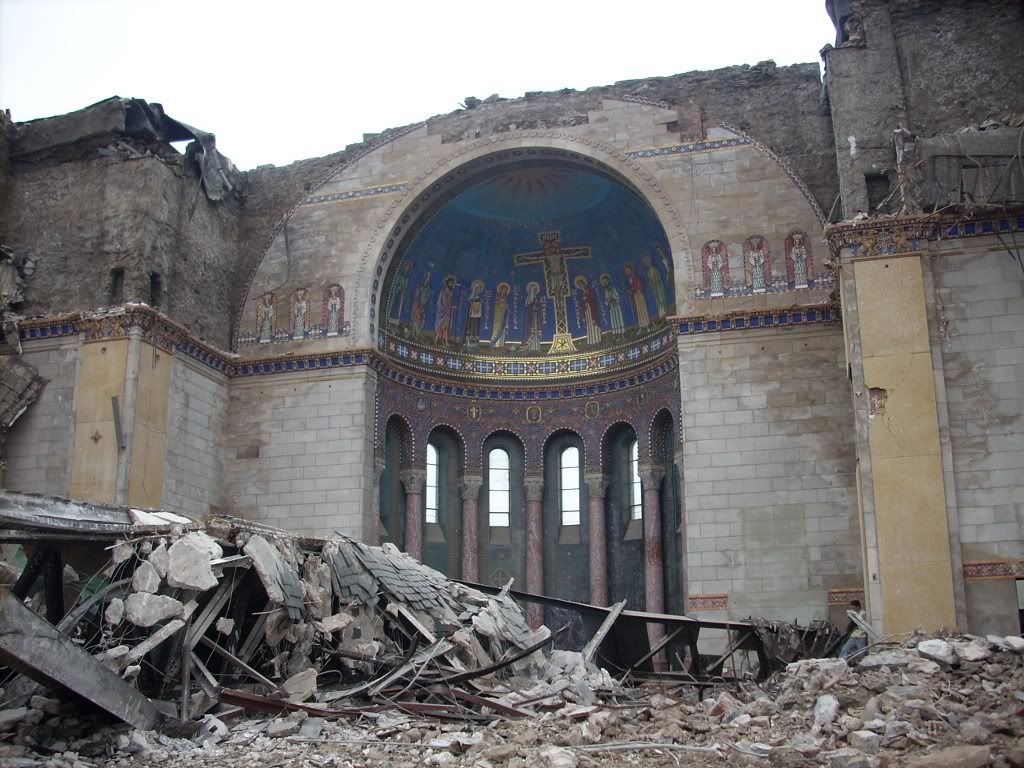 [last edit 1/26/2010 6:53 AM by MindHacker - edited 1 times]
Modify Entry
---
Comments: (use Reply to add a comment)
MindHacker


Location: Suburbs of DC
Gender: Male
Total Likes: 1 like




If you spot a terrorist arrow, pin it to the wall with your shoulder.

| |

Re: Philadelphia is an abandonment.
< Reply # 1 on 1/26/2010 7:03 AM >
| Reply with Quote

---

Pics up, rewrite when I'm more motivated.






---

"That's just my opinion. I would, however, advocate for explosive breaching, since speed and looking cool are both concerns in my job."-Wilkinshire
This thread is in a public category, and can't be made private.
---
All content and images copyright © 2002-2022 UER.CA and respective creators. Graphical Design by Crossfire.
To contact webmaster, or click to email with problems or other questions about this site: UER CONTACT
View Terms of Service | View Privacy Policy | Server colocation provided by Beanfield
This page was generated for you in 125 milliseconds. Since June 23, 2002, a total of 691831719 pages have been generated.