Yesterday was my birthday. I've been really busy lately between school, a new dog, and mutual aid volunteer work that I do. But yesterday, I didn't log on to Zoom for class, and instead went hiking. My partner and I spent a few hours in a state park looking at mushrooms and watching birds, then went driving for a while. We passed under an old, broken train trestle that I demanded a walk out onto. After some more scenic driving, we turned back and hiked up to it. On our way to the nearest parking lot (it's by a trail) we noticed there was someone up there already, but I figured they were taking pictures too. I decided that if they left before I got there, I'd take a piss on some cars or something to celebrate turning 30.
1. (That's a damn lie!)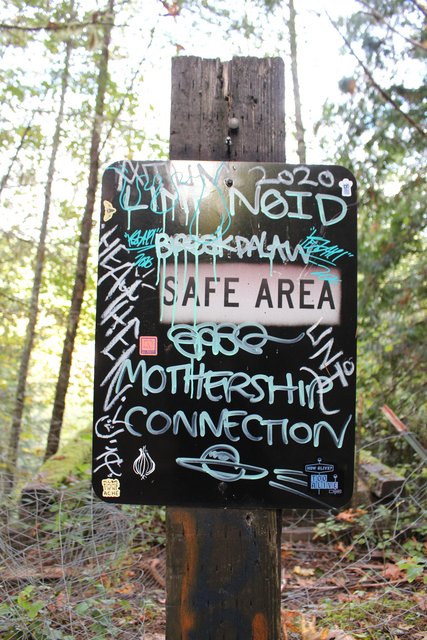 2. I'm not really afraid of heights, but my partner is. He stayed on solid land while I walked the trestle. This photo is one of the points where the ground beneath was pretty close. I could hear someone talking, so at this point I thought that two people were hanging out ahead of me, sitting on the trestle.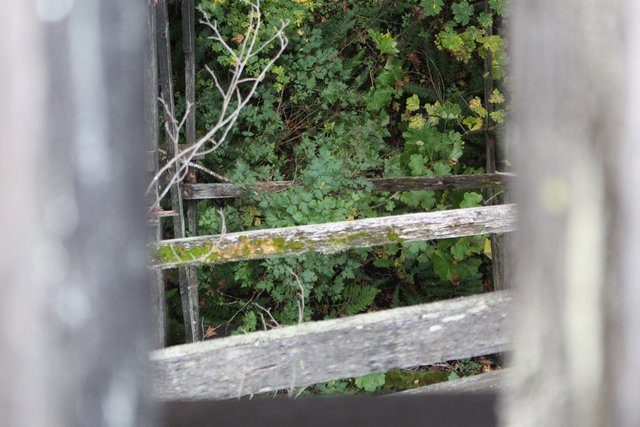 3. At this point, it became clear that it was actually only one person on the trestle with me. She was sitting by herself, smoking a cigarette and drinking a beer, talking an awful lot for someone who's on the phone in a dialogue... So I listened a little more closely. "It's not okay! Everyone in the whole neighborhood just talks about everything that's wrong with me and my body!" She was talking in circles, always coming back to how much everyone hates her, it seemed. I concluded she was talking to herself; it was a monologue. I took this picture of the trestle. It's not great, because I intended to blur her out without needing to edit.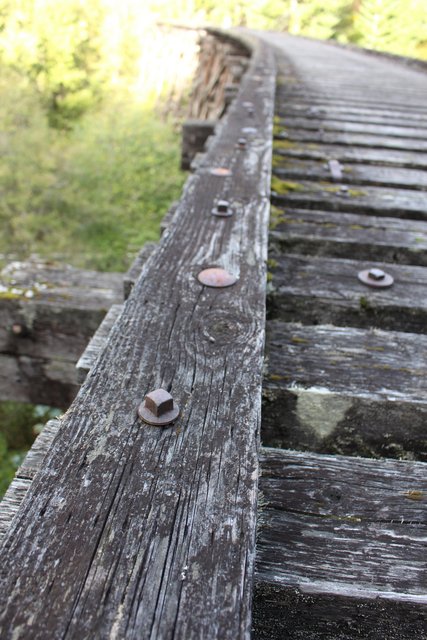 4. I went back to talk to my partner. We walked under the trestle, and I got some pics of the light coming through...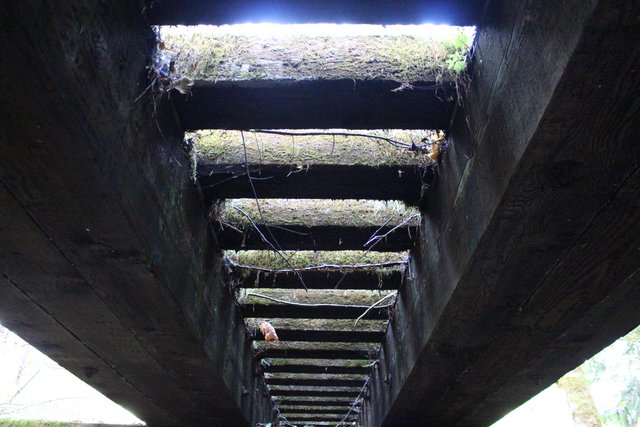 When you hike up to the trestle, there's first a fence that you must bypass. I noticed a clean pair of flip flops in front of it when we'd initially approached. They still had the impression of footprints left by someone's skin's oil, and had clearly been worn at some point within a day. When I went to tell Dan that the person out there was talking to herself (about being hated), I could not shake a really, really horrible feeling I had.
My first instinct was just to leave. Then I remembered that when people kill themselves by jumping off bridges, they usually take off their shoes and leave them behind. This woman was obviously upset about something. I couldn't see her feet because she had them resting on a beam between pieces of wood where she sat, but I had a strong sense that those were her flip flops. I could have left her alone and she might have left alive later on, but turning back, leaving, and doing absolutely nothing would have been unethical in my eyes. I made the decision to talk to her.
I've tried to kill myself twice. I struggle with depression that can cause me anxiety and psychosis. When I was in high school, I read about a man who wrote a suicide note that said that if anyone smiled at him on his way to kill himself, he'd turn around and go home. That man jumped off the Golden Gate Bridge and is dead; I refused to be the person who could've made a difference but didn't.
The dilemma was then that there was a chance she could get violent, and my partner, frozen in terror at the thought of walking the trestle, couldn't accompany me. So I went alone, and tried just to look at my feet instead of her as I walked out above the trees, above the road, toward this stranger... Apparently she was so focused on the goings on of her mind that she didn't notice me. I said "hey," and she screamed. Back on land, I guess that scared my partner pretty bad because he couldn't see us from where he was. She cupped her hand over her mouth and looked at me wide-eyed, and I apologized for startling her. I asked if she was okay. She told me, "Yeah, I'm just talking to... people. I'm talking to people." I still couldn't see her feet, just a Hop Valley bottle and her sunglasses - but no phone, either, and when you talk on the phone, you talk to a person, not "people".
I told her "okay, I just wanted to make sure".
She replied, "Thank you, but I really am talking to people" and then, gazing ahead again, "So, um..." she continued to talk to "people".
I turned around, met back with my partner, and we returned to the parking lot, where only our car and one other remained. Out of curiosity, I looked in that shitty sedan that was there. Inside was an empty back of Marbs and an empty Hop Valley six pack - nothing else telling except a cat toy, but it was clearly her car.
We drove back to town, and I prayed that she wouldn't jump, that she wouldn't accidentally fall, that she wouldn't get in an accident driving, but overall felt that I'd done all I could and wished the best for her. She's a young woman with a great spot to go blow off steam - I just hope she gets some help for what she's going through. I relate to her a lot, minus the monologues.
What a good day to have survived this long despite my own efforts to change that...
[Edits, because grammar!]