What a GREAT set. My father with with the NRC (Nuclear Regulatory Commission) and inspected Nuclear plants. The last plant he inspected was Plant Volga before it was activated for the first time. Sadly, my dad died heading back to his hotel. He smoked a pipe and they think he dropped his pipe and while looking for it, he went off an embankment. Dad didn't like seat belts and this helped to ensure his death. He was thrown thru the windshield and the car ran him over. It makes me proud that he did his best to ensure nuclear power plants were safe.



is it still there?



Posted by Whyshy
is it still there?




Is anything still there? I mean, are WE even here? Maybe this is all just a simulator. All this could be the construct of a greater mind.



It's a federally historic protected landmark and a museum now, tours are available to the public.




never know until you go
Posted by AaronNi
It's a federally historic protected landmark and a museum now, tours are available to the public.




Not all of the Hanford site. Some it are still a high level radioactive waste storage/hazmat site.
This includes isotopes used in nuclear weapons mixed in with it.






Just when I thought I was out... they pulled me back in.

Yes but also no.

The B Reactor is now a museum, you have to book seats on a guided tour from Richland and then you can wander a large portion of the safe areas of the B Reactor. You can go outside but not past the fenced off area.

Hanford itself has public tours but they are mostly a bus ride through the grounds of the entire site of the Hanford Nuclear Reservation, including the old remnants of White Bluffs. There are only a few spots where we got off the bus, in very limited amount of time, but it was indeed a tour, like I said earlier.




never know until you go
I'm so happy to have clicked on this thread. Great pictures. It's great that they've got it somewhat open to the public.



Posted by hannahmontana

Isn't that incredibly dangerous?!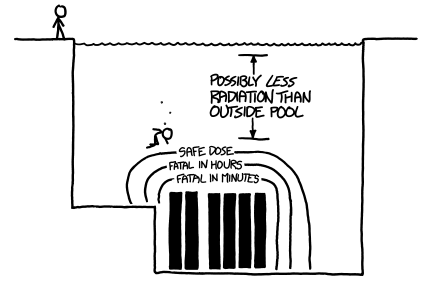 Spent fuel pools are surprisingly safe. Water is way more dense than air and can better trap the radiation.
Picture by xkcd, he has some great comics btw

Also the pictures are absolutely beautiful! That's really cool that you can kinda walk around unsupervised, definitely a little more oriented to the urban exploration type than strict guided tours. Wish more tours were like this.




A collection of my explores:
https://www.instagram.com/und3rlie/