Been a while!
There have been some further developments with both sides of the NSH campus over the last couple months. Rather than spam threads for each trip, the better or more interesting photos are concentrated in this one giant thread. These are all from April through June.
----------
Trip 10:
01: Nurses' Building
Returning to the Northern campus, we headed towards the building we passed by last time, the Nurses building. This building appears to have served as a residence hall for the hospital's many nurses.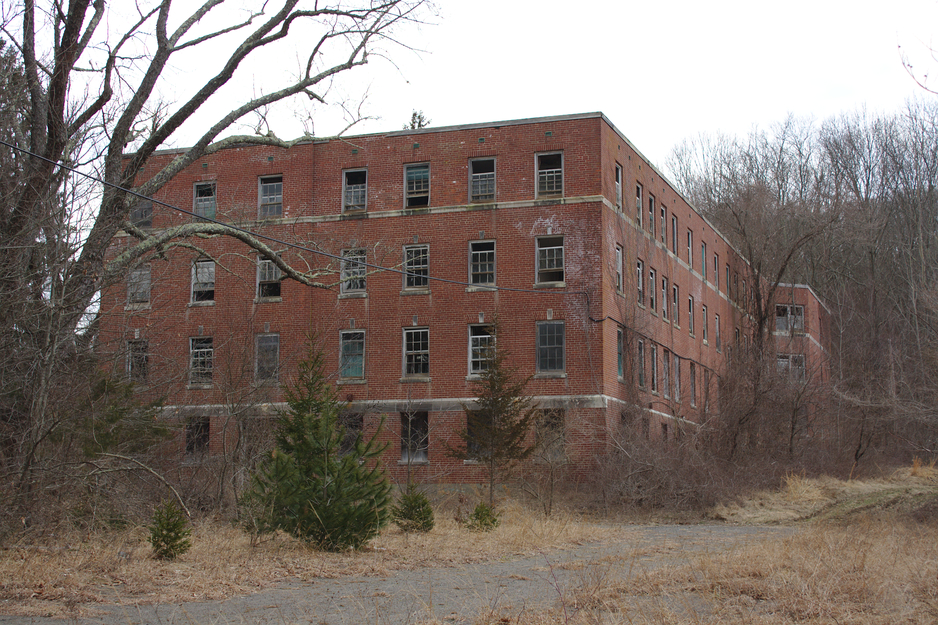 02: Little Bathroom
One of the first rooms we entered was a large basement area; walking through a side door in there got me into a little bathroom, where I witnessed the aftermath of a toilet's murder.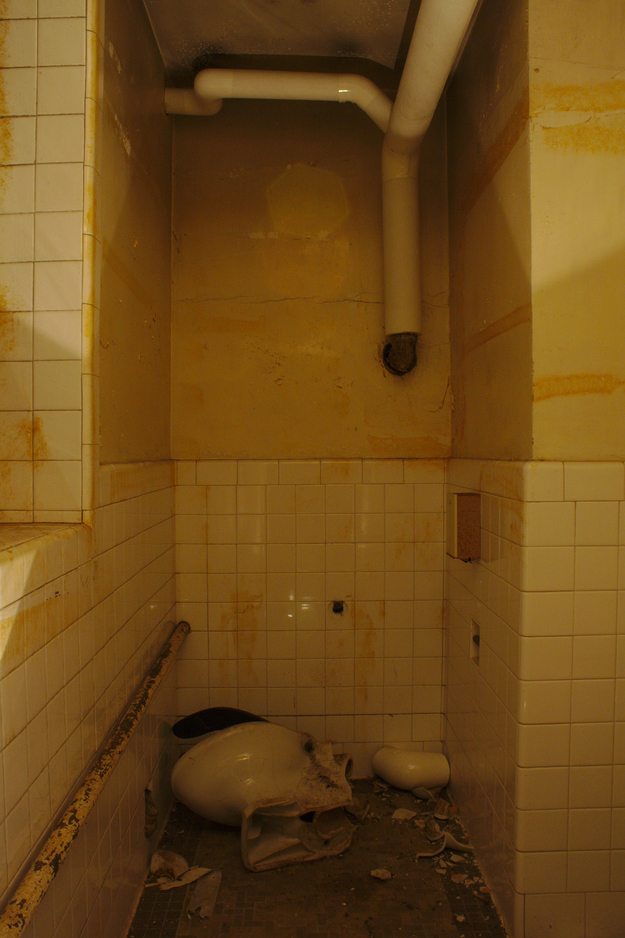 03: Chamfered Sink
All of the sinks in this building feature what my friend identified as British spouts - one is dedicated to hot, the other dedicated to cold. Both were chopped off for scrap value.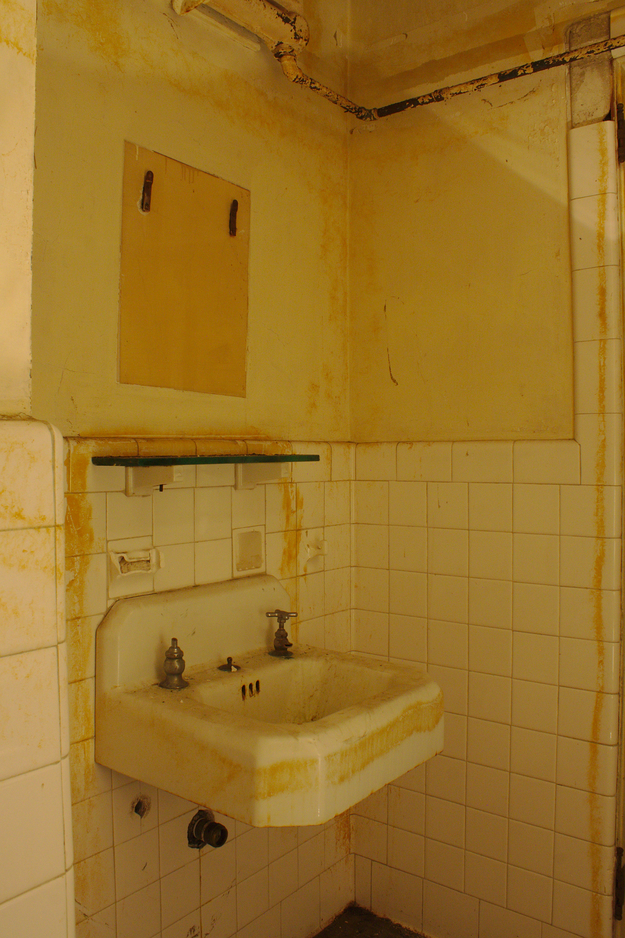 04: Tank
This huge steam tank sat in the back corner of the entrance room. A specifications plaque indicates it can hold up to 150PSI of pressure. Presumably steam; I commented that 150 seemed low when my friend's homemade compressor's tank can hold 400PSI, and he reminded me that that's 150 pounds of pressure
on every square inch.
If this tank held 400PSI and ever burst, there would be chunks of this building
in orbit.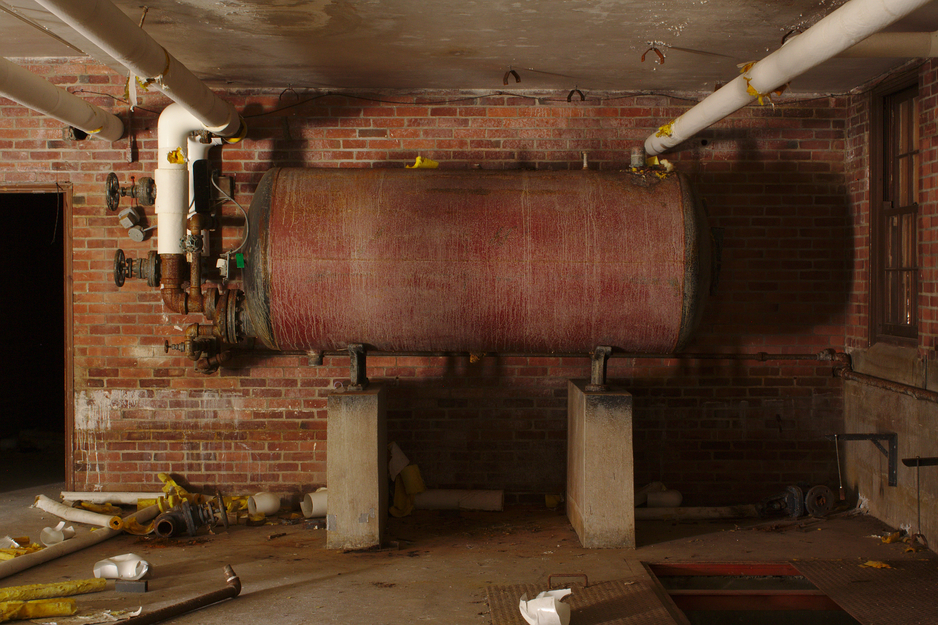 05: Laundry Deposit
That circular hatch opens into what we think was a laundry chute. There's a hatch just like this on each floor, however at the very top of the pipe is a heating coil, so who knows!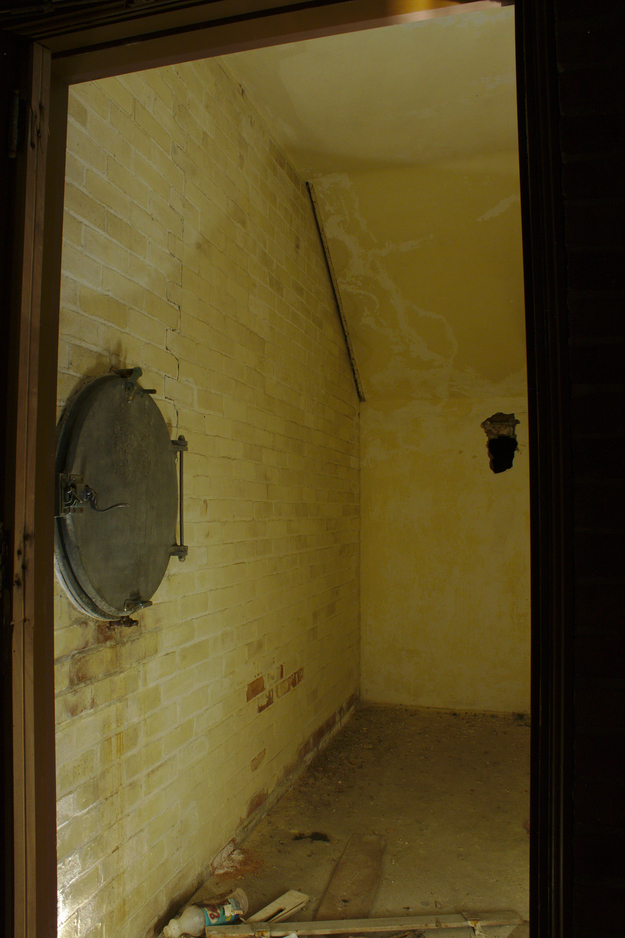 06: Bathroom
For whatever reason, the basement had the nicest bathroom in the building. Along the ceiling is another plastic pipe like the drain pipe of the two sinks in the NSH Trip 9 gallery. Evidently both buildings had plumbing problems so bad that they had to bypass the original plumbing entirely. Having mild experience with plumbing problems in my own house, I don't blame them.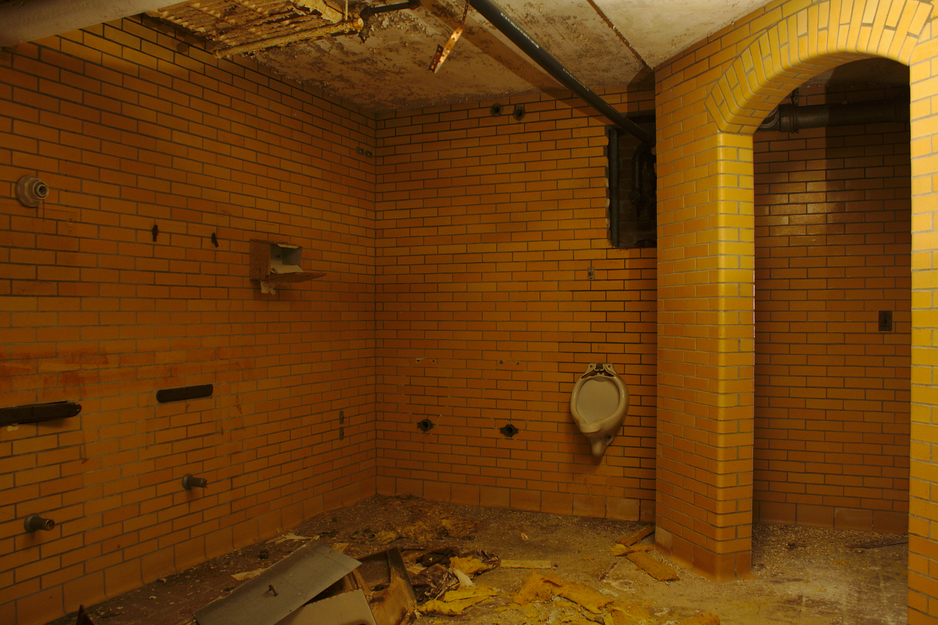 07: Minecraft Furnace
We're not entirely sure what this furnace or incinerator's purpose was; it appears to connect to a chimney and nowhere else. My personal theory is that it's for incinerating soiled clothes or bedsheets.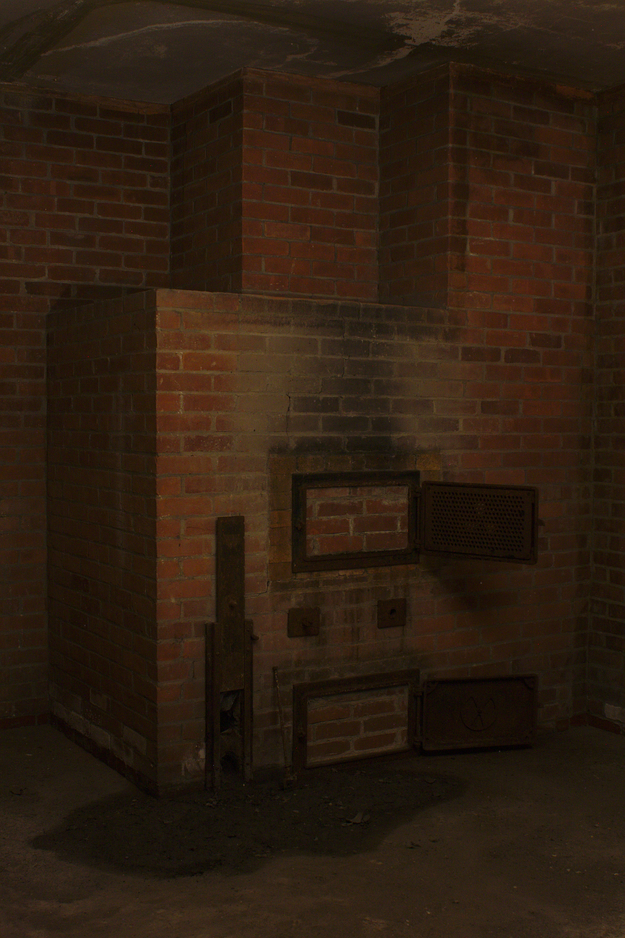 08: Residential Hall
Climbing a flight of stairs put us in a hallway of tiny residential rooms. I forgot to take a photo of the specific hall I'm standing in here but there are other identical ones further down in the gallery.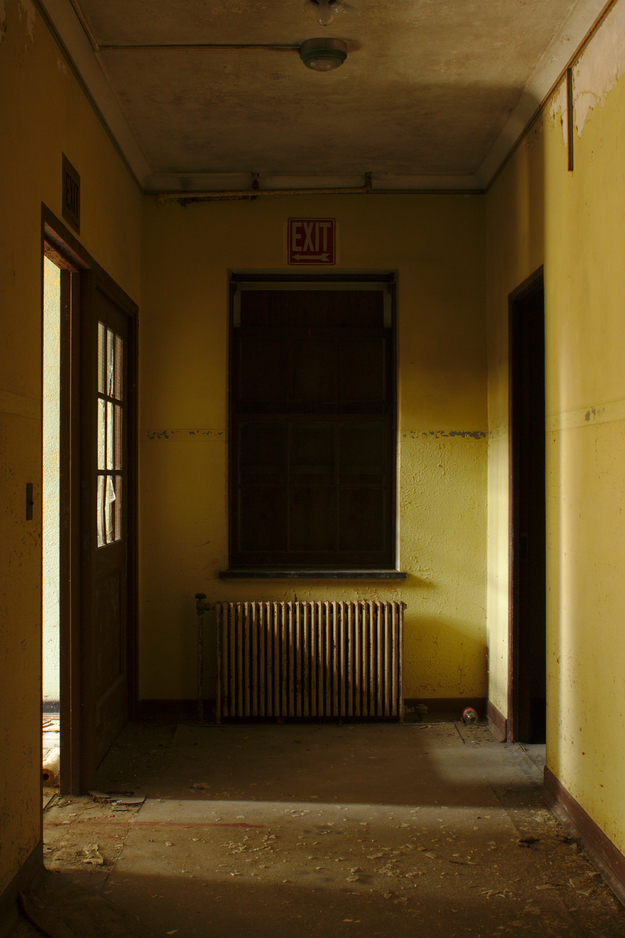 09: Odd Shower
The bathroom on this floor featured a weird, enclosed "triple shower". Up to three people could all shower in private but close proximity to each other. There were two large vent holes up near the ceiling to let steam escape, yet there's also an extractor fan built into the shower's wall. Maybe that was added later, but either way this shower would have been awful because the circulation would keep bringing cold air in.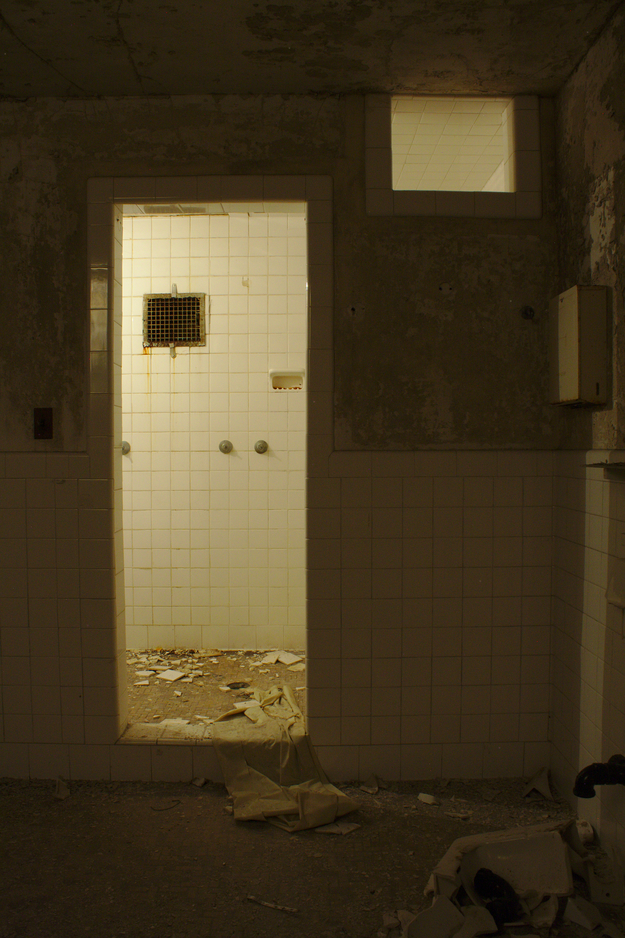 10: Dark Walk
This is the other first-floor hall. The other hall that I forgot to take a photo of is identical to this one.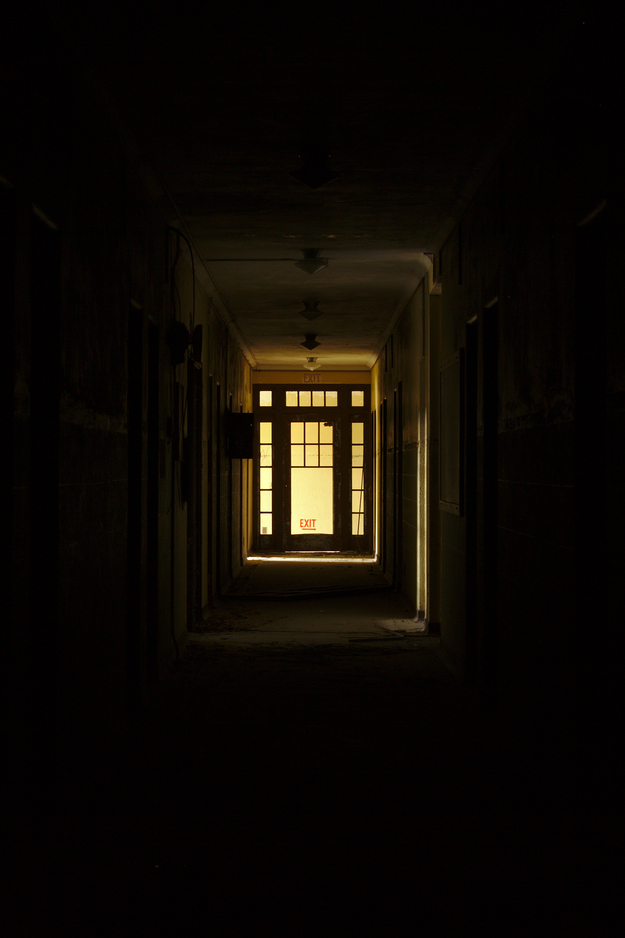 11: Rising Decay
Now reaching the third floor, we got an idea of what awaited the lower floors if this building wasn't rehabilitated in a few years. The roof, while sturdy, actively leaked water in some places, causing a lot of damage to the interior.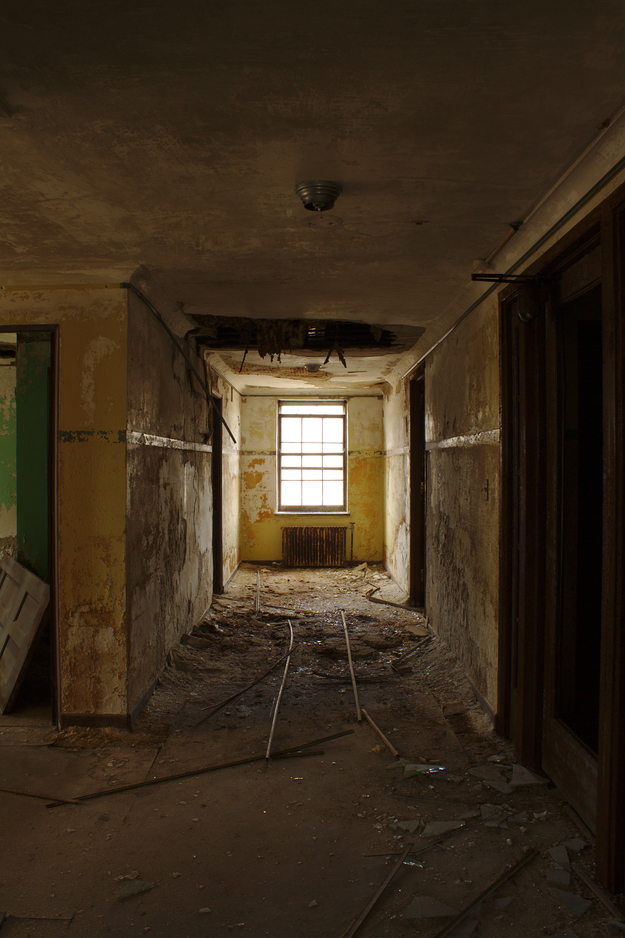 12: Common Room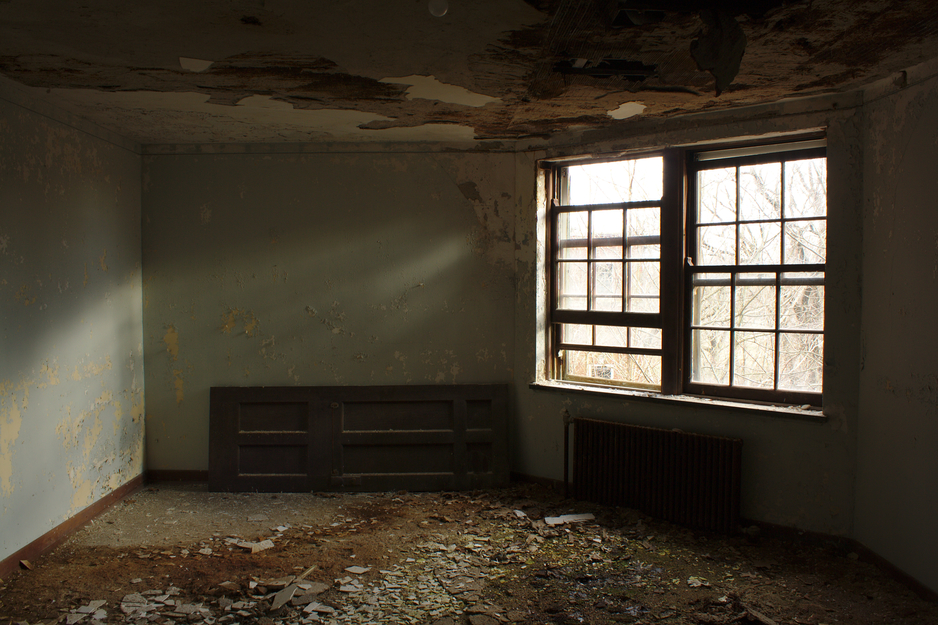 13: Looking Down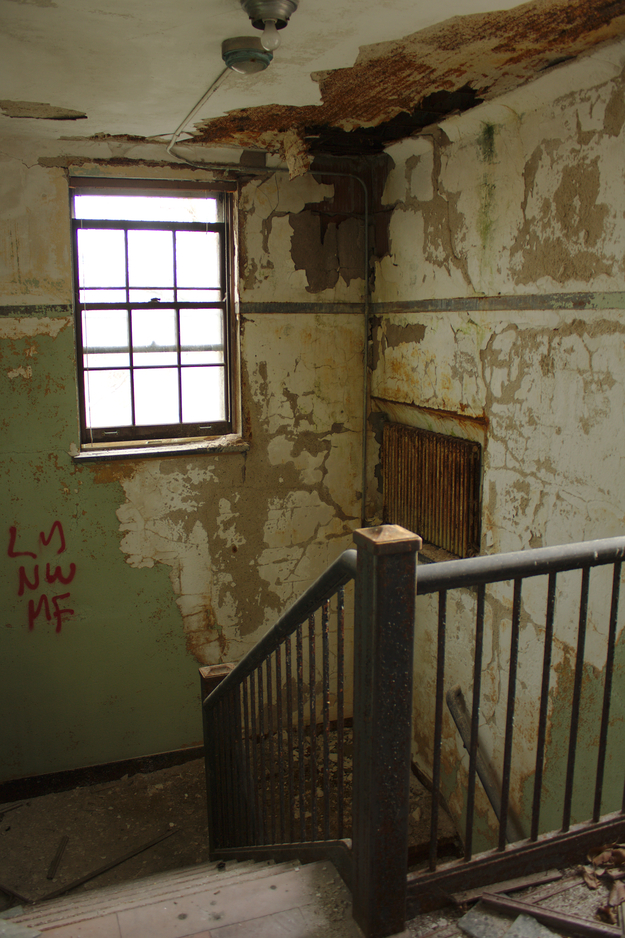 14: Roof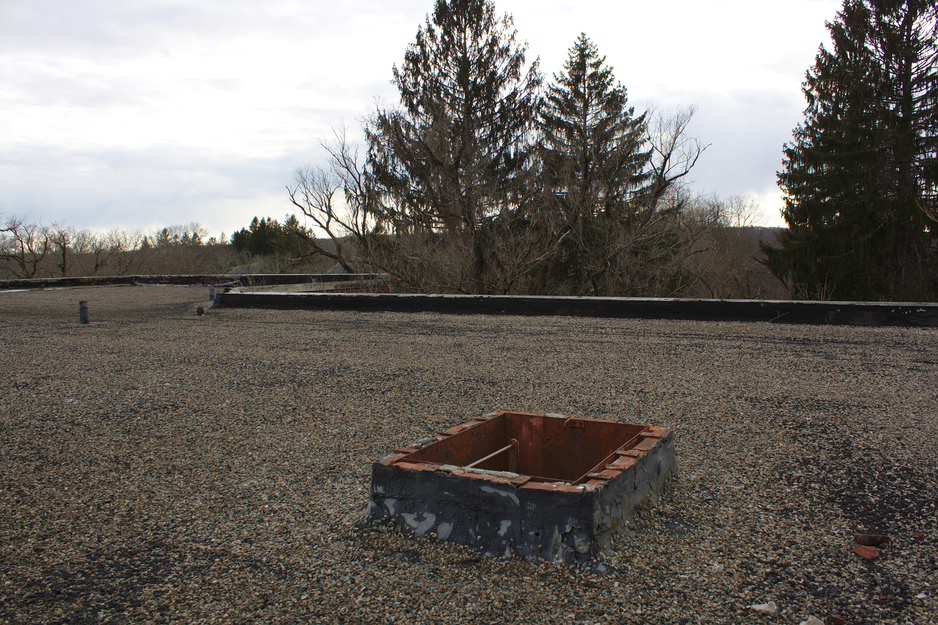 We also went back to Pond View to revisit a depressing dorm room.
15: A Dark Place
This is the dorm my friend and I speculated about the Harley and banana stickers in the prior gallery. A tiny desk, concrete walls, and a dream represented by a translucent sticker on a cracked window next to fruit sticker cell tallies.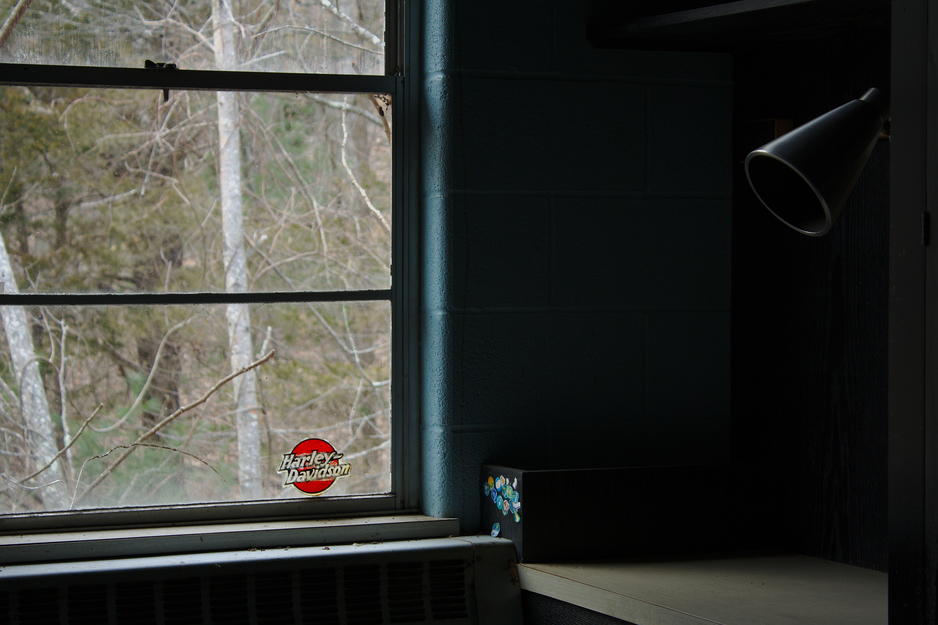 16: The Stickers
One Chiquita sticker slipped free of the shelf and came to rest standing up.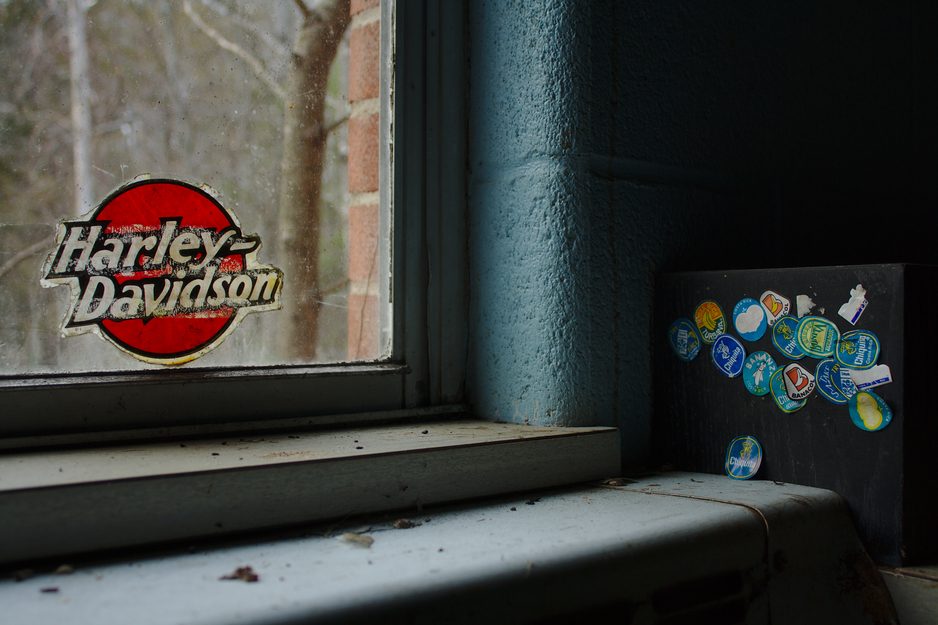 17: One Day At A Time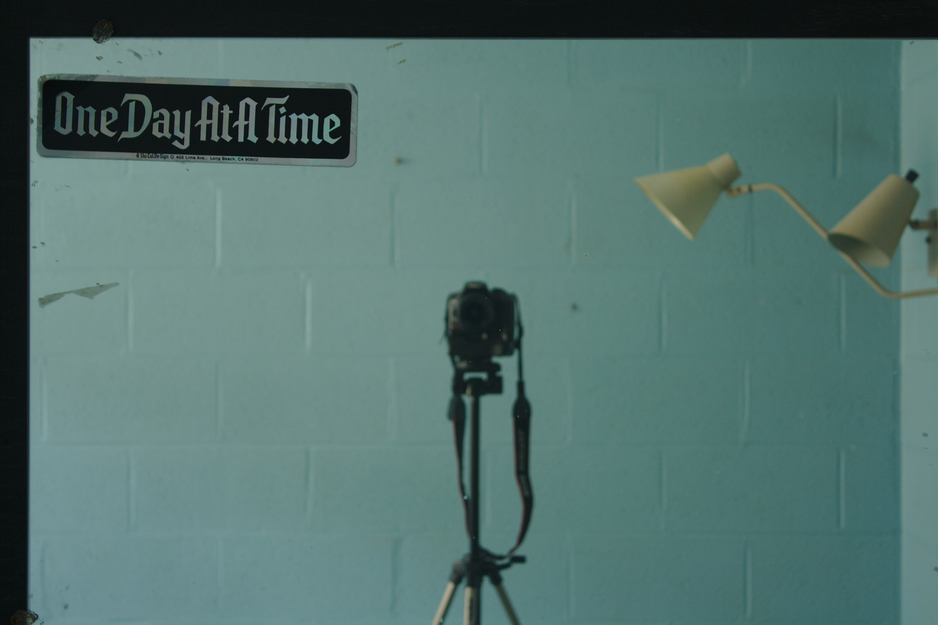 18: Lighthouse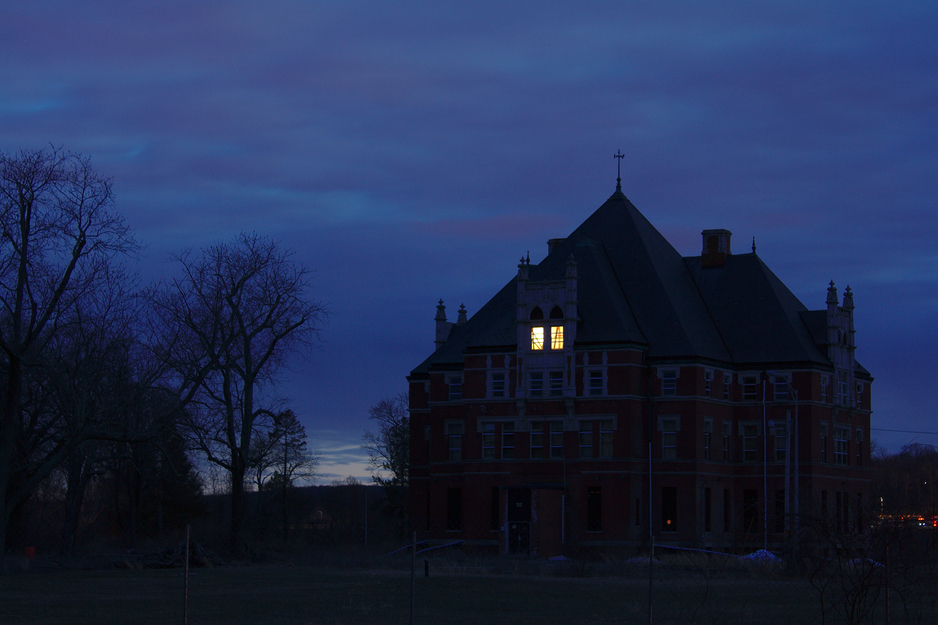 -----
Trip 11:
Returning to the campus again next weekend, we explored the Outreach Building slash Male EMP Building, depending on which map you look at. This one had a huge series of garages in its basement, perhaps once a place to maintain a fleet of hospital vehicles or for residents' own cars. From what I understand, this building served as housing for low-income former patients.
19: Concrete Expanse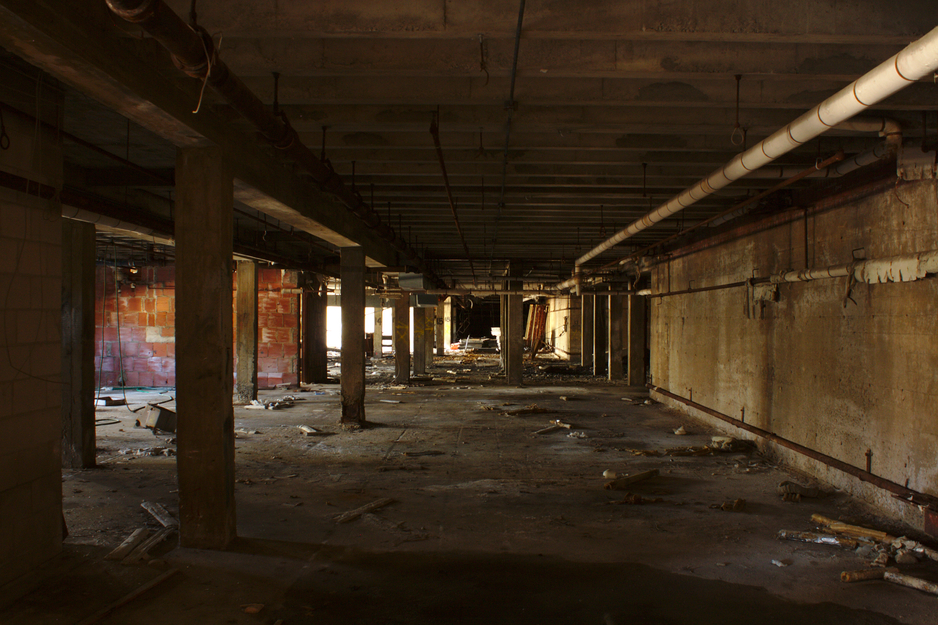 20: Autobench
A light blue door to a car from the last millenium laid rusting outside; this bench seat came from the same car.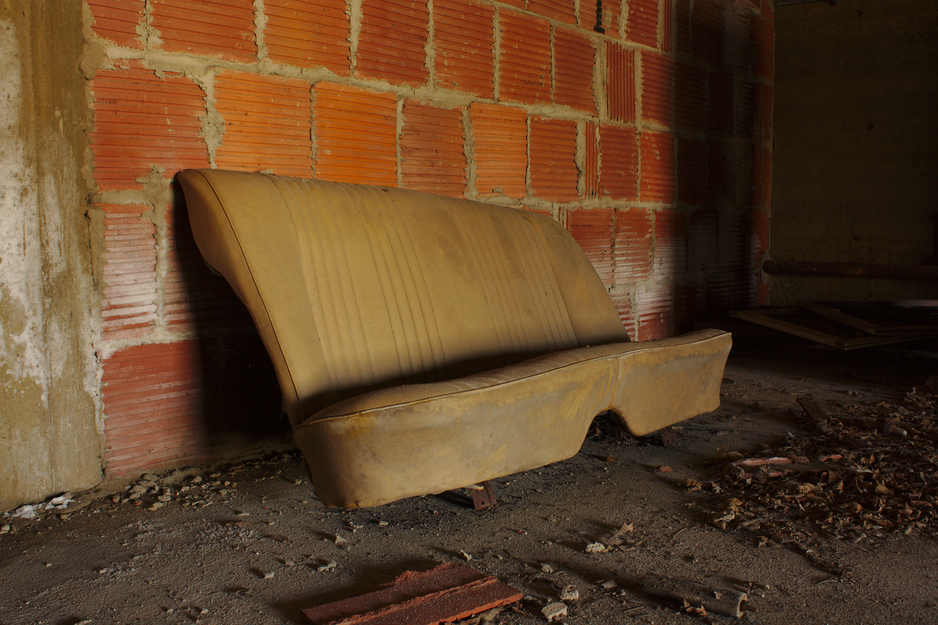 21: Clay Tile
A tile in the garage wall rests at a delicate angle.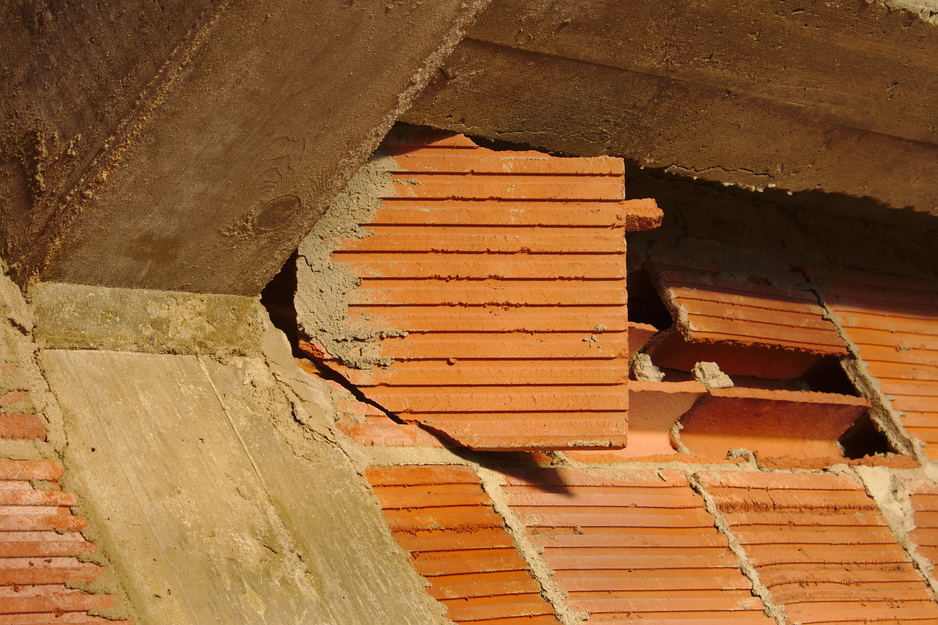 22: Pipes
Also at the far end in the junction alcove connecting this building to the Nurse's building and the other EMP building. Several have been chopped right through, for reasons my friend and I can only guess at.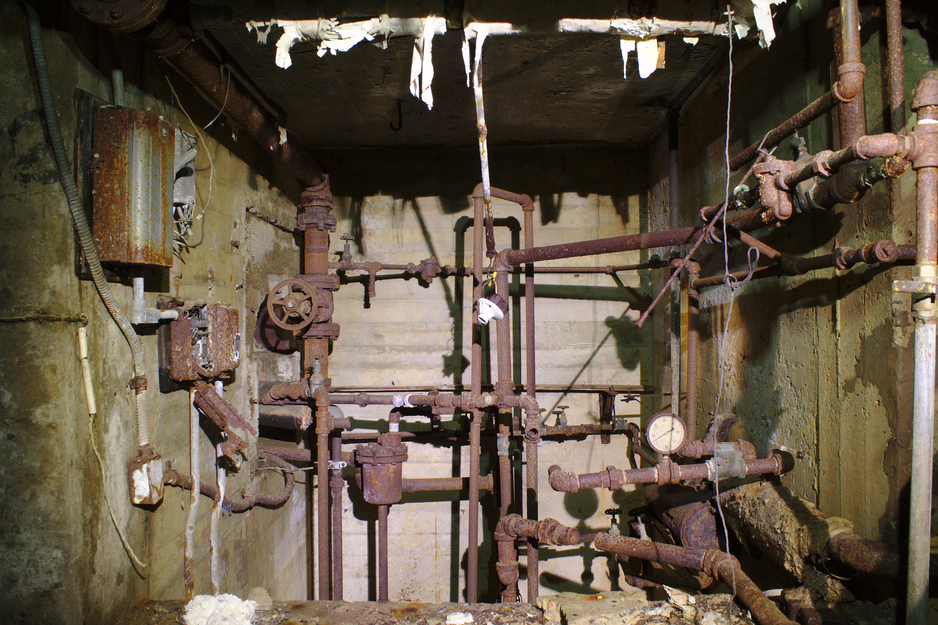 23: First Floor
This building was in service long enough to become another unfortunate victim of the advent of drop ceilings, the surviving panels of which are in shockingly better condition than everything else.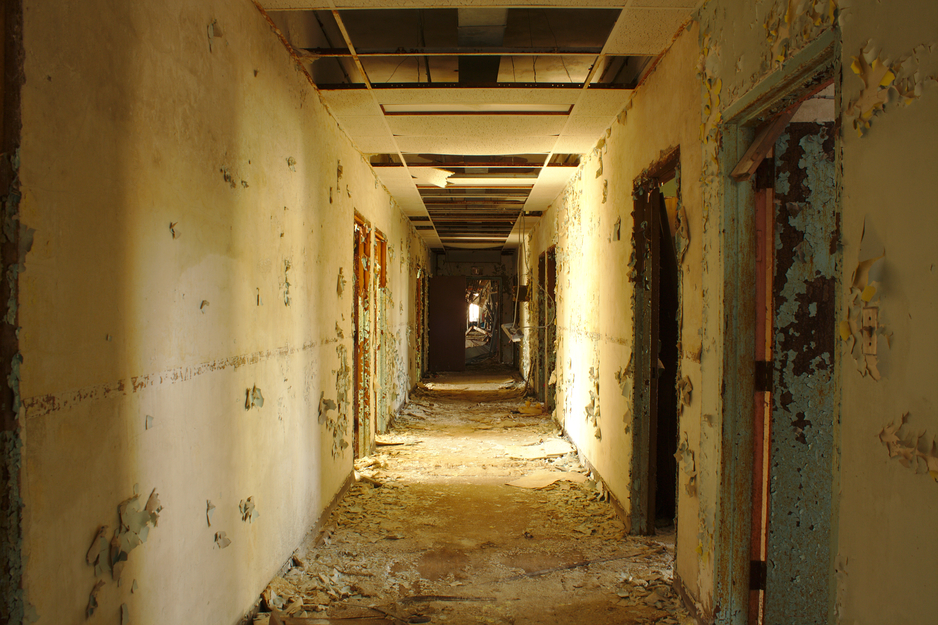 24: Living Room
Either end of the building featured what appeared to be one small apartment. In this particular one, a whole mess of educational medical texts and worksheets littered the floor. Dirty and damaged furniture, layers of paint flakes, and outdated paperwork filled this room. The newspaper on the table at the far end beneath the window showed Forrest Gump, Jurassic Park, and The Shawshank Redemption all butting heads for that year's Oscars.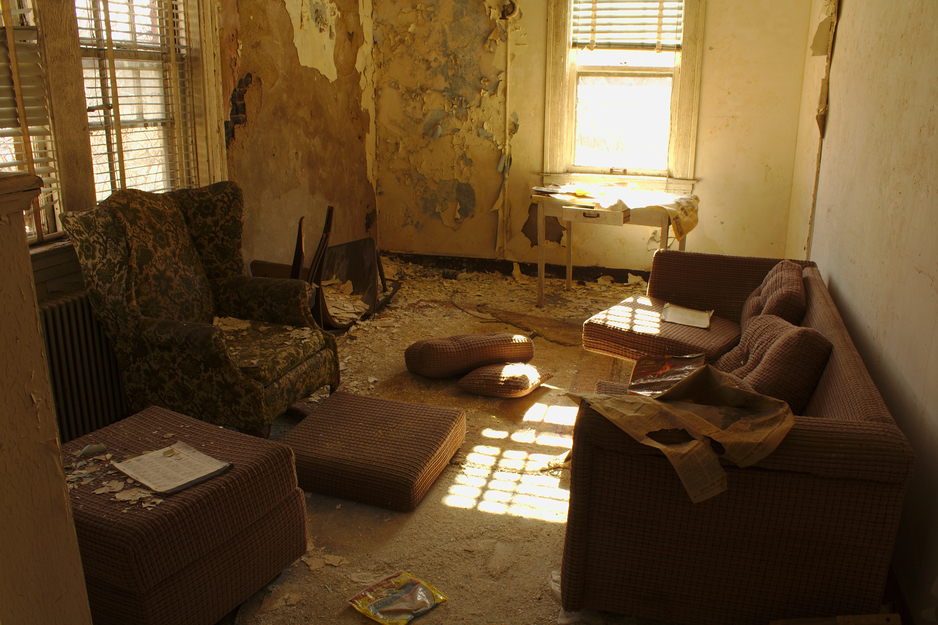 25: The Road to Ruin
This twisted wreck of aluminum girders that looks like a wall actually used to be a big facade for the air duct that used to run across the ceiling of the central common room. Both of them since collapsed completely, with the facade hanging down like a fence and splitting the room in half.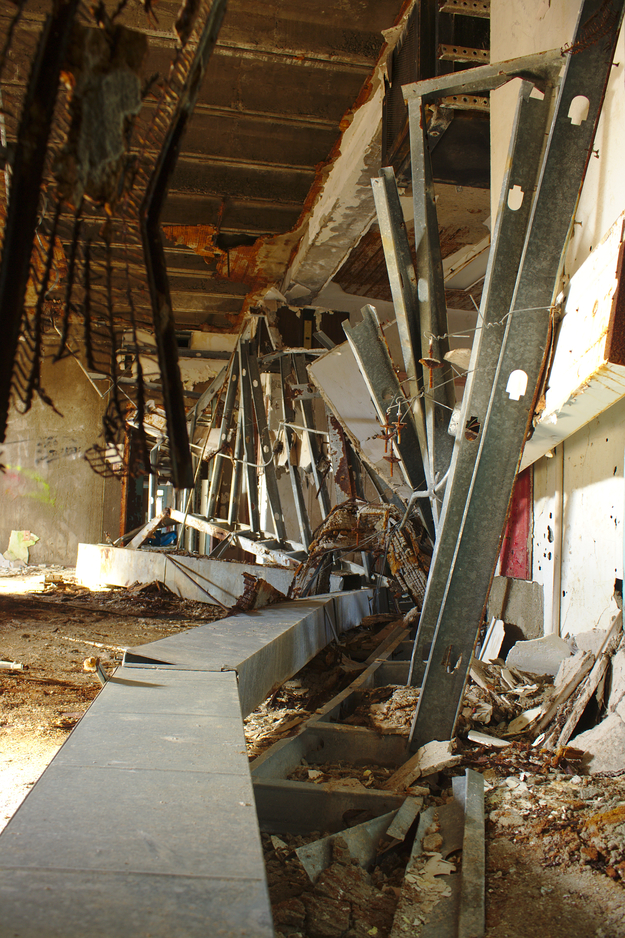 26: Sunflower
The wiring conduit holds up the last mildewy fragments of the wall plaster in this dorm room.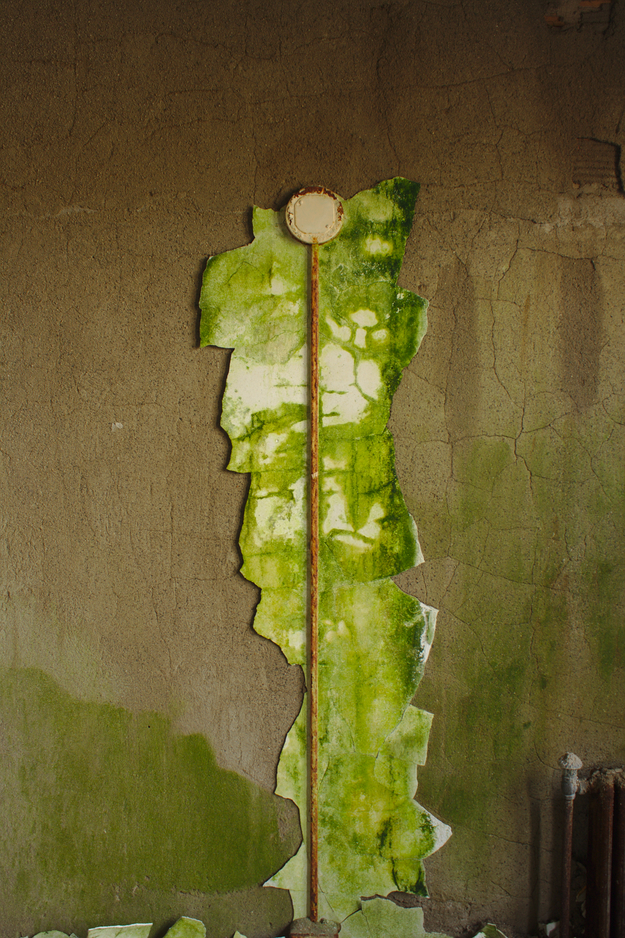 27: Rectangular Spiral
The rusted steps and railings of the less-safe stairwell.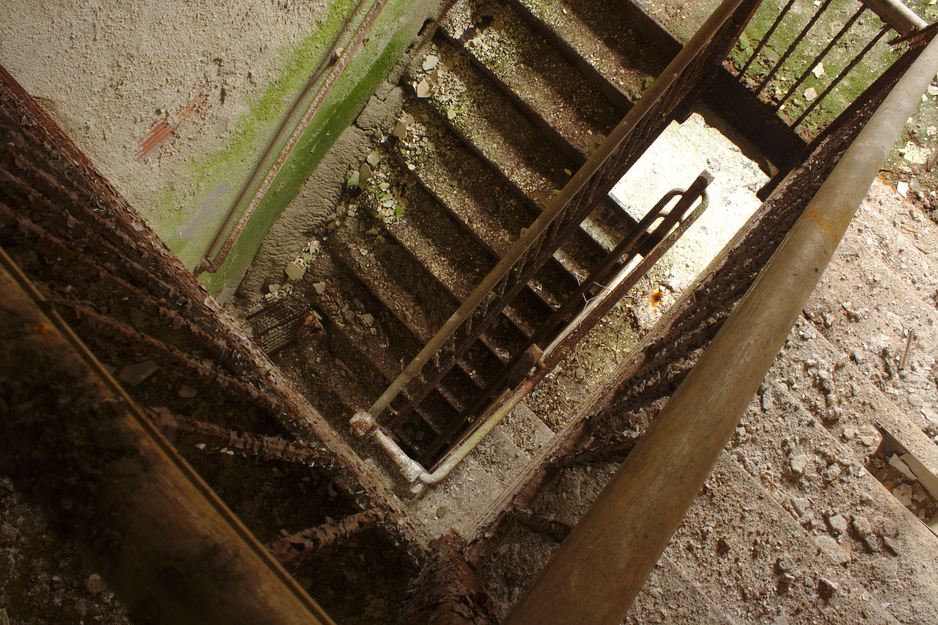 28: The Last Calorie
A soda can at the end of the world. After poking around the attic a bit and finding little, we called it a day and headed back down.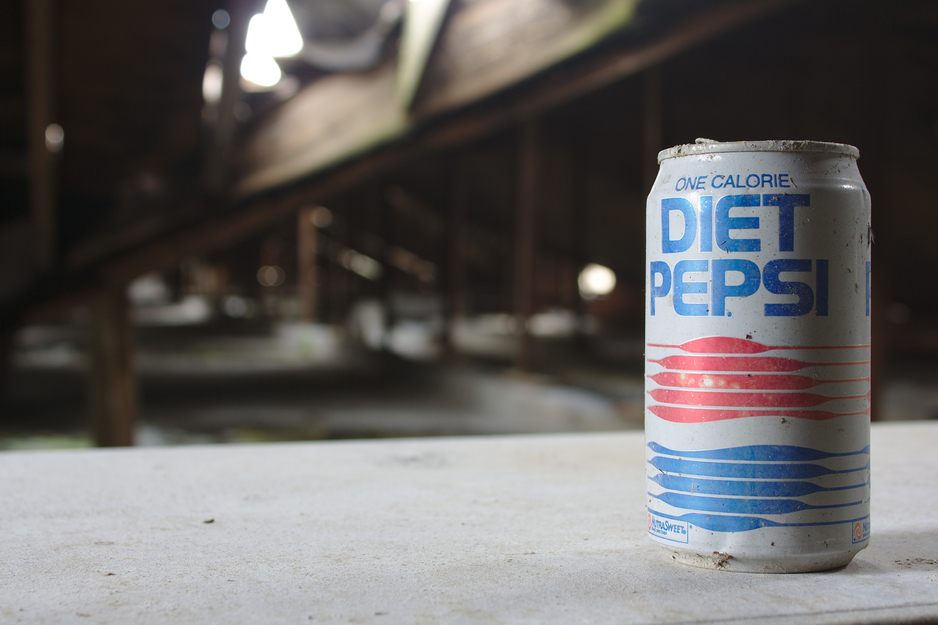 Epilogue:
We tried to find a burger place we'd seen on Google Maps some months ago but wound up at a Taco Bell instead where I ate four burritos.
----------
Trip 12:
This building served as the Female EMP building, or the Gateway building, was the last of the main hospital buildings to explore in the North campus. This particular building suffered some kind of structural catastrophe in the back right corner of its second floor, causing that corner of the building to collapse.
29: Office
The first floor really didn't have much going for it. You see one room here, you've seen them all. In this particular room though, there is a wire running from the speaker across the ceiling and down to an XLR plug. It suggests that the microphone sat in the same room as the speaker. We figured it was an intercom, or announcement system, but we noticed no other speakers like it anywhere else in the building and we saw no other wires going anywhere either. We had a hearty chuckle pretending that whoever made announcements made them only to the people this room,
from
this room.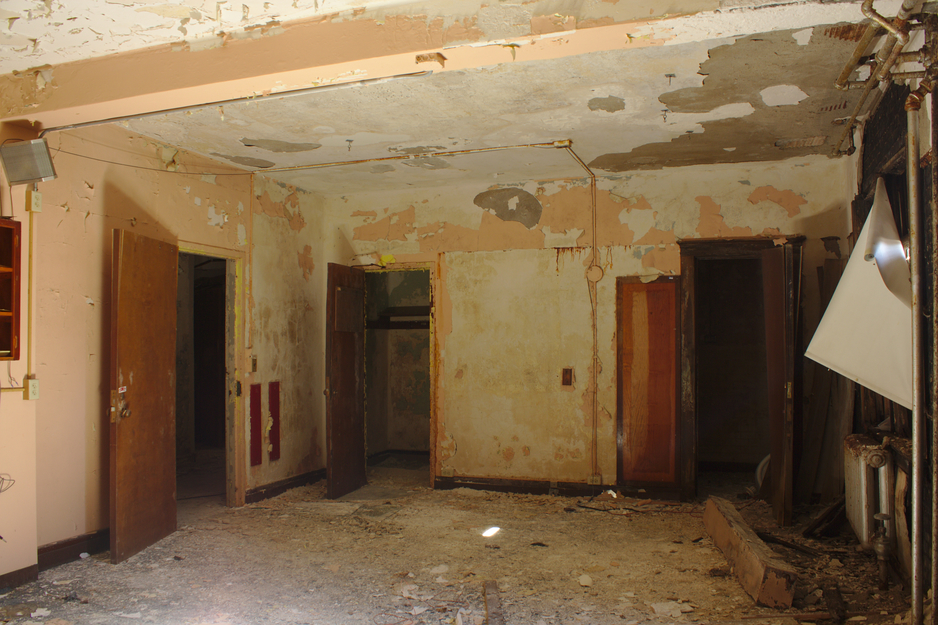 30: Immaculate Drop Ceiling
Drop ceiling tiles seem to exist in two states: perfect condition or utterly ruined. They either fare way better than the room they're in, or way worse. There is no in between unless they're installed in a mill building, in which case they're made of styrofoam and follow a different set of rules.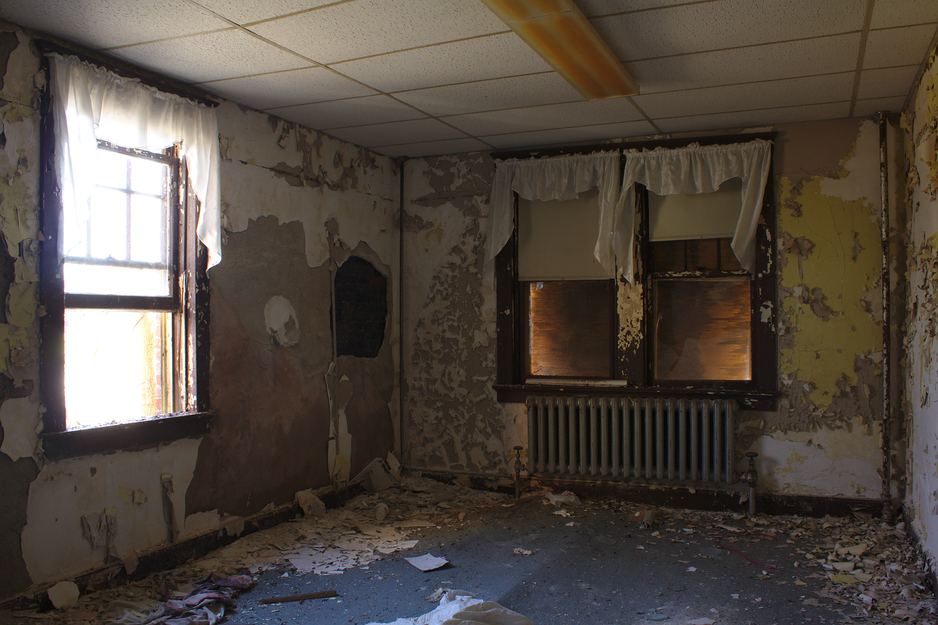 31: Conduits
An alarm panel routes to a giant conduit junction circle.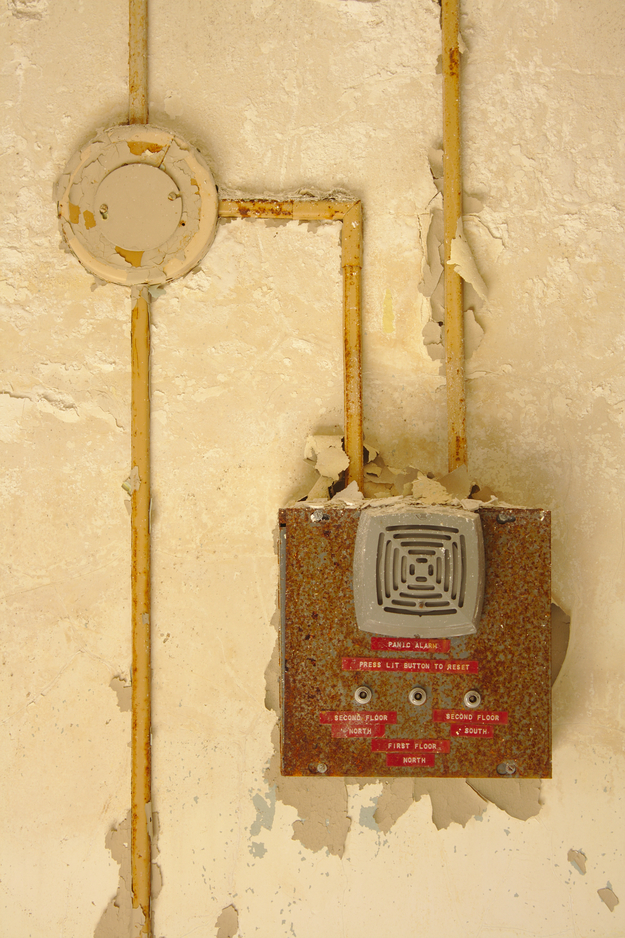 32: Hall's End
Going upstairs at the right end of the building took us into the destroyed end of the upper hallway. There's just enough left to get into the far two rooms.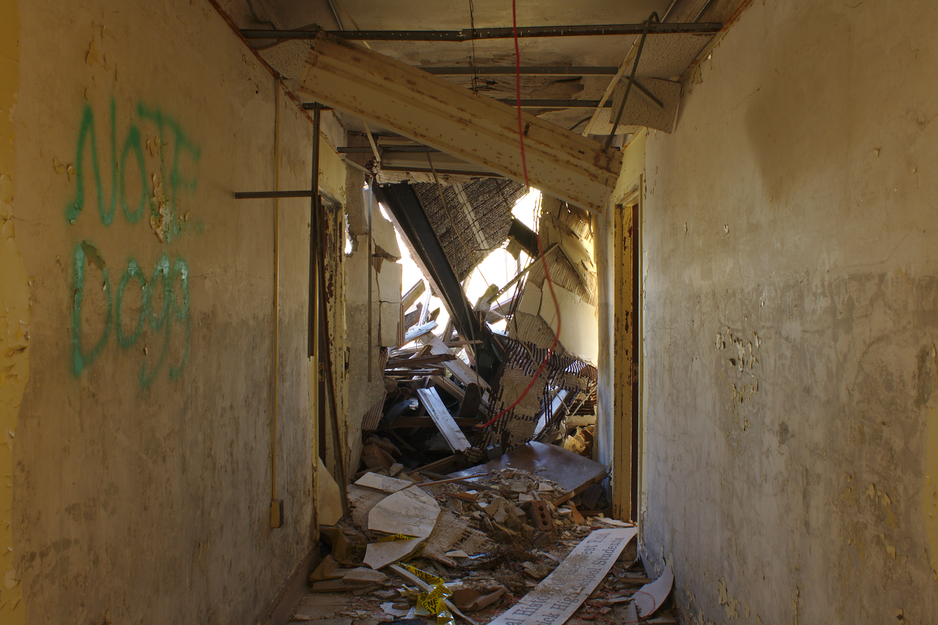 33: Collapse
This whole room is destroyed, as is the corner of the attic upstairs. The main road passing in front of the building is very visible from this area, and vice versa.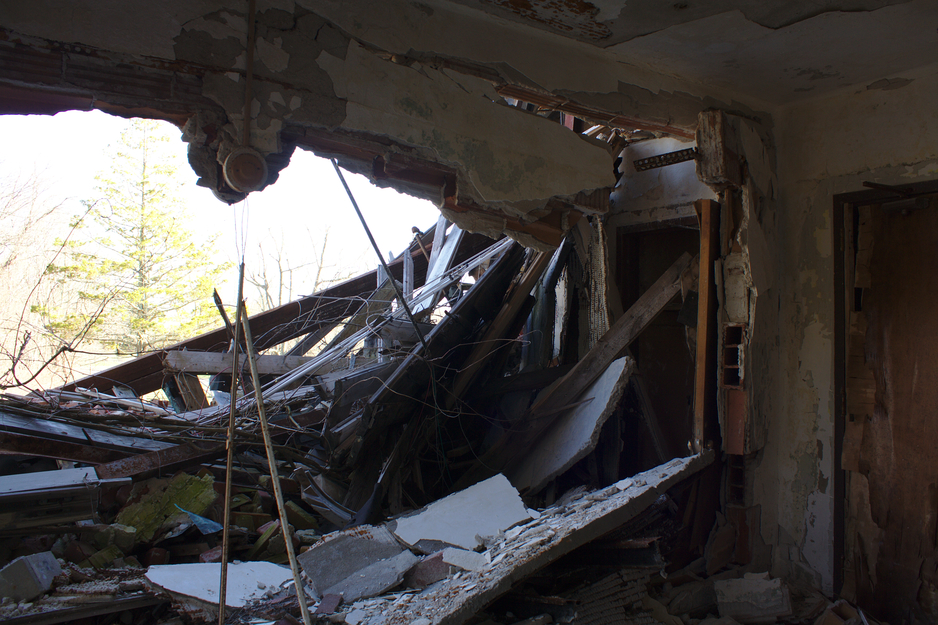 34: Wall Thieves
At some point someone or some team removed most of the dividing wall between these two rooms.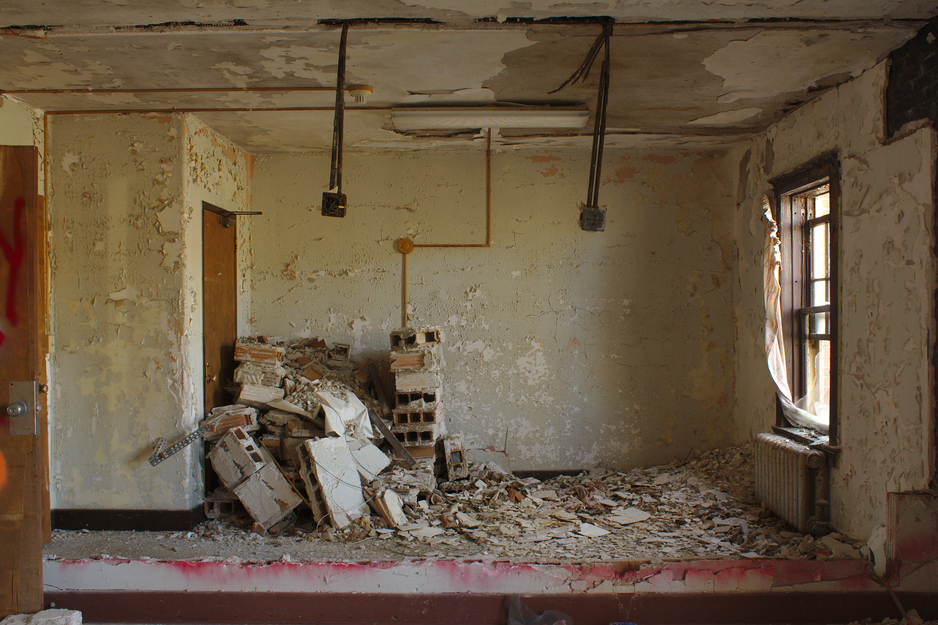 35: Greasemobile
With its namesake at the wheel!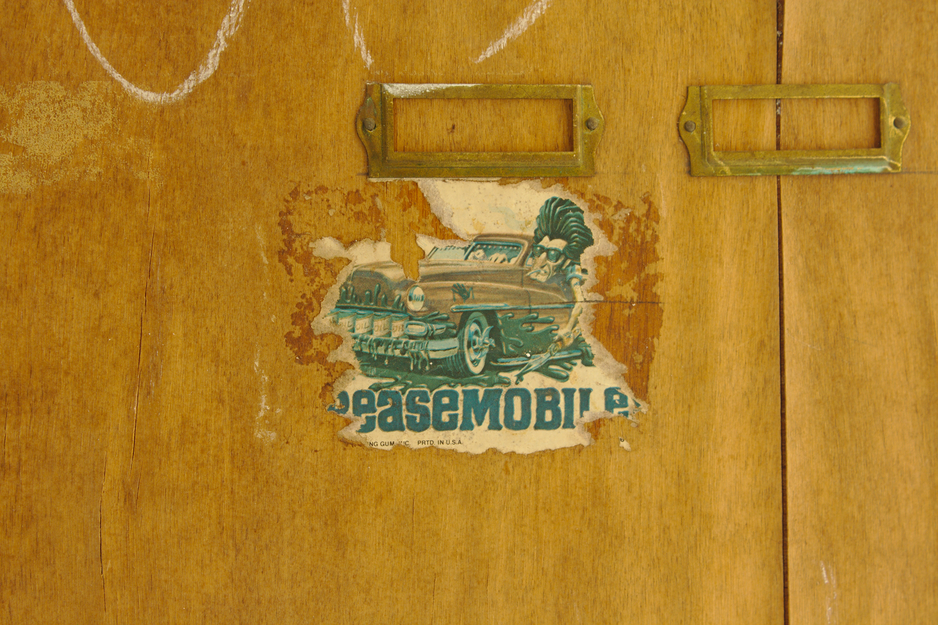 36: Something Missing
Looking towards the right end of the attic, the damage is clear even from a distance.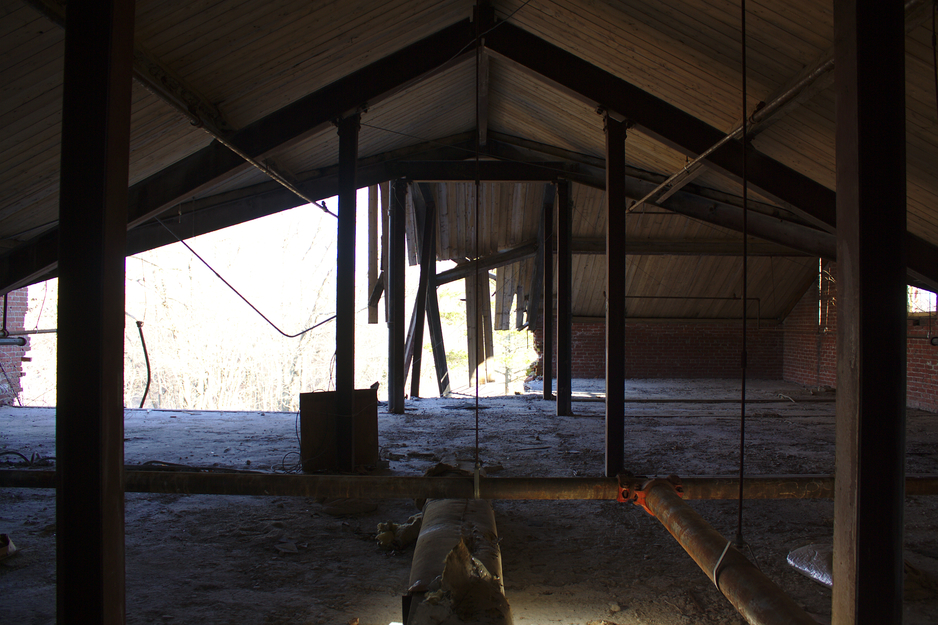 37: Catastrophic Structural Failure II
It's difficult to see in the photos, but several of the rivets holding the beams together spalled off into who knows where then they came down. Our other theory for why the building fell down is that its brick walls, which aren't known for their strength when made to do anything except stand up straight, may have bowed inward or outward due to the sheer age and poor condition of the building and eventually fell away or into the place. Having suddenly lost their support, whichever roof beams were held up by the brick would have followed immediately, dragging the rest of the roof down with them. Fortunately the four pillars in the middle of this end survived and held the rest of it up.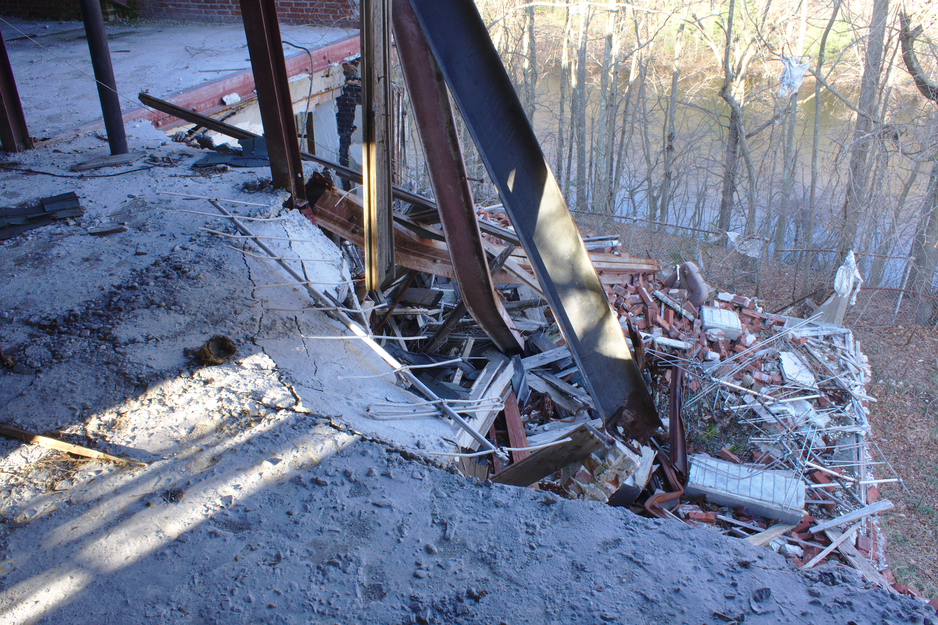 38: Cliffhanger
The back crossbeam of the collapsed end is supported by a ledge of bricks that I have exactly zero confidence in.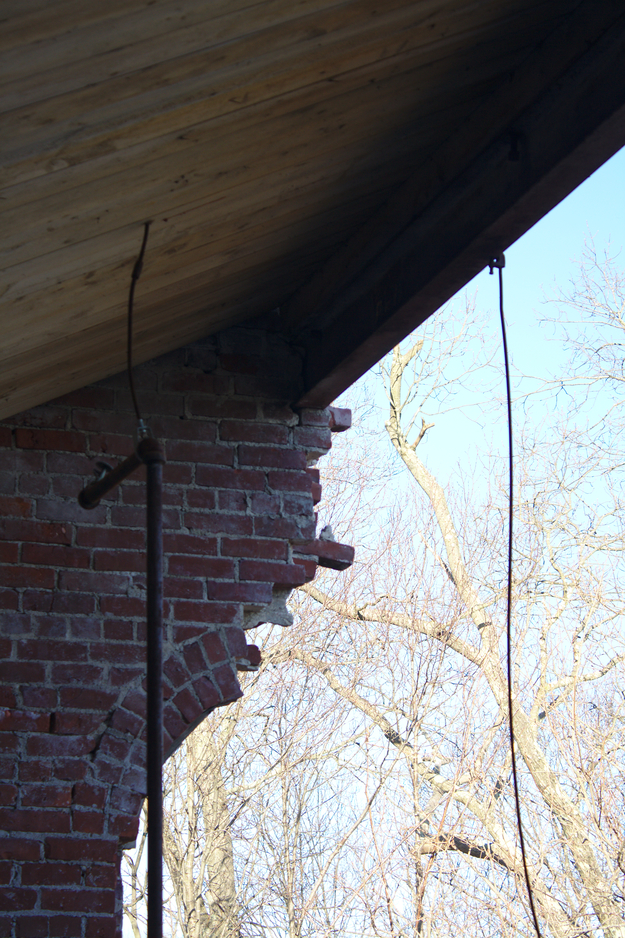 39: ]Back Down
Having see everything we could remember wanting to see, we started heading back down.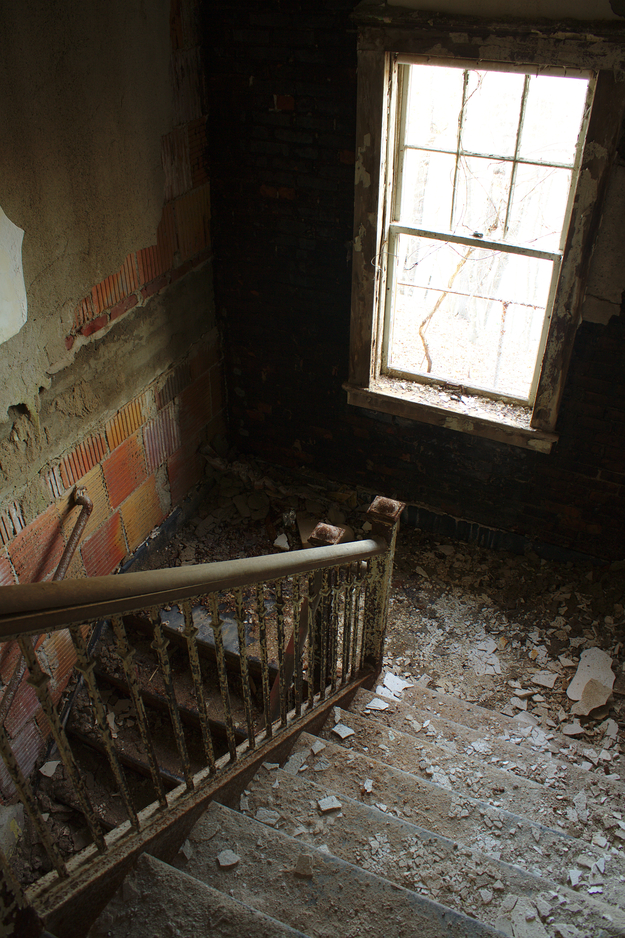 ==========
Trip 13:
After over a month's hiatus, my friend and I returned to the South half of the NSH campus to finally run through the Ray building after it was unsealed from abatement. We really dragged our feet on that though, and so the place is nothing but a skeleton now.
We also walked through the Mitchell building to see if there was any progress there, and finally checked on Lippitt's condition.
My car's thermometer read a toasty 89*F outside, and with the sun beating down this was a less than comfortable trek around the Southern campus. The frequent sloppy or lackluster photographs shown below are a direct result of that.
Lastly, as a status note, the Female EMP building photographed in Trip 12 had a new white trailer in front of it; abatement on the Northern campus may have begun. Lastly, the two cottages next to Lippitt were still standing when we were here (early June).
40: Skeletal
The demolition crews have literally taken everything from the Ray building, walls and floors included. The doorways at the far end are where we entered. The next ten or so photos are not particularly interesting, and exist solely to document the state of Ray at the time.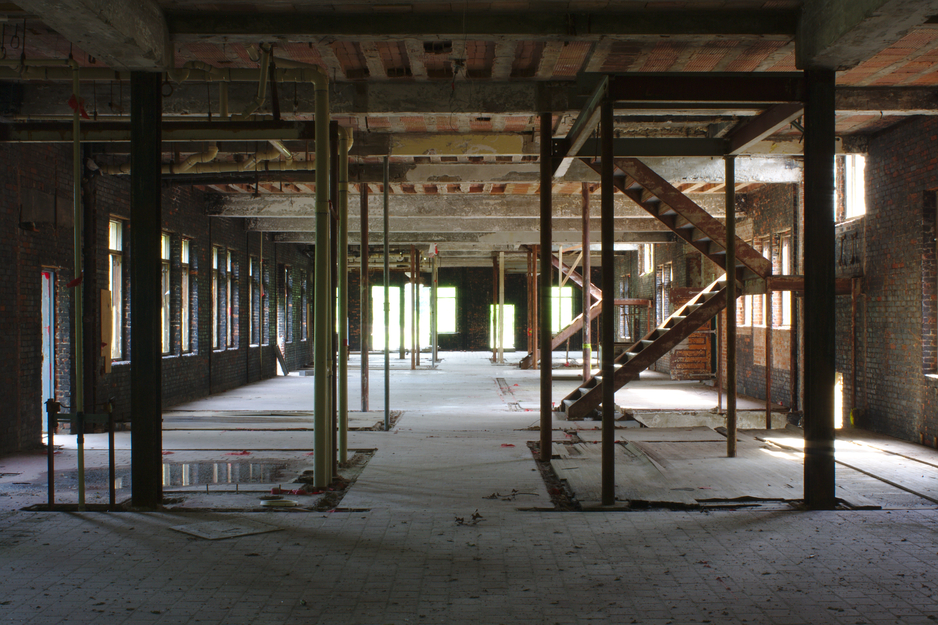 41: Second Floor
The gutting continued in full strength one level up. The attic's floor was missing ompletely at both far ends of this floor, and its support beams lay crumpled outside in a pile of scrap.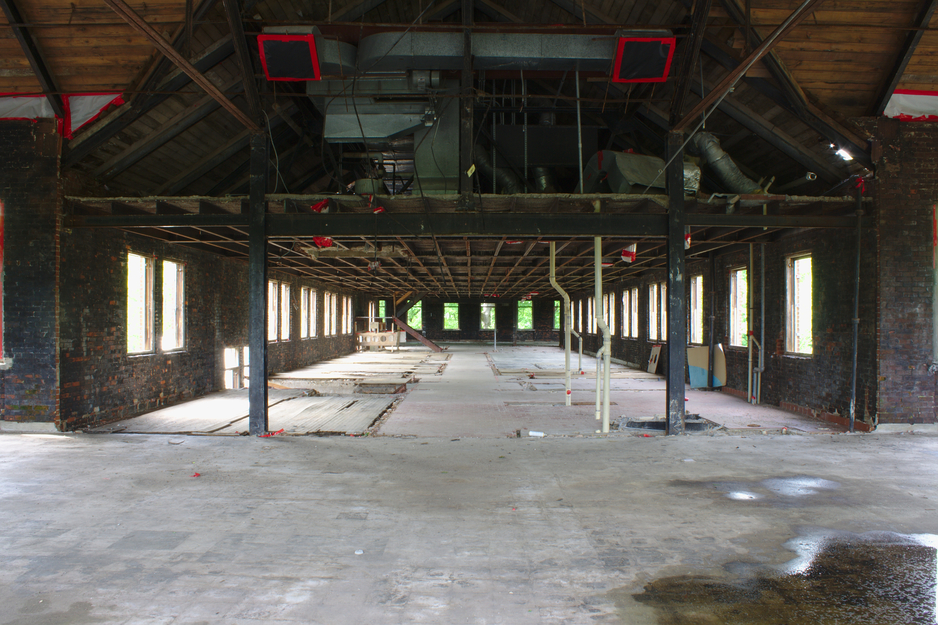 42: Attic Glimpse
With two-thirds of the attic gone, there wasn't much left to see up here. There was a cute little barrel up here.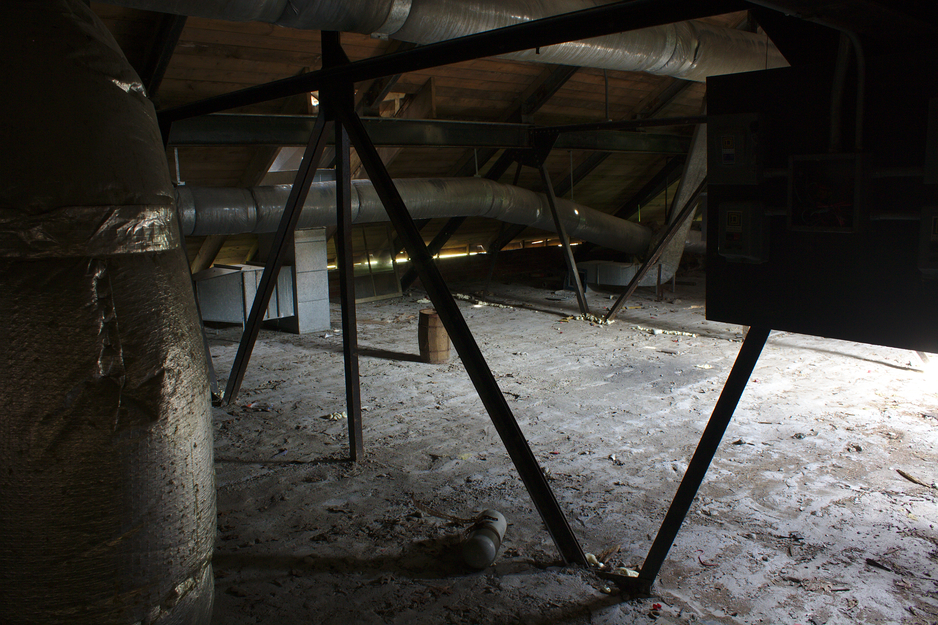 43: Arches
Moving further along, we found the Ray's basement to be deceptively large. After passing through a number of small rooms and a tiny hallway, we encountered a large room at the end featuring this four big arches.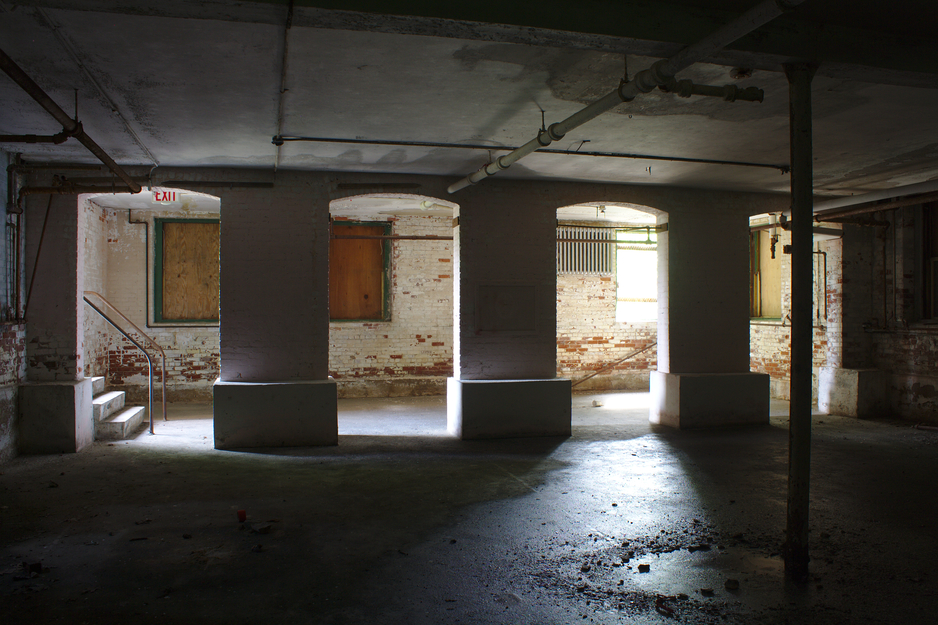 44: Motif
We then moved on to the Mitchell building, where we found a side room with a mosaic border around the top of the room.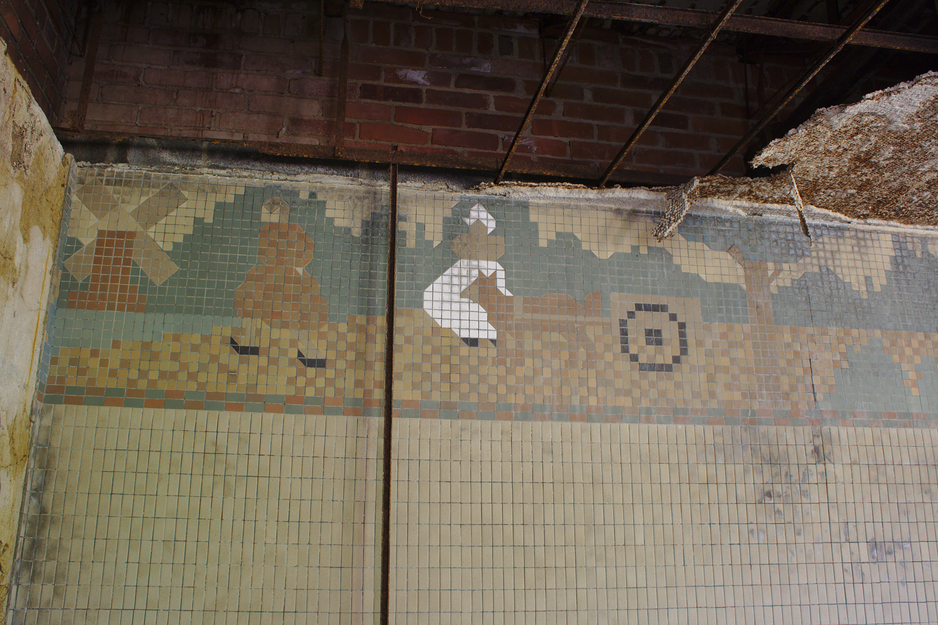 45: Diseased Doorway
The entrance to the room does not inspire confidence in the air quality of the building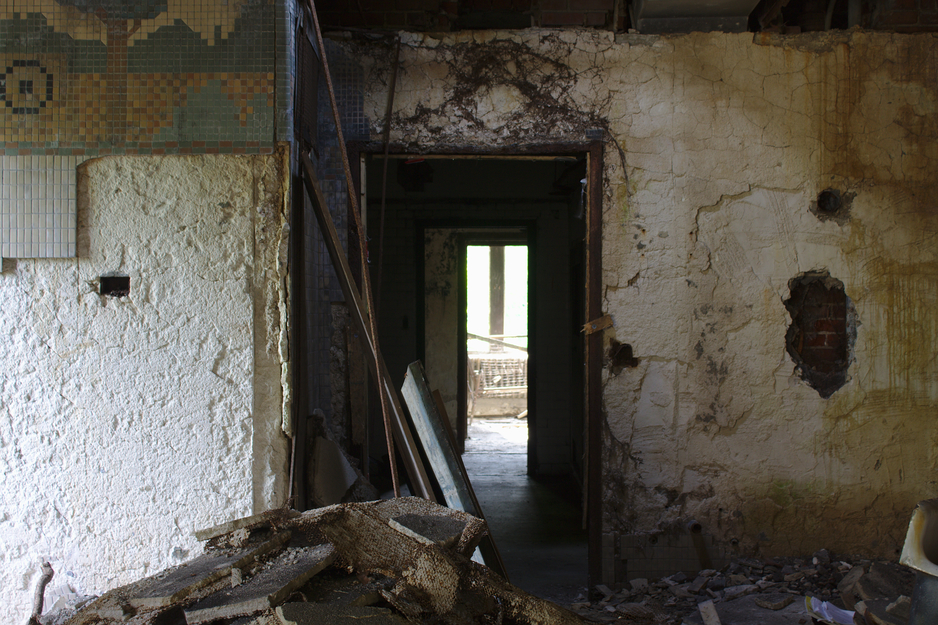 46: A Forest of Green
To quote my friend's observation of this room. Like leaves fluttering from the canopy to the ground.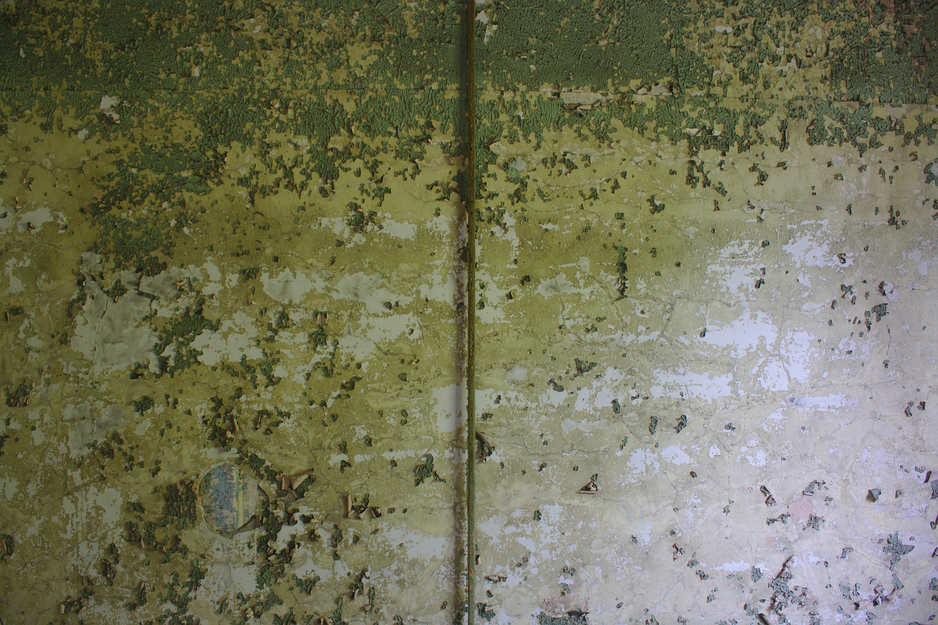 47: Charred Hall
Where I shot this photograph is where I was standing when my friend and I got spooked by whoever called out "Hello?" way back in Trip 3. The demolition crew has since cleared out much of the rubble blocking this hallway.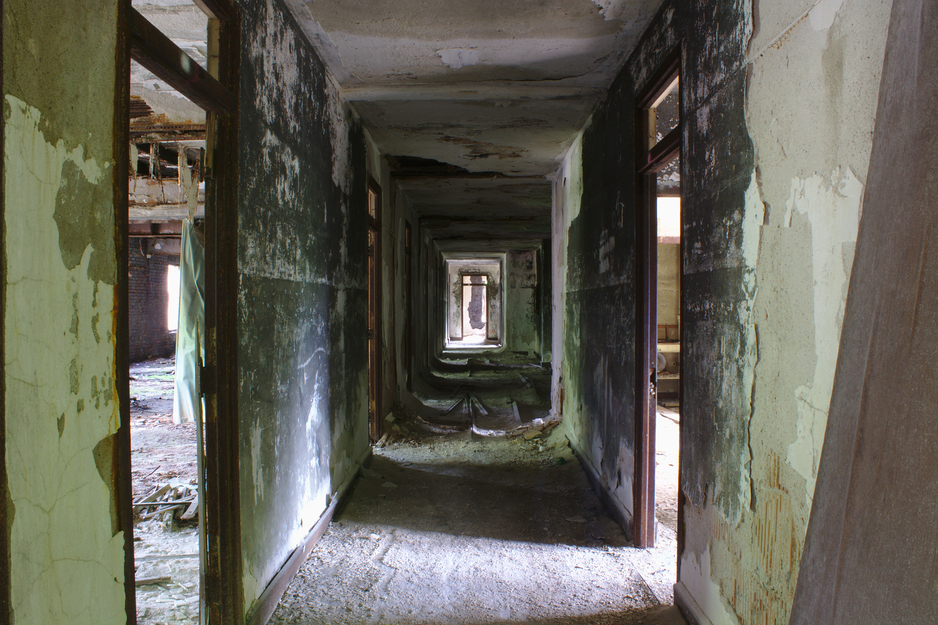 48: Soybean Embargo
My friend found a copy of the New York Times from 1973 and I got a hearty chuckle out of this article's first paragraph.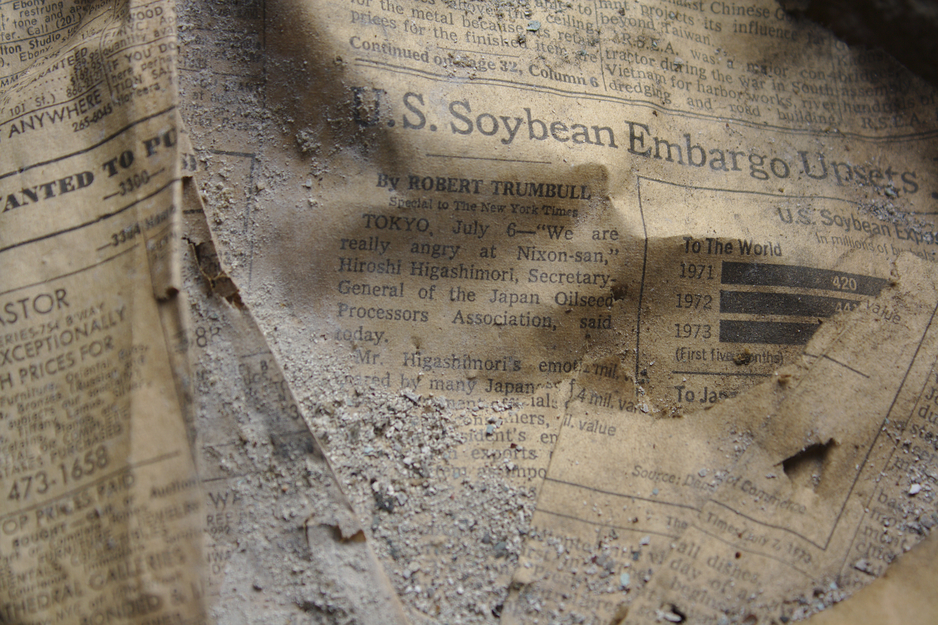 49: A Code for Murder
There was also an article about the Zodiac Killer's recent inactivity. "ZODIAC, a screwball with two hobbies, killing and cryptograms, hasn't been heard from for quite a spell now and San Fransisco's leading Zodiac-watchers are firmly convinced he's in jail or in a mental hospital or just dead."
Turns out he'd just been biding his time until the 2016 election!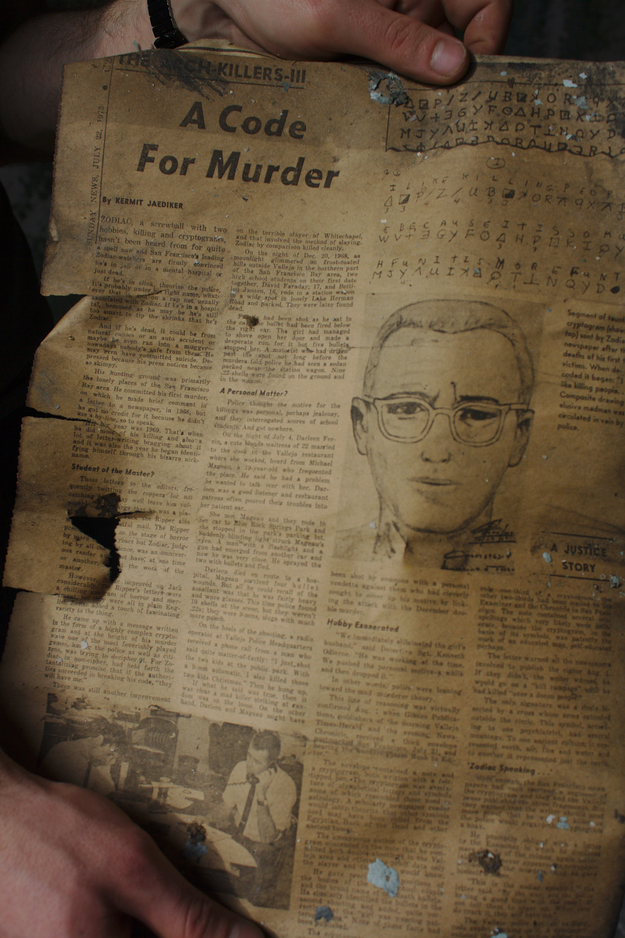 50: Clean Basement
The finished areas of Mitchell's basement are almost spotless. It's layout is very similar to Gallup's basement, and it may have been built identically to Ray and Gallup, which themselves were originally identical buildings.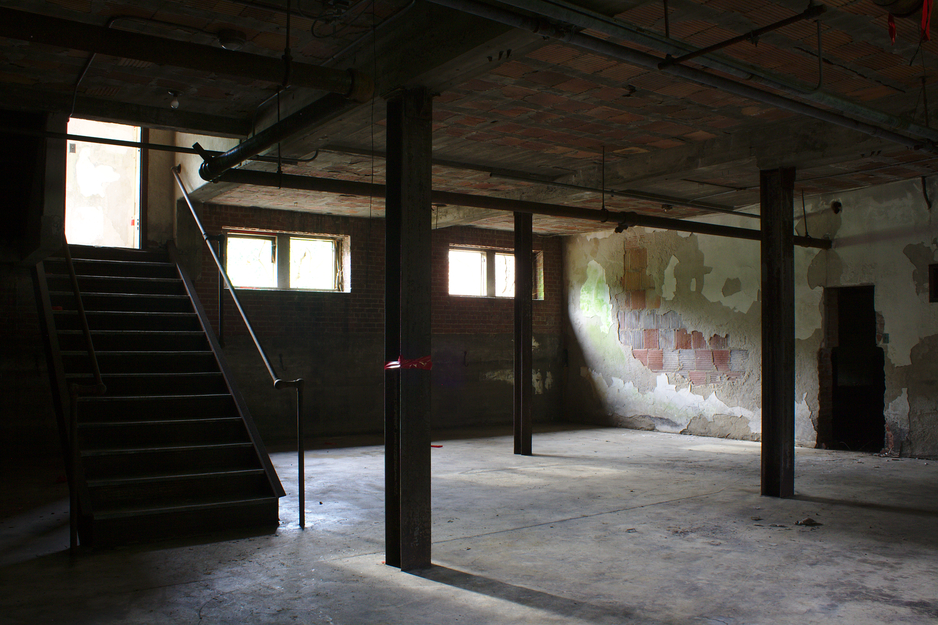 51: X-Ray Room (Left)
Lastly we made a quick visit to Lippitt. This is what we think was once been Lippitt's X-Ray room, though we could be wrong. The walls of this room are thick and there is a larger, similar room directly opposite the door into this one. Either room could have also been for surgery but we aren't sure what the insane breaker panel in the hall outside could have possibly been needed for. This room was super green because of the new leaves growing over the window coupled with the green paint of the room.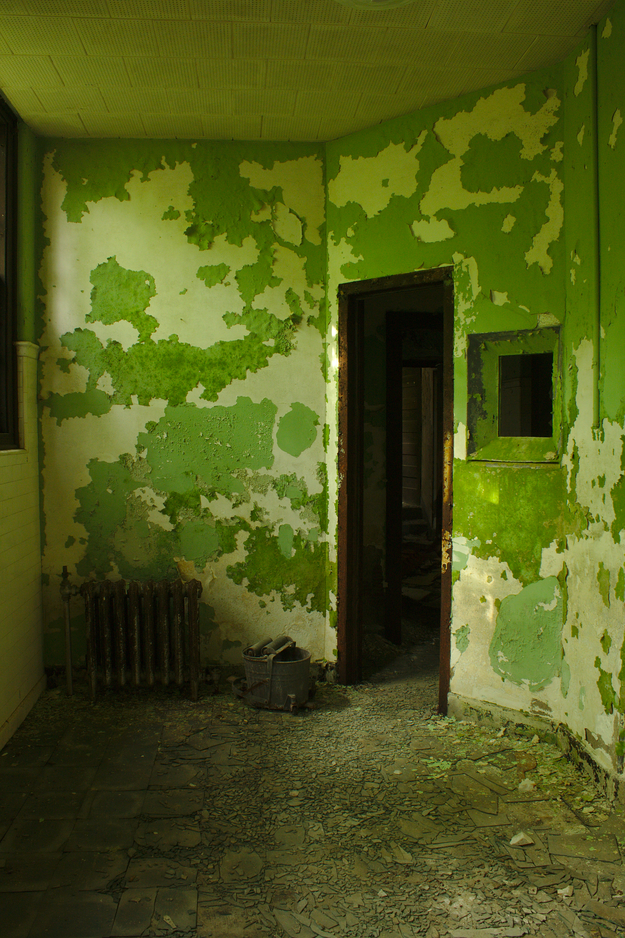 52: X-Ray Room (Right)
What we need to do if we make a final return trip here is to find out where the location of the big X-RAY breaker panel in the basement tunnels corresponds to the first floor of Lippitt. If it's right beneath this room or its twin, then that's solid evidence for this having been an X-Ray area. The larger room may have been for surgery; these two rooms are the only ones that look even remotely close to surgical in purpose, and this whole building was originally built for performing surgeries.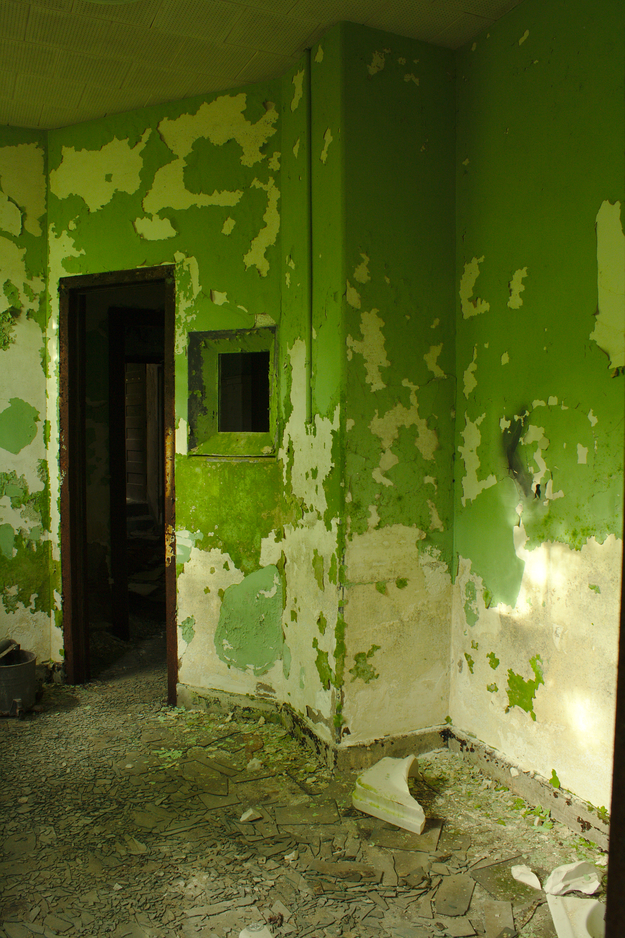 Epilogue
While walking out of the premises, we spotted a police car at the last second watching for speeders along the road. We ducked back into the grass and made our way along the steep shore of the pond towards the pump house. Popping up behind that, we checked again to find that he had already left and we probably wasted our time.
Then we actually found the hamburger place we missed last time and ate hamburgers!
REMINDER:
This hospital campus is actively being demolished! The Occupational Therapy building is already gone! Ray is a skeleton! Gallup is a skeleton! At least one North-side building appeared to have demolition or abatement equipment out front! If you want to visit this place, your time is dwindling!