After missing a weekend due to my friend's jeep getting upset with its own existence, we make it back to the Northern campus for some more exploration!
It began raining as soon as my friend arrived, and we made the mile trek back and forth to the property, as well as a bit of further poking around of the rear neighborhood, all in the rain.
This exploration took place on February 24th.
01: Cafeteria (Left)
The cafeteria briefly glimpsed in the last trip is now laid bare for documentation.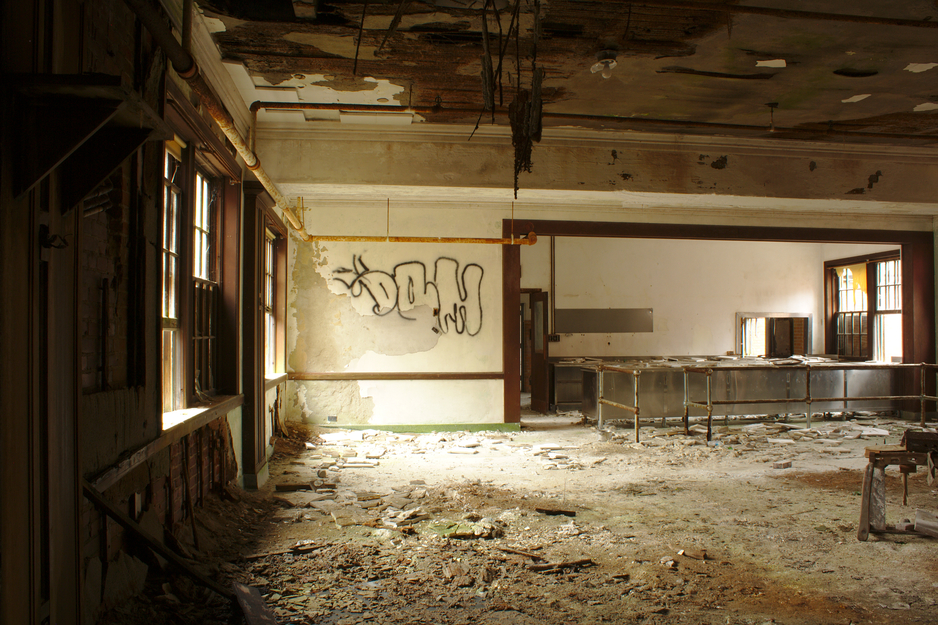 02: Cafeteria (Middle)
This room is not in good condition.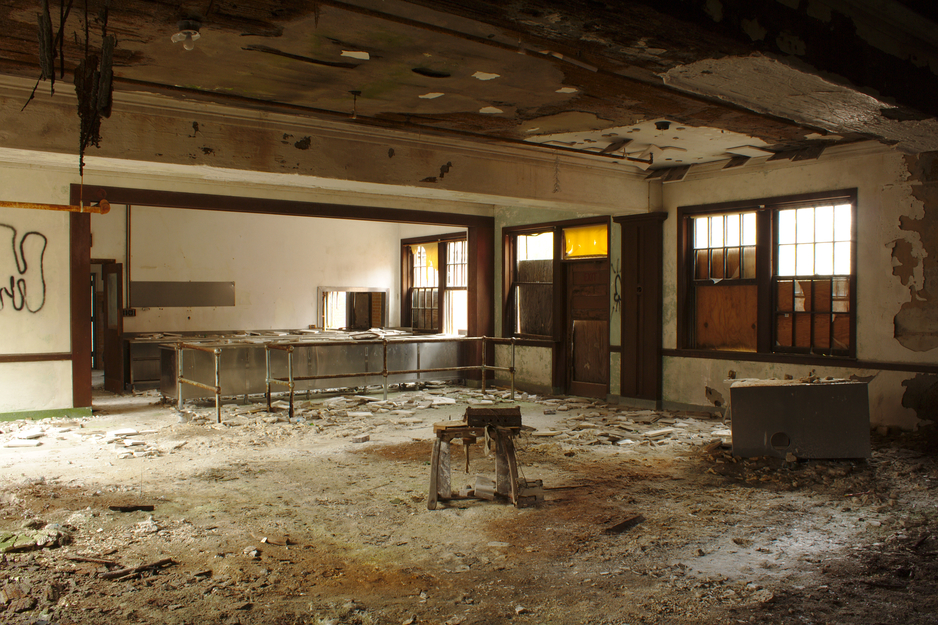 03: Cafeteria (Right)
Large portions of the walls have melted into a nasty sludge on the ground. It was like mushing through Sportscar's furnace building all over again.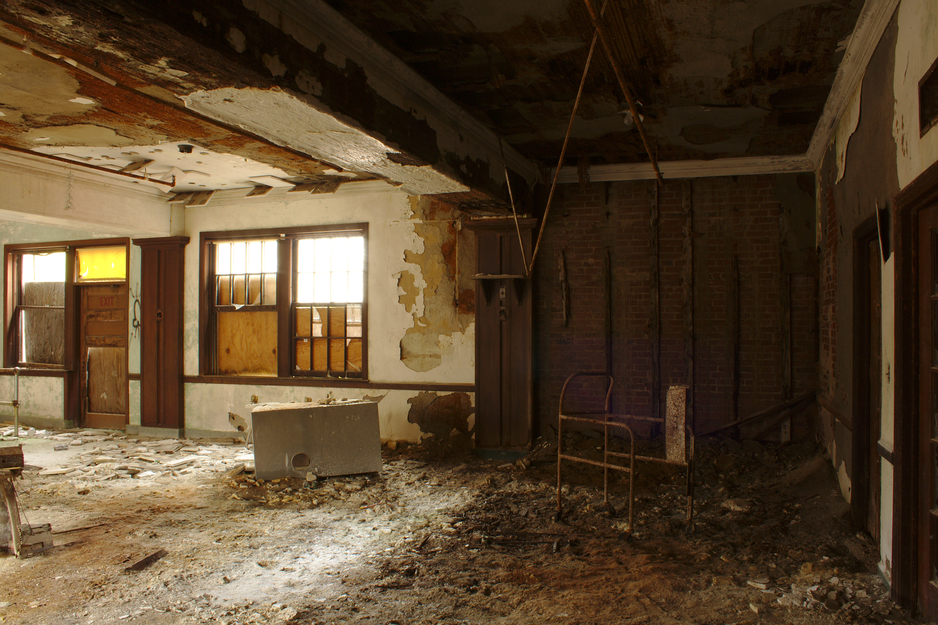 04: Record Player
It's clearly broken, but looking closely, the electronics might be salvageable.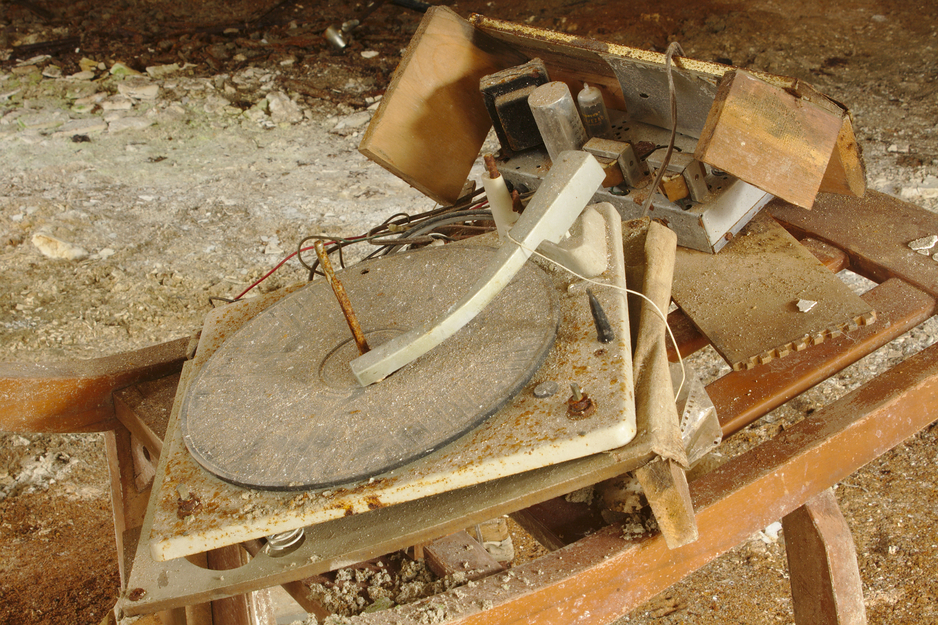 05: Aisle
Where workers would dish up the children.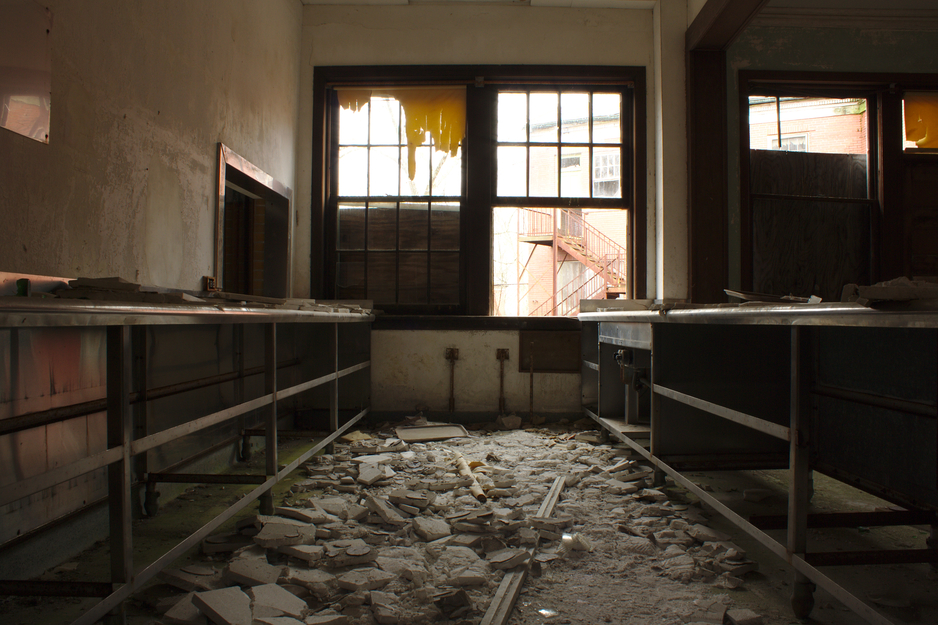 06: Asbestos Wires
Found inside a ruined electric stove, my friend believes these wires are insulated with woven asbestos fiber. Makes sense, given the incredible heat resistance of asbestos.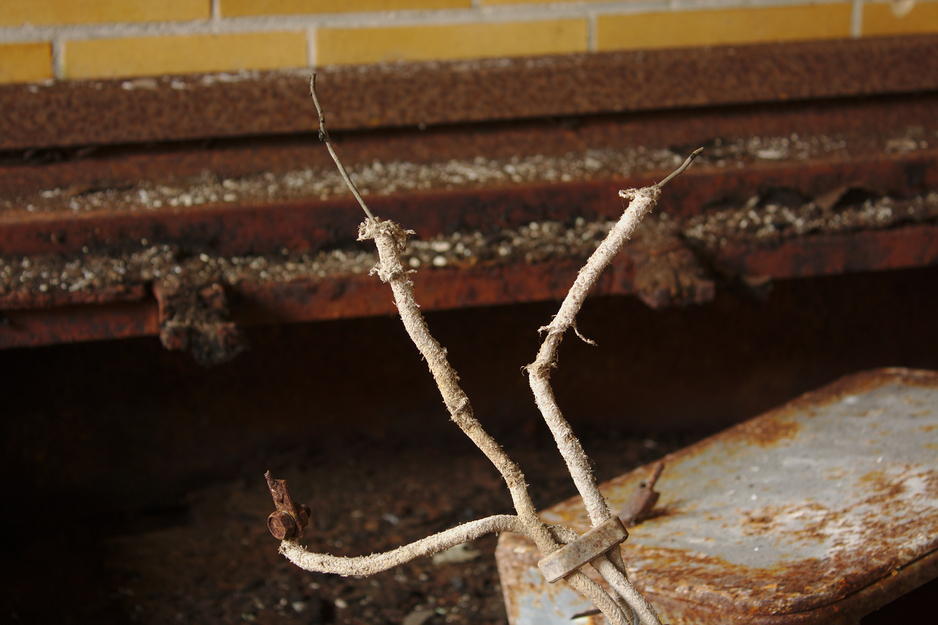 07: The Hood
I assume there used to be a stove of some sort here - what kind, I do not know.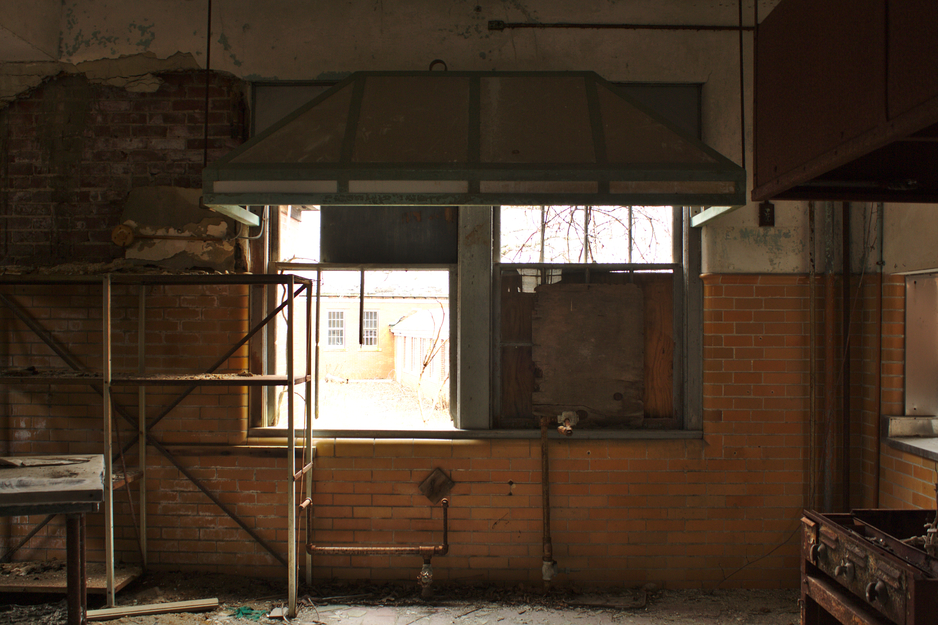 08: Kitchen (Left)
The brickwork in here was in fabulous shape, but the machinery was all trashed by nature and vandals.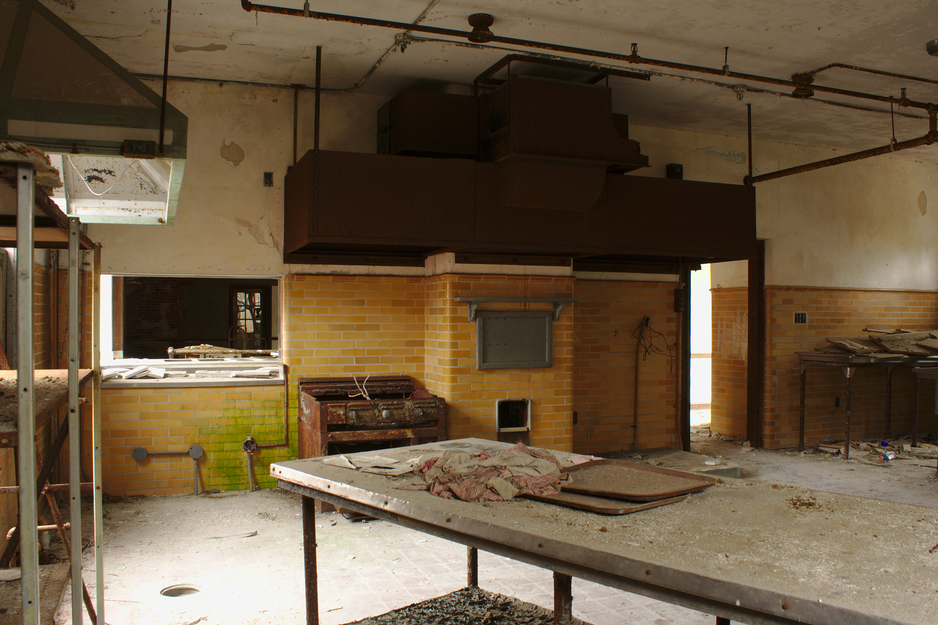 09: Kitchen (Right)
Not much left in here but dirty metal tables.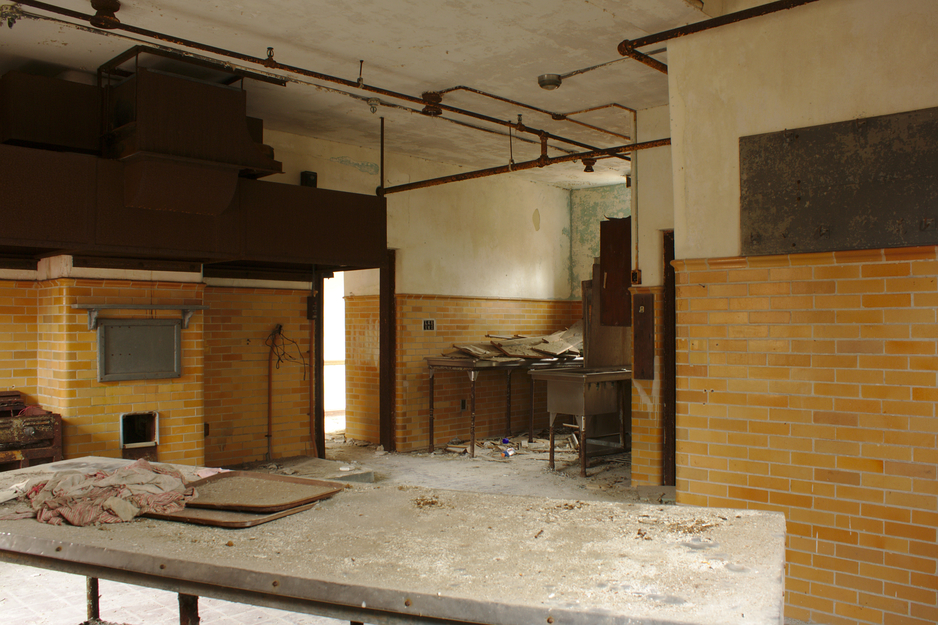 10: Entering the Basement
After finding a safe staircase to descent (one was missing steps), we began making our way back down to the basement we passed through last time on our way out. We were greeted by a beautifully decayed hallway.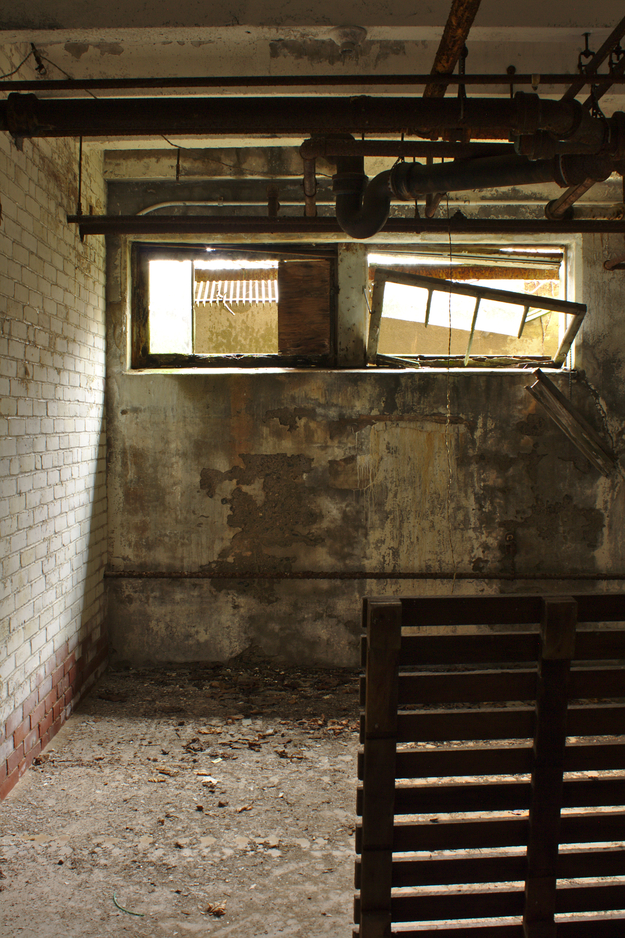 11: The Sun Always Shines
Despite the clouds masking the sky and the rain pelting the ground outside, light still filled this hallway.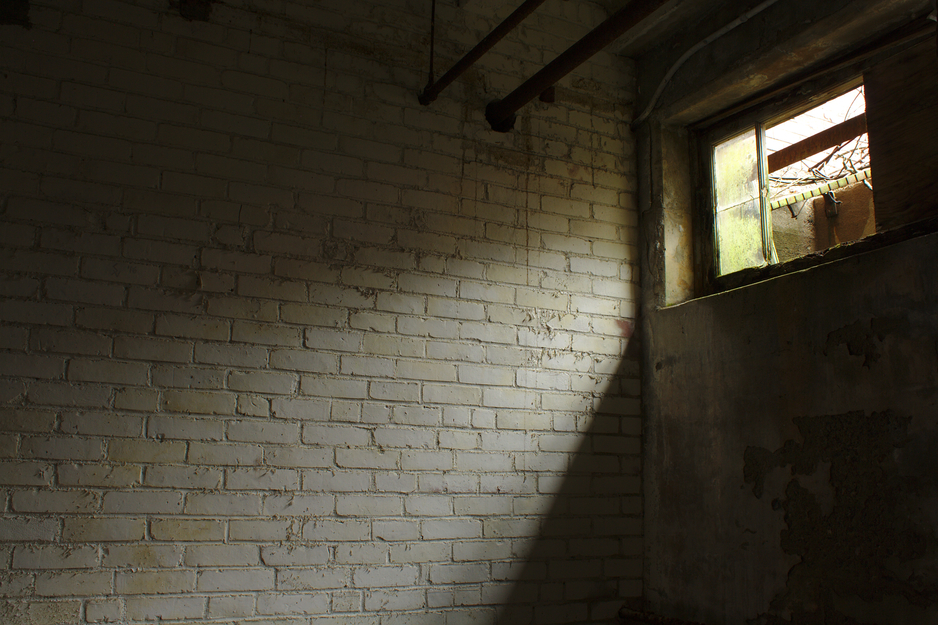 12: Pipes Galore
Turning the corner in the previous photo gave me a gorgeous hallway of industrial decay.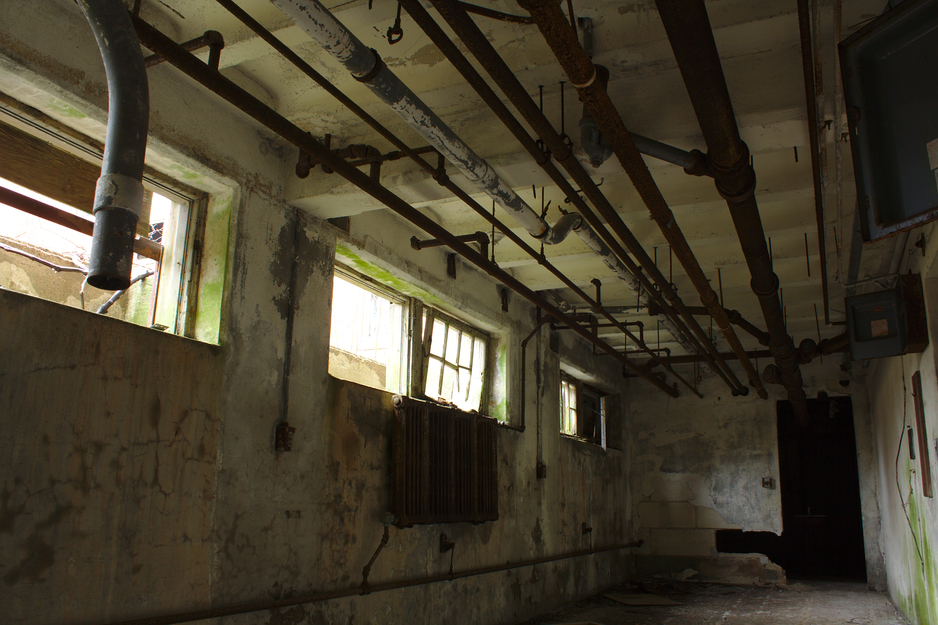 13: Caution, PCBs
This large firedoor leads to a rusty metal staircase going down into the furnace room, a cavernous space with two gigantic furnaces that once heated the building.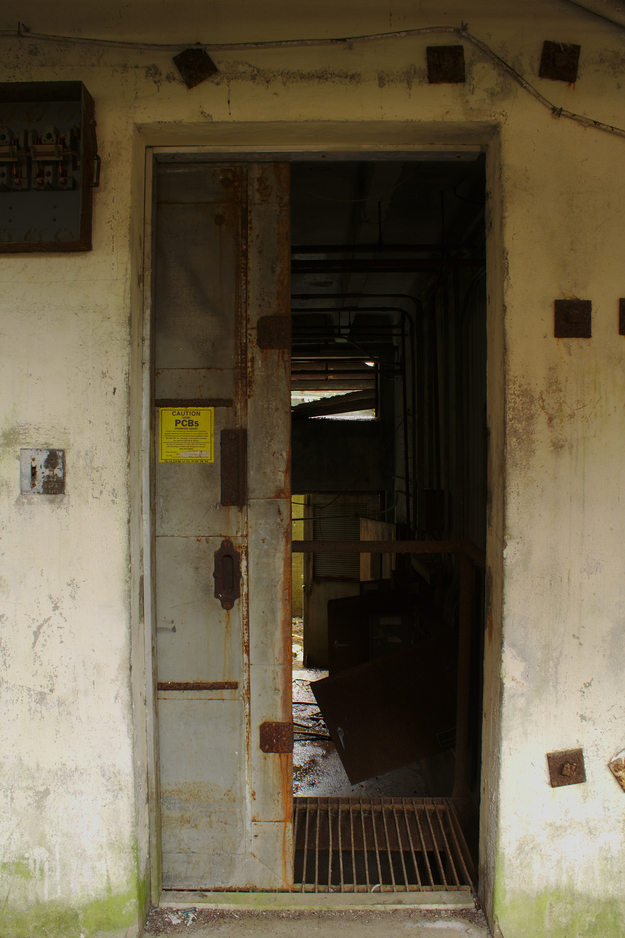 14: Kewanee
The two twin behemoths have seen better days. I have no idea how they got the furnaces down into this place.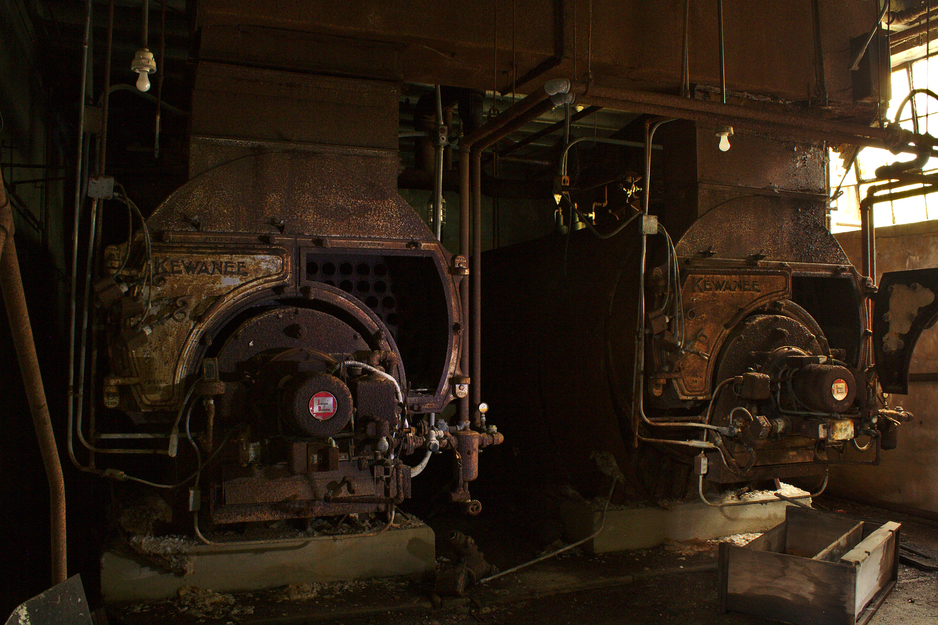 15: HM800 Series
On one of the furnaces, a little placard told us some specifications.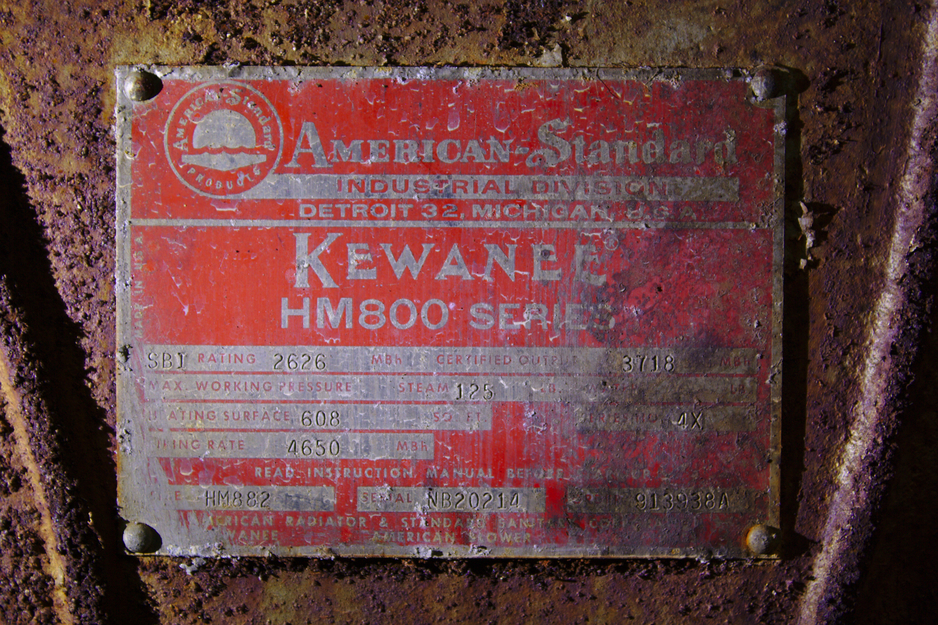 16: Cobalt Glass
I casually mentioned that at least this one part of this furnace wasn't carcinogenic. My friend quickly let me know that cobalt glass is in fact carcinogenic.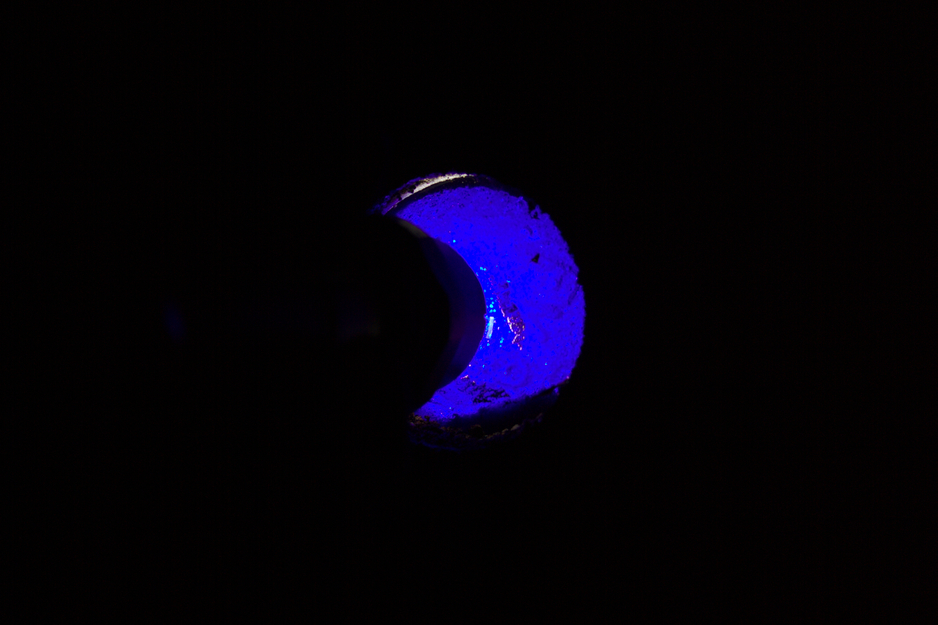 17: Impacted Windows
I'm not sure what happened here, but this window looks like it was pushed outwards, despite being way too high up for anyone to mess with. I wish this one hadn't come out blurry.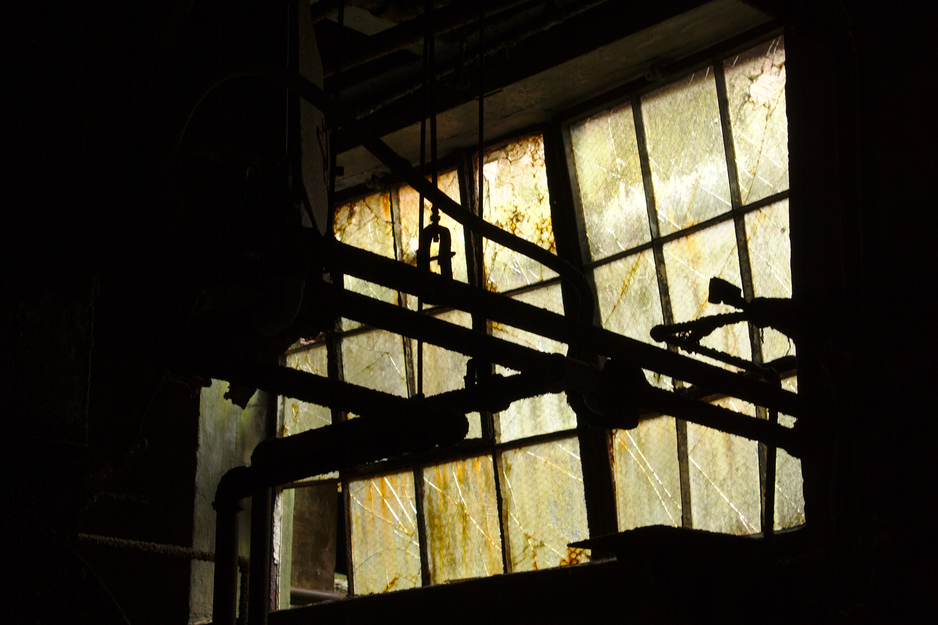 18: The Loneliest Chair
A chair that's been sitting here so long that its metal tube construction has largely disintegrated and the seat fell out the bottom into the water.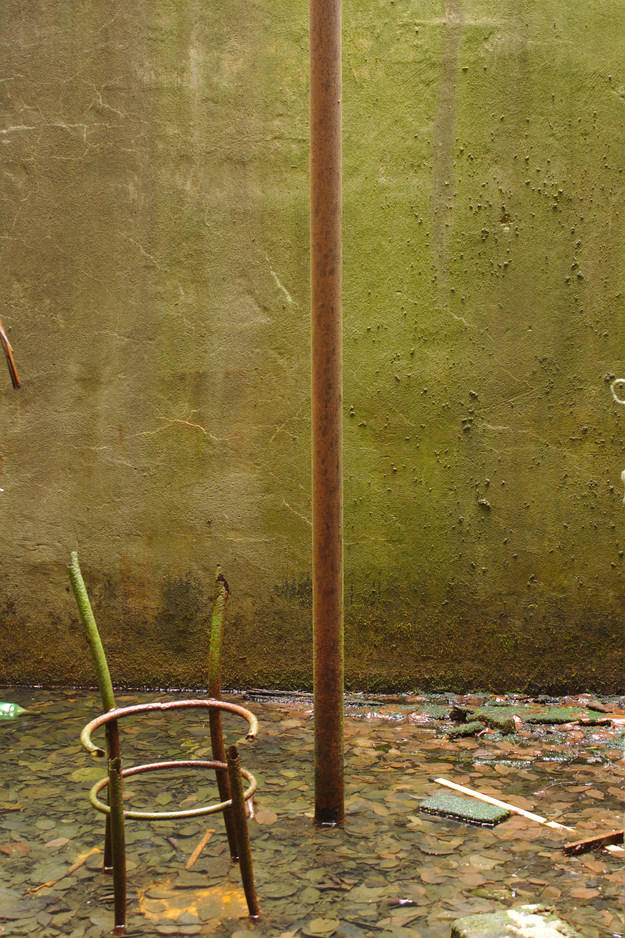 19: Chilled Hall
My friend's LED flashlight lit up this hall enough for a photo. It made me miss my old LED flashlight with an LED bar built into the handle. So I bought a new one on Amazon and as of this writing am awaiting its arrival. It was super handy for lighting up large rooms.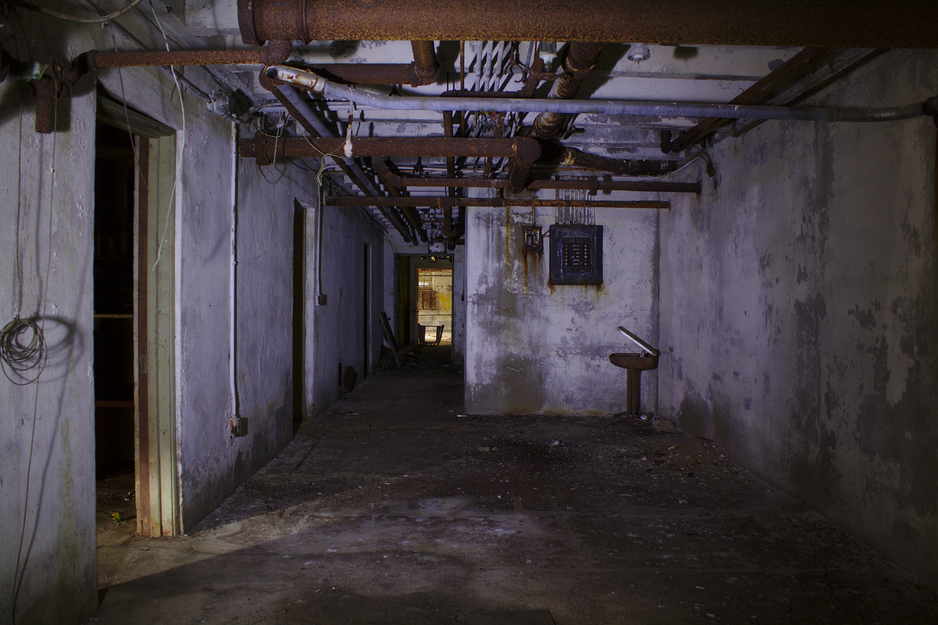 20: BRYAN ST
There was a door in this hallway whose glass window apparently fell right out when the wood finally melted apart one day. The chickenwire pane fractured on impact, but the chickenwire held it together... for a time.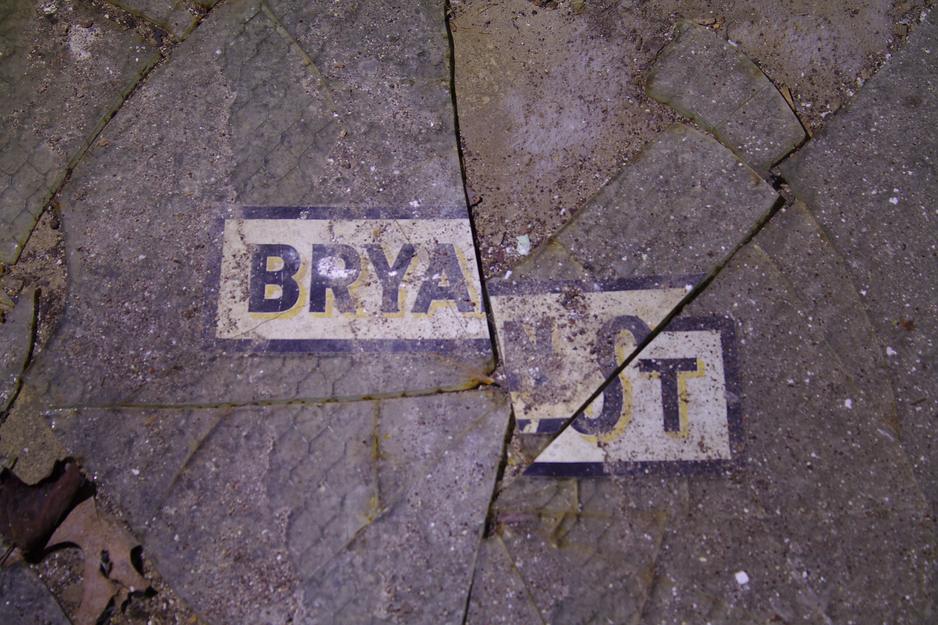 21: BRYAN OT
Sliding the pieces back together revealed the actual name painted on. The chickenwire held the window together at first, but years of water damage rusted the wire through and now the pieces are loose. The door itself is still *technically* on its hinges, but just the hingeparts.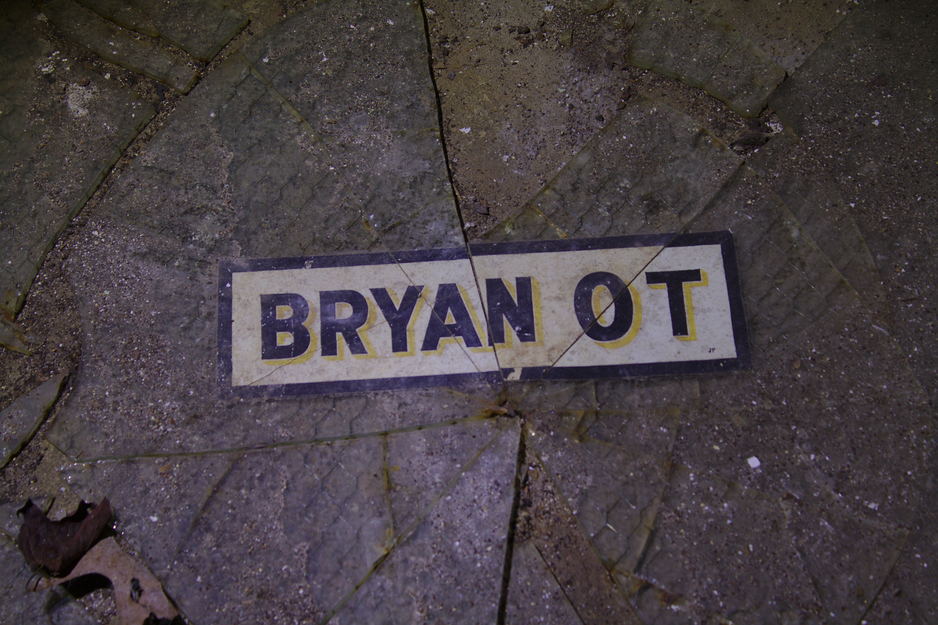 22: Shadow of a Doubt
A crack of light in a very dark side room cast a cool shadow.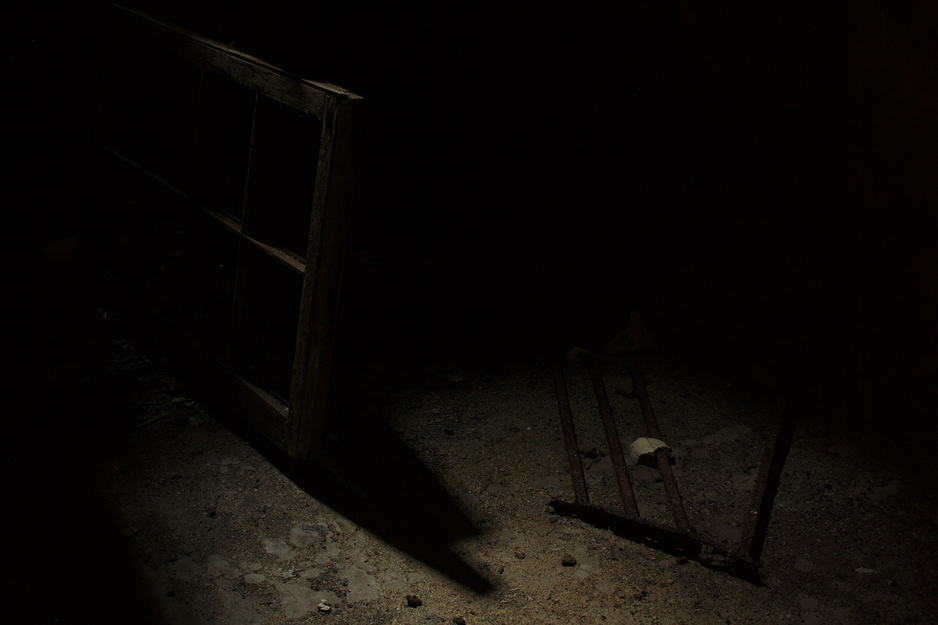 23: Hall of Shadows
Down there somewhere is the BRYAN OT sheet of glass.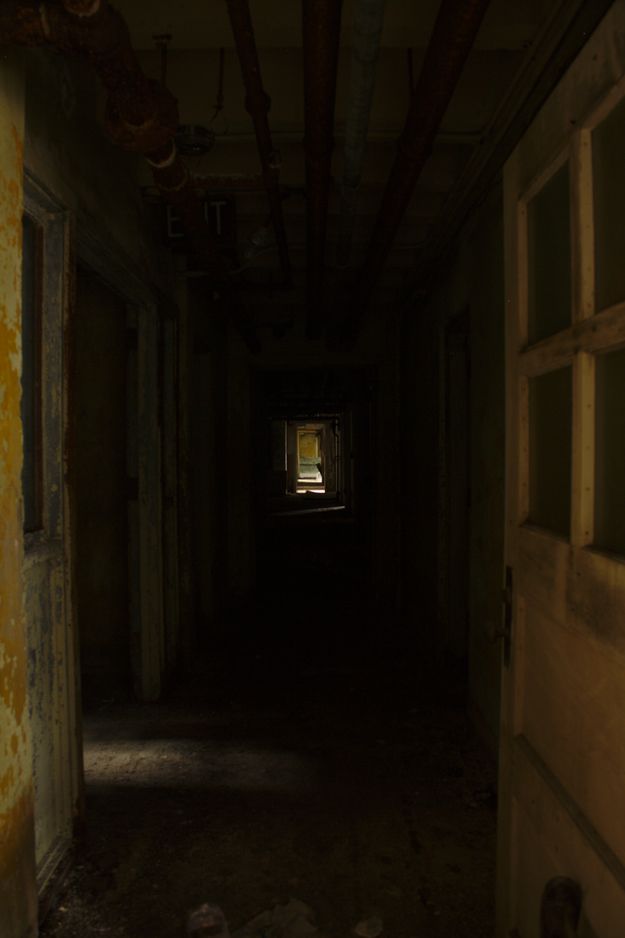 24: Empty Room (Left)
Stepping back from the last photo and turning around put us in this large room of unknown purpose.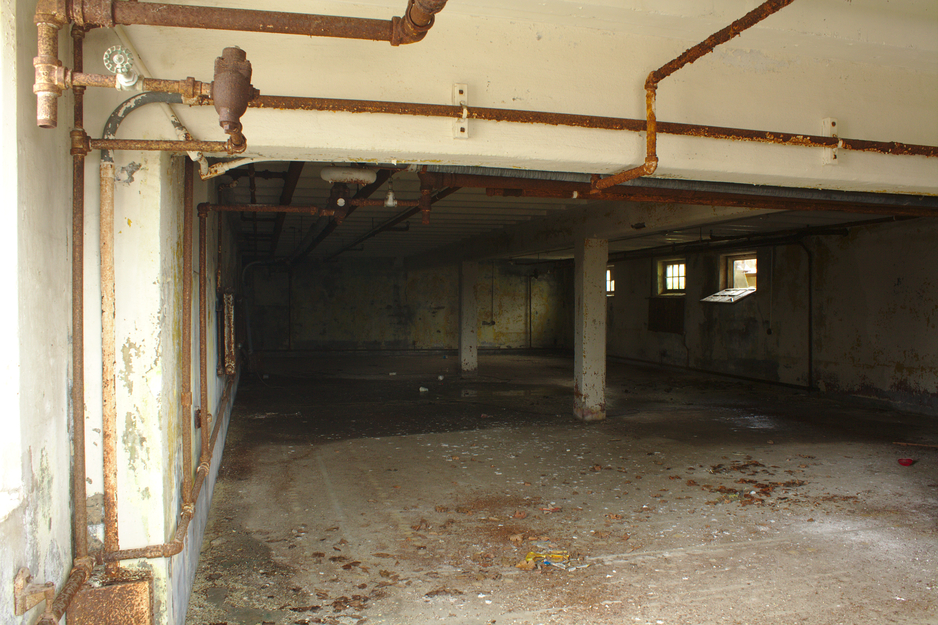 25: Empty Room (Middle)
Possibly just storage. There were some fairly recent electrical conduits added at some point, possibly the 1980's. So, recent compared to the rest of the infrastructure.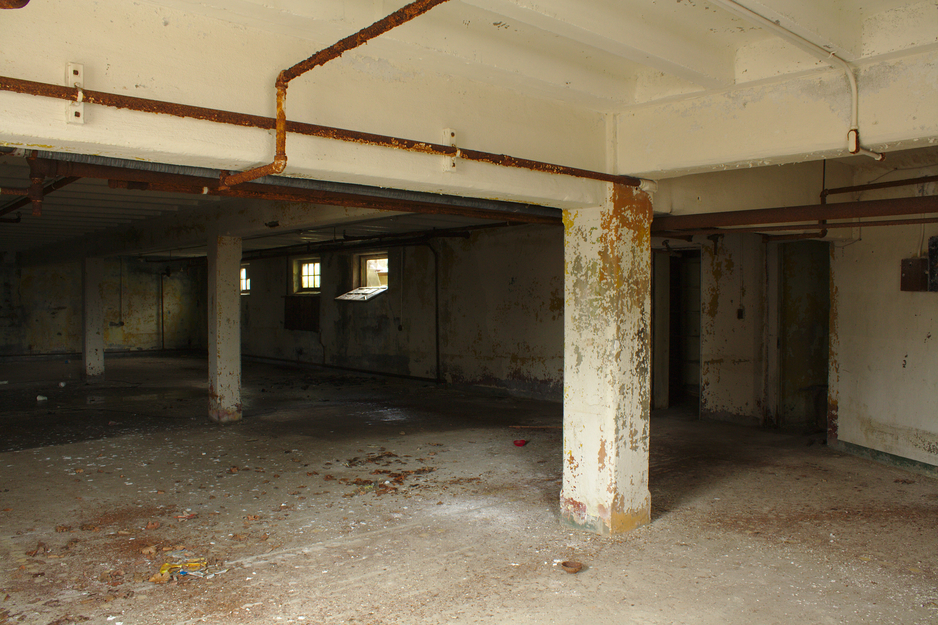 26: Empty Room (Right)
The left door of the two pictured here is labelled "FIRE EXIT" and leads into a pantry made of brick and concrete with absolutely zero other exits. I guess the fire marshall just didn't bother coming this far in. The right door goes into the dark hallway.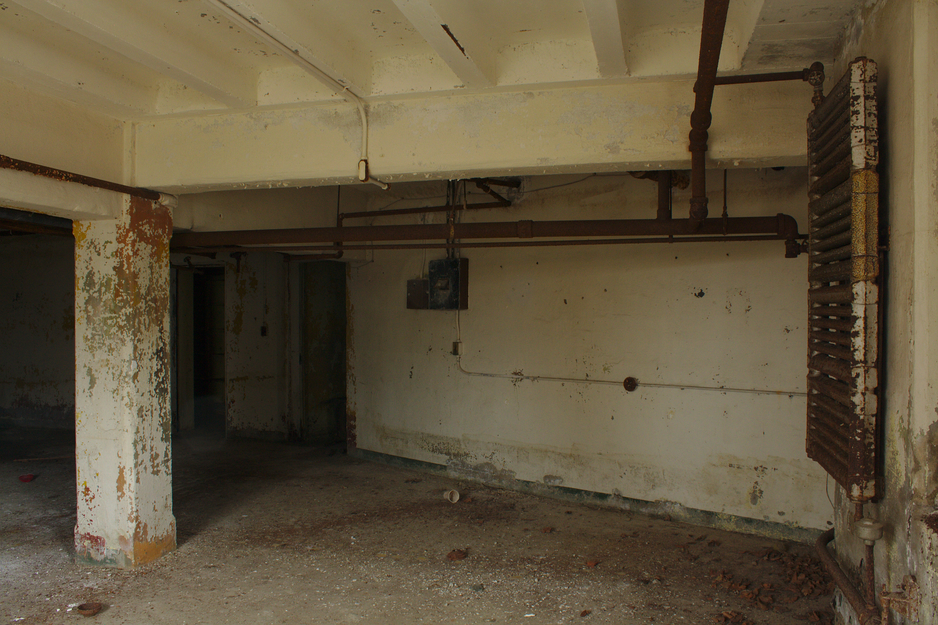 27: Rear in Daylight
Finally, we made our way up to the second floor of the building. If you're thinking that fire escape will get you up to that broken green door, well, only if you can jump up about fourteen or fifteen missing steps right at the start. And only if its rotten frame doesn't drop you right back down.
We didn't test it!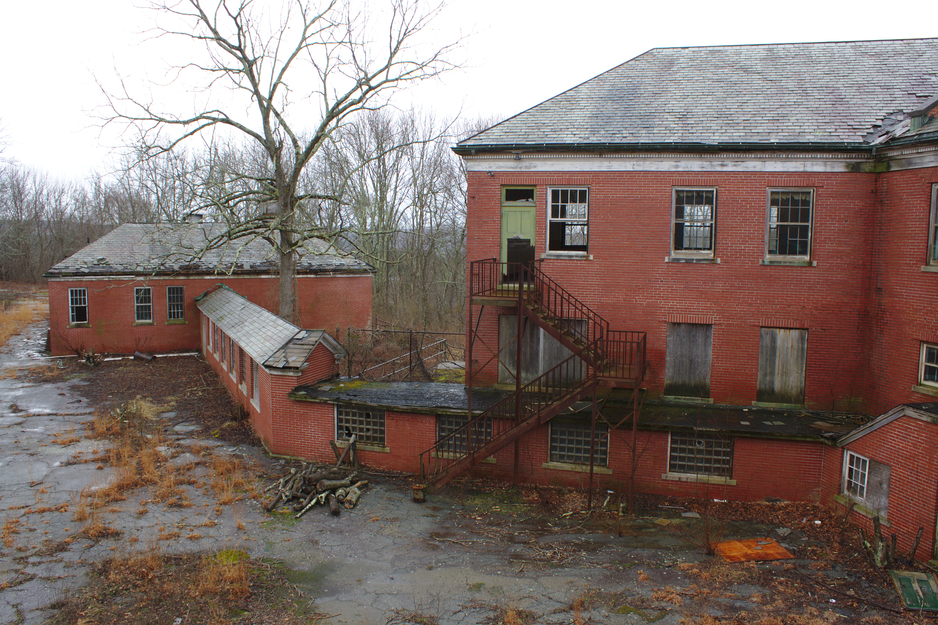 28: Corroded Stalls
The water damage from the roof leaks was more pronounced on this floor.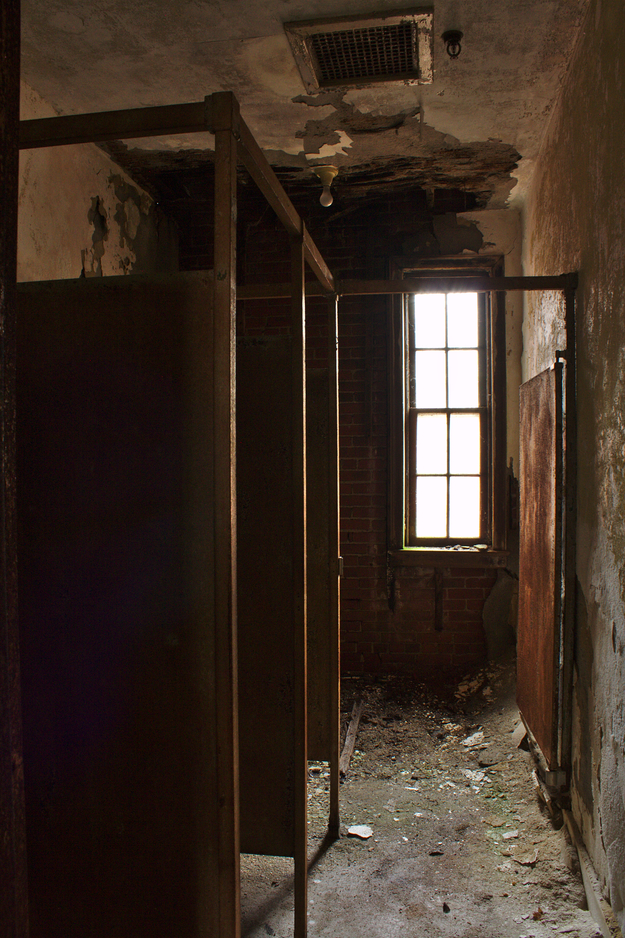 29: Hall of Lights
Like the other hospital buildings, this one too featured an interesting color selection on its walls. The second floor here appeared to be built as a residential hall for students/patients staying on the campus. For some reason I didn't photograph any of the dorm rooms; I'll have to try for one on the next trip.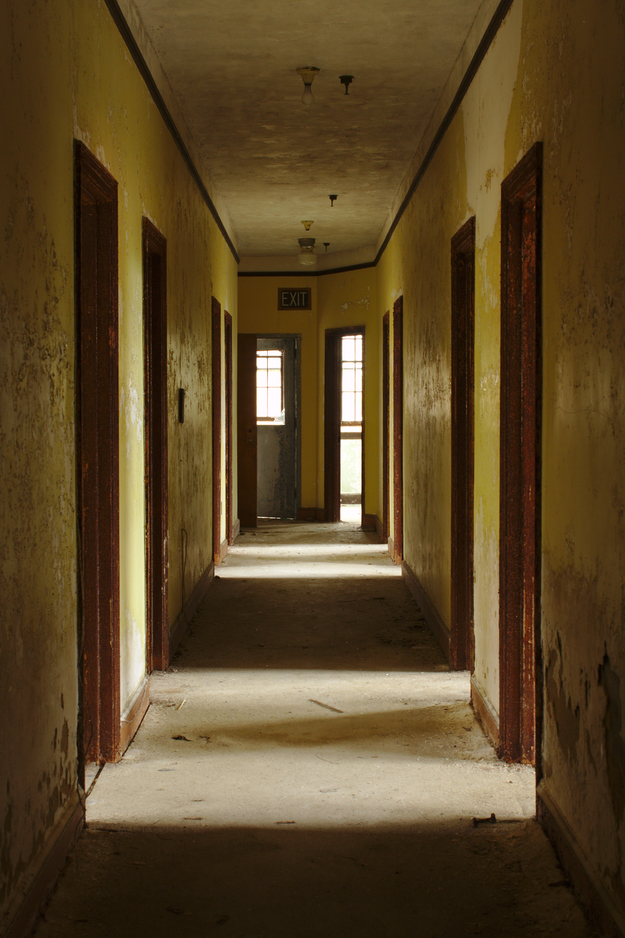 30: Structural Failure (Side 01)
The main front entrance of this place was badly destabilized by water damage. The massive beam visible through the window is supposed to be above ceiling level. "Structural Failure" sounds like it could be some kind of avant-garde or noise-music album title.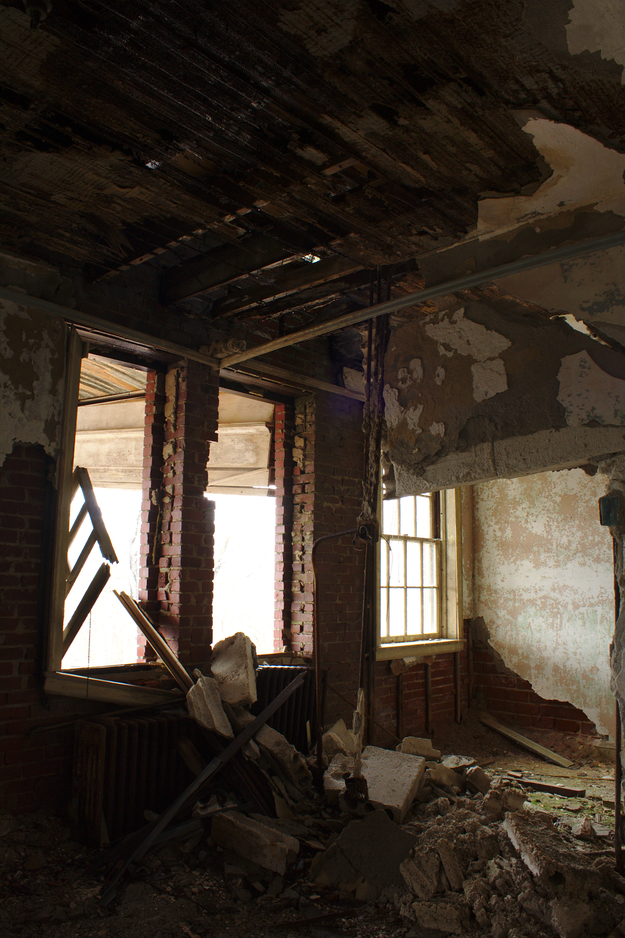 31: Structural Failure (Side 02)
It isn't visible here, but the entire right side of the deck outside was missing, having collapsed long ago.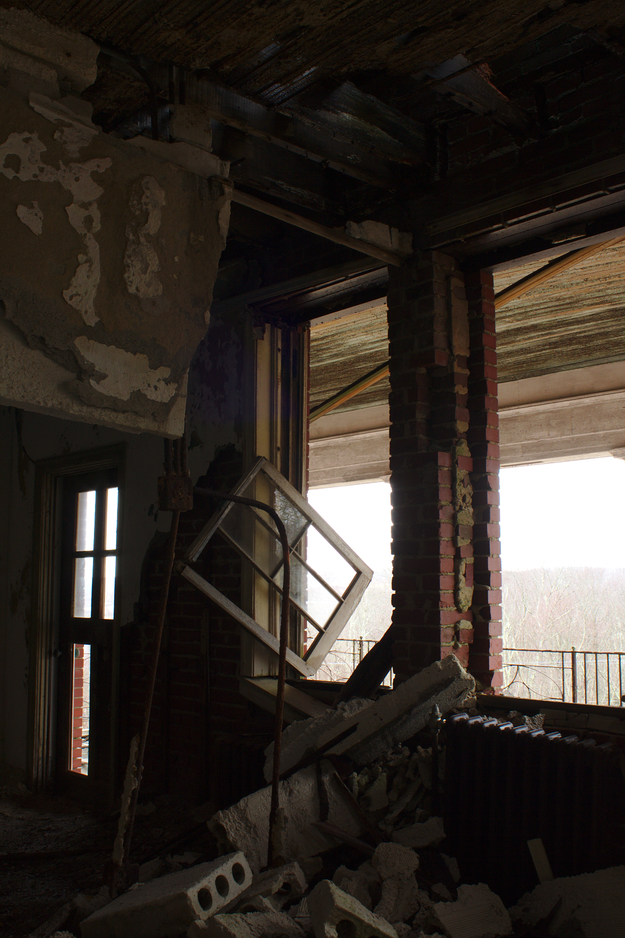 32: Nova Prospekt
The broken chickenwire and peeling paint, along with the heavy architecture, produced an vibe not unlike a certain fictional prison.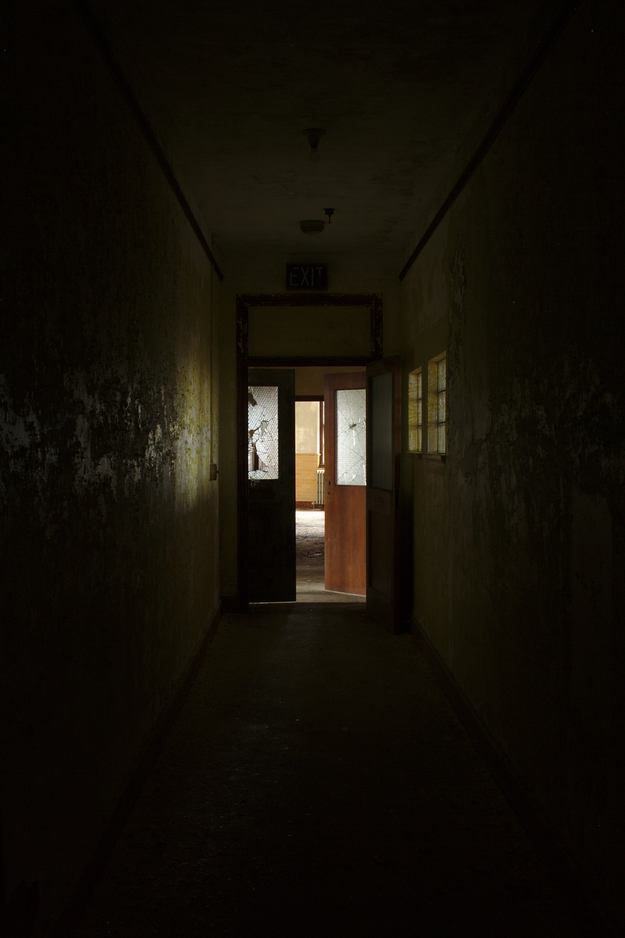 33: Lavatory (Left)
Above this large bathroom was a
severe
water leak. Also someone smashed all the sinks.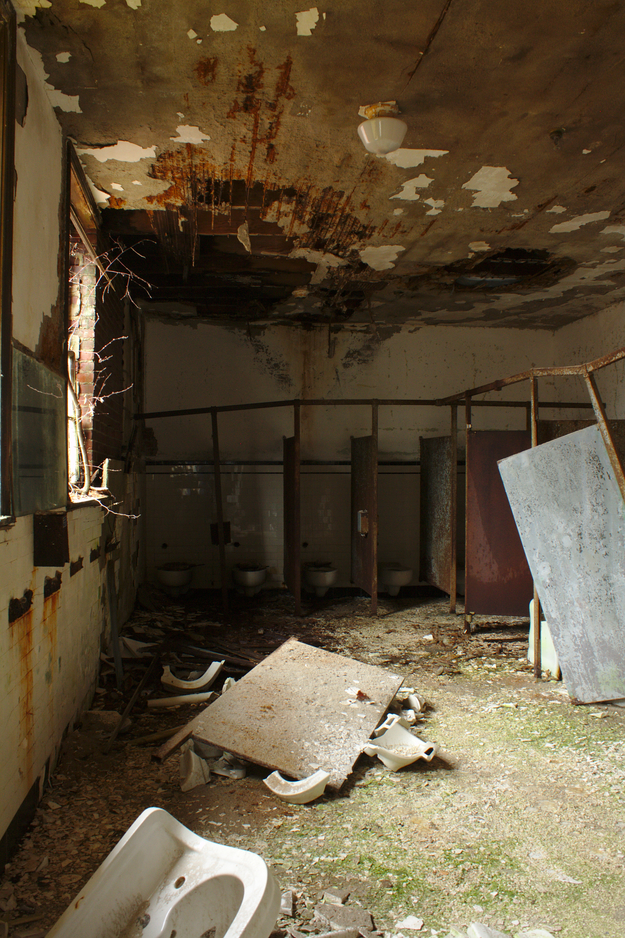 34: Lavatory (Right)
These are stalls, yes, but they don't contain what you might expect....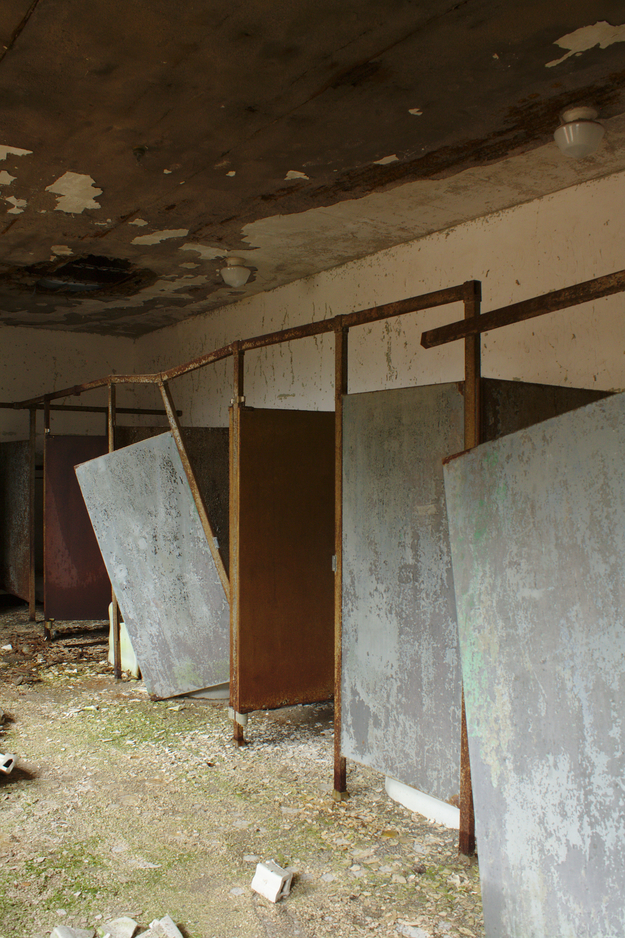 35: Bathtubs!
This is more than just a lavatory - it also boasts a fleet of sturdy tubs for washing up. The actual faucet hardware was all missing or stolen, but the tubs themselves clearly weren't going anywhere.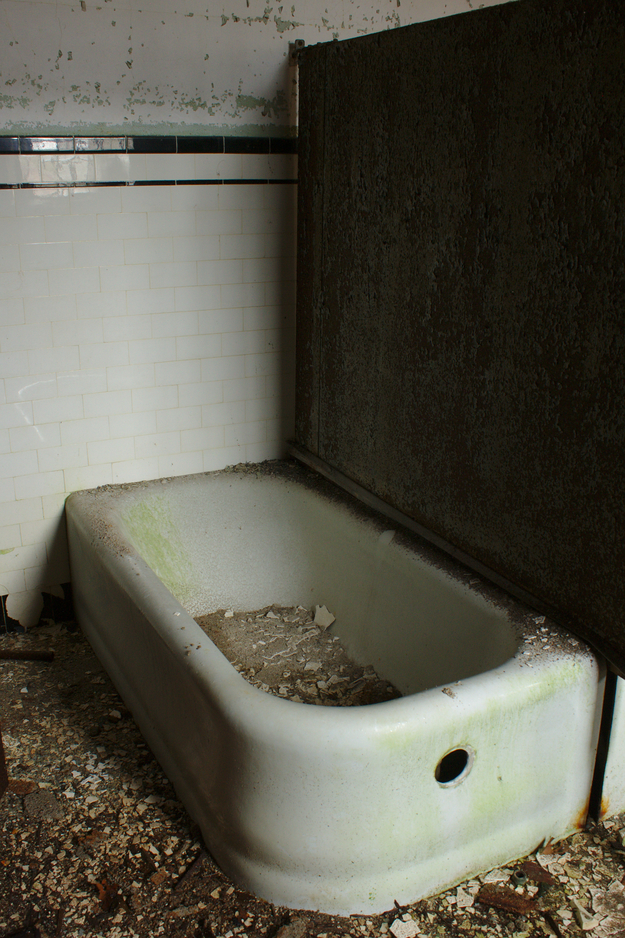 36: Shower Stalls
On the opposite side of the bathroom stood three shower stalls, which are much more recent than the other facilities. Also more cheaply constructed, but out of materials more resistant to decay.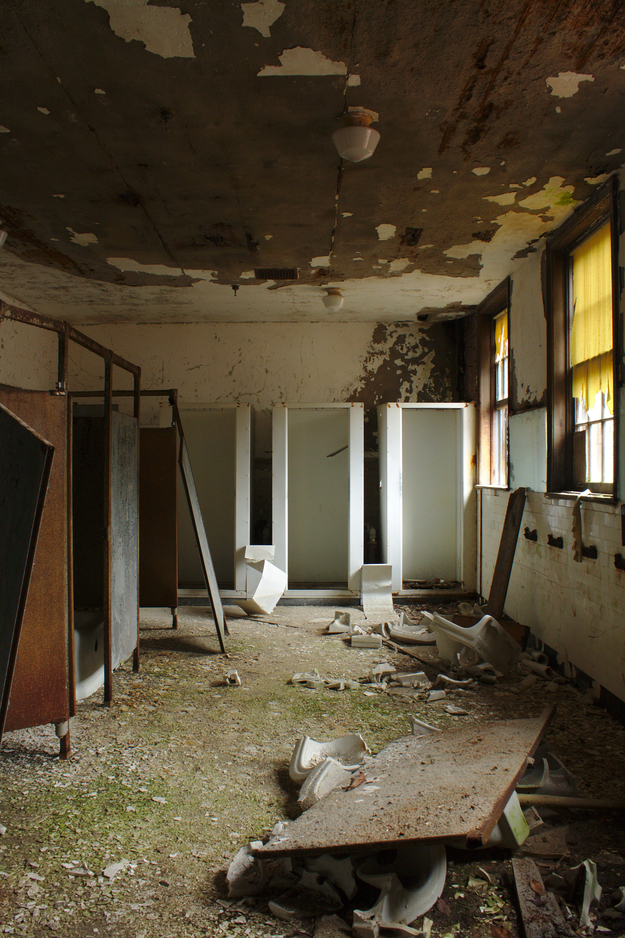 37: Tearing Through the Veil
One window still had a semblance of its shade left. I believe this is the middle of the three windows.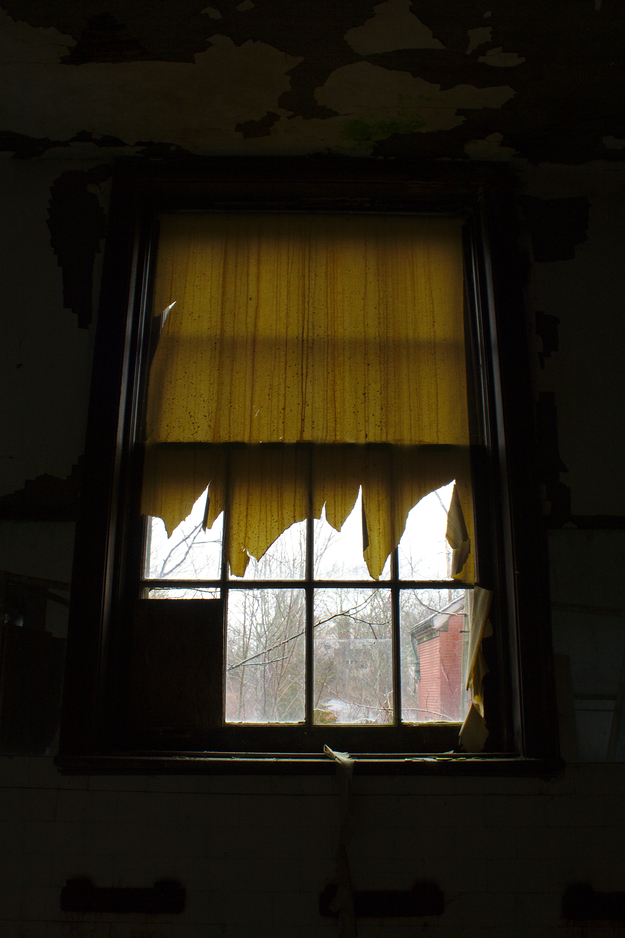 38: Attic
Venturing up even higher got us into the building's attic. It had a few interesting features, such as this split chimney arch.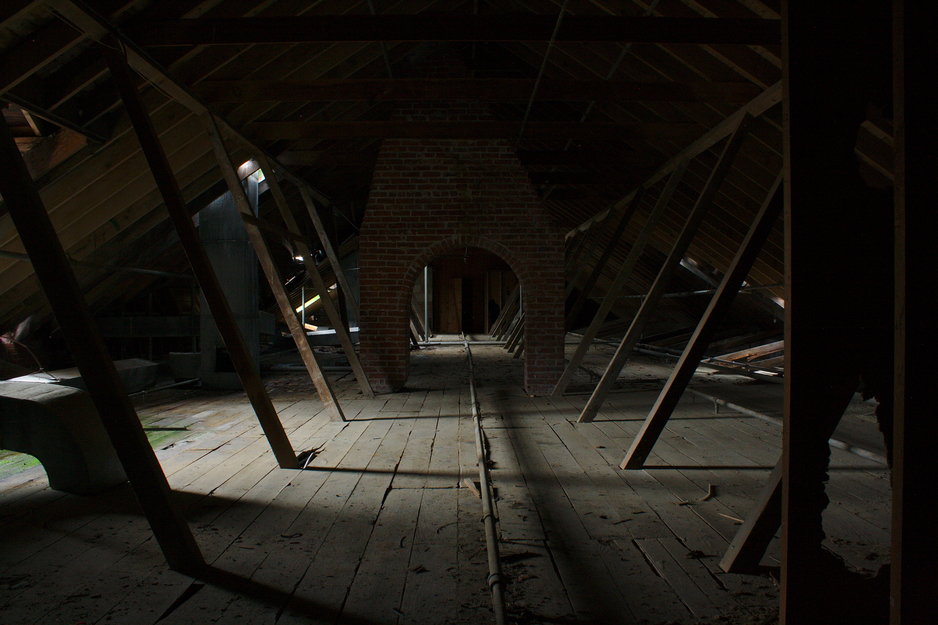 39: An Office for Failures
Up in the attic was a small room that barely fit the definition of the word - wooden studs covered with what may as well have been cardboard, featuring one door, one lightswitch, and one incandescent bulb. My friend and I like to think it was the office that the building's administration relegated under-performing employees to as a "last chance". The other end of the attic had another one, just as destroyed.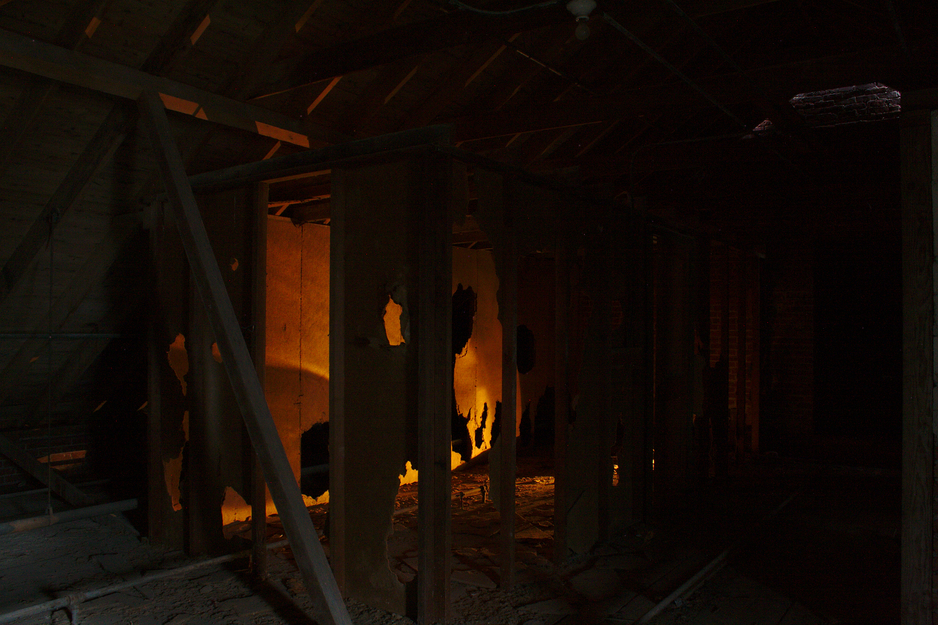 40: Woodwalk
The central attic had a full wooden floor from end to end, but the side attics had just a wooden catwalk of sorts. Pedestrians here had to duck or hop over pipes and beams to make it to the end.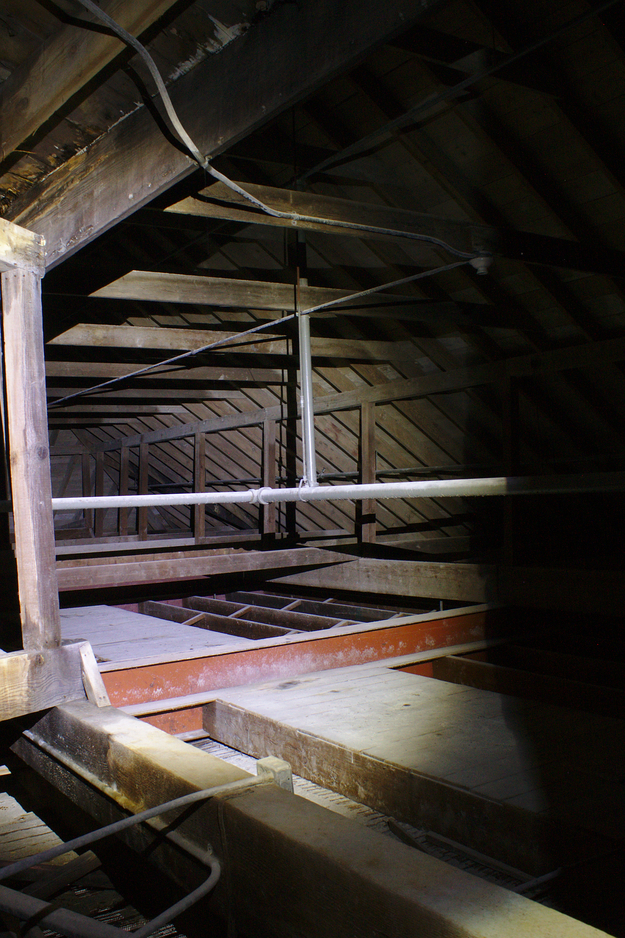 41: The Wet Way Down
Having seen as much of the building as we knew of, we decided it was time to head out. The cold and rain were picking up and the walk back to the cars was not going to be pleasant.
I bonked my head on that chunk of ceiling hanging down a little bit to the right of the window.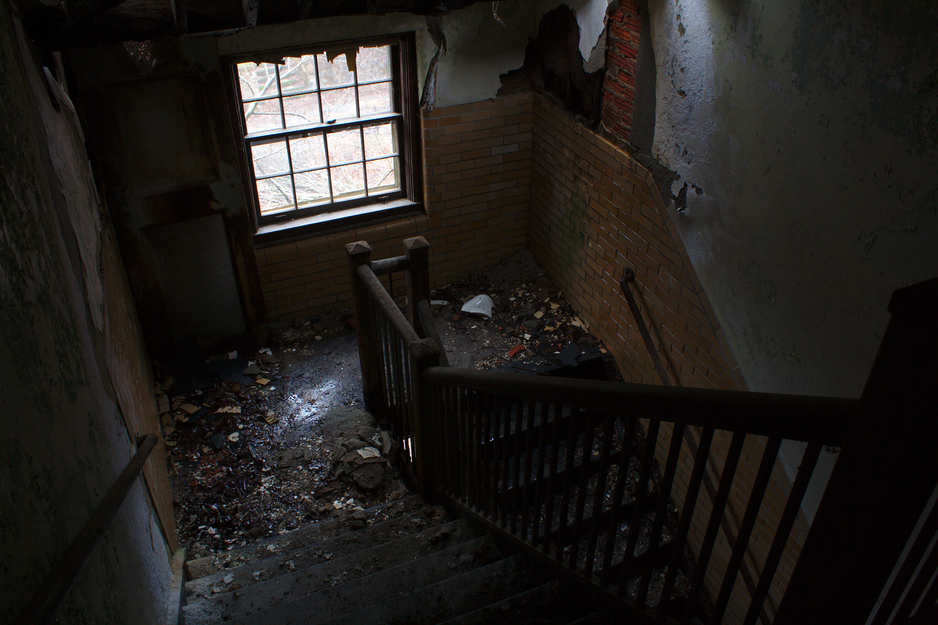 Epilogue:
After exiting the building, we also explored one of the little one-story houses in the rear neighborhood. There are no photos of it because I'd put the camera away to prevent water damage. The little house had two empty bottles of Codeine in it; must've been quite a party destination at some point. After finally leaving, we split a pizza and decided that the next trip would be dedicated to examining the houses in the rear neighborhood.
As stated in previous threads, the South campus is currently being razed - make a trip while you still can!