US military redeployment is a big issue in Korea these days, as bases have been closing and US forces have been moving further south or off the peninsula entirely.
I recently got wind of one such base that closed in 2006 and is still sitting there, straddling a mountain ridge. When I discovered a bus that passes right by my office goes almost all the way there, I decided to set out. It was an hour-long voyage.
The base is in the Western Corridor, basically a road that extends northwest out of Seoul toward Panmunjeom Truce Village. Six USFK bases have been closed there this century, and this is one of them.
1. The bus dropped me off around here, where I looked across this field and saw the entrance to the base, with a couple buildings visible. It almost looks like a vacation resort.
2. Areas in front of USFK bases are often referred to as "The Ville" and there are various businesses for American soldiers' recreation. Yeah, probably most are quite sleazy.
3. This seems to be the signature of a guy who served in the Korean military here and now works for LG Display.
4. I had a walk through the Ville first, which is now basically a ghost town. While I was walking, I passed by a group of young volunteers handing out charcoal briquettes to the remaining residents.
5. The front gate was, surprisingly, wide open.
6. Here's the first building I entered.
7. I couldn't imagine what it was used for. Later I found out one of the facilities here was a library, and this being a library makes sense.
8. Next building I entered was easier to figure out.
9. A bowling alley.
10. Everything but the wood of the lanes had been removed. Even the bowling ball return system was meticulously stripped out.
11. I kept heading uphill. This base went uphill pretty far.
12. This is what's inside this building. My best guess is this is where they stored munitions or some other hazardous materials.
13. Looking downhill, I could see the first two buildings I visited, plus an urban landscape way in the distance.
14. Looks more like a resort or retirement home than something with metal cages.
Sometime around now, I checked out one path and heard what sounded like two guards running toward me. I kept watching, prepared to duck out of sight, but they never arrived, even though they sounded to be moving pretty fast. So I just continued uphill, assuming I could avoid them.
15. This building still seemed to receive electricity. I think it's been powered by a company that was planning to redevelop the area.
16. I saw several barracks but only went in this one. I've heard the barracks here were of unusually high quality.
17. They were all pretty cleanly emptied out.
So this is when things get hairy, literally. I headed further uphill to where there used to be a helipad at basically the peak.
I heard that sound of two guards moving fast through the bush, their feet in lock step. I was at the top of the ridge, and below me, I saw a wild boar. The boar saw me and kept coming uphill toward me. It came to the edge of the path and looked out at me without fully coming out into the open.
The one I saw probably looked like this, and was about the size of a medium-sized dog. (NOT MY PICTURE)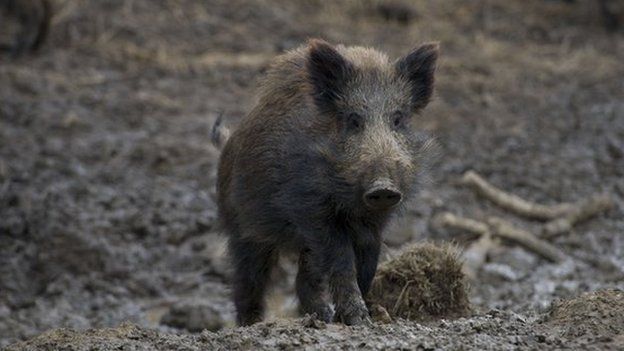 It seemed alarmed by my presence but brave enough to get closer for a better look, which was terrifying.
Wild boar attacks are increasingly common in Korea, so I still feel pretty justified that there was a threat. A herd of them
invaded a university campus earlier this year
. Here's another article showing
how frequently they're encountered
, in which the boar's face is oddly censored.
So with this creature that looked like it might follow me and could even charge, I hurried up the path and began, first, roaring like a wild animal, then laughing like a maniac.
I came to a tall silo (visible in picture 1) that I thought I could climb if necessary to escape it. Up there, I startled a couple deer which raced away from me, toward the boar. While still laughing and talking about how I wanted bacon, I opened up my bags to see what I had to work with. I figured my tripod was the best weapon, and my big bag was the best shield I could use to soften the impact if the boar charged me. I put on gloves, and I threw my seonbi mask over my neck so it was on my back, just in case the boar tried to sneak up behind me. I've heard this works for mountain lions, but no clue about boars. Probably not. But two heads are better than one, anyway.
18. Only once I was clear, I took this picture of my self-defence mode getup.
But anyway, we're not down yet. I had stopped to post on Facebook, "Oh shit I may have to fight my way past a wild boar to get off this mountain." I gave my exact location which I would delete once I was safe, just in case.
As I headed back down the hillside, I could hear those two sets of two feet pounding through the brush. Not a very subtle animal. All the while, I swung my tripod around and laughed about how I had a hankering for some bacon.
And then when I thought I was clear, I heard an even scarier sound: an approaching vehicle. I leapt off the road into the bushes. I was on a smaller road leading up to the helipad, and the road ahead seemed to be the main one. It ran from the entrance where I'd come in, over the mountain and down the other side, presumably to another open gate. Had someone come looking for me, hearing my maniacal laughter?
A dump truck pulled into view from the far side, and continued following the main road straight downhill toward the entrance I'd come through. Maybe just taking a shortcut?
And then a few minutes later, as I followed after it, I heard another truck coming down from behind me. I jumped into the brush again, but this time I was in a much worse area, more exposed and less navigable. But this truck stopped, and stayed there idling at least 10 minutes.
19. I took this picture as I waited. The truck is about 30 meters to the left, parked around a corner so if someone were watching from behind the wheel, they'd see me make a break for this building. So I stayed put.
While I waited there, I caught up on Facebook, and I heard what sounded like someone dumping out fluids from like a container with a narrow mouth.
Finally, I heard a door slam and the truck pulled out. I hugged the brush as the truck trundled past me on its way downhill, passing within two meters of my position. But I don't seem to have been spotted and it continued on.
20. Once it was out of sight, I hurried up to where it had parked, taking this picture of the spot it had been. It would have been facing rightward, with the cab about in front of that orange thing. I looked around for any trace of whatever was dumped out, but if it were just dumped in the brush I couldn't find it and I didn't want to risk exposing myself to it.
My thinking is, US military bases that are returned to Korea tend to be scrutinised for toxic waste.
According to
this article
, when the US vacated this base they left oil tanks not completely emptied. Though on my visit I saw no oil tanks.
According to chatter on
this page
, there may have been Agent Orange stored on the site.
Regardless of what the Americans did, I suspect these abandoned former US military sites are considered fair game for any domestic polluter to dump out harmful chemicals, as it will all get blamed on the US anyway. And I think that's what I witnessed.
21. Here's a shadowy view I took on my way down, showing a very tall highrise complex way off in the distance I haven't been able to identify.
22. Back down in the Ville, where I'm safe. Something I never thought I'd say.
23. Anyway, you can bet your sweet bippy, once I was back in Seoul, I met up with other urban explorers, and I made a point of going out for barbecue pork.