After two weeks of no urbex due to real life things, my friend and I got back to the NS Hospital campus for another trip. This time we got into the [REDACTED] Building, which in its prime was the second surgery building of its kind in the entire country. Later, during the hospital's twilight years, the building served as a methadone clinic. Eventually that shut down too.
Because we thought ahead this time, my friend and I arrived with sunlight still available, allowing me to take photos featuring colors besides twilight blue!
On our way to [REDACTED], I spotted someone in a gray hoodie or sweatshirt walked away from the building and towards the Administration Building. Undaunted, my friend and I took a different road to [REDACTED] and explored anyway.
Some of these photos feature post-processing; this is limited almost exclusively to rotation correction/cropping and minor exposure tweaks.
01: Peeling Green
This building's walls featured many different colors of paint. Presumably the [REDACTED] building we explored before had similar colors, but at the time it was too dark to notice.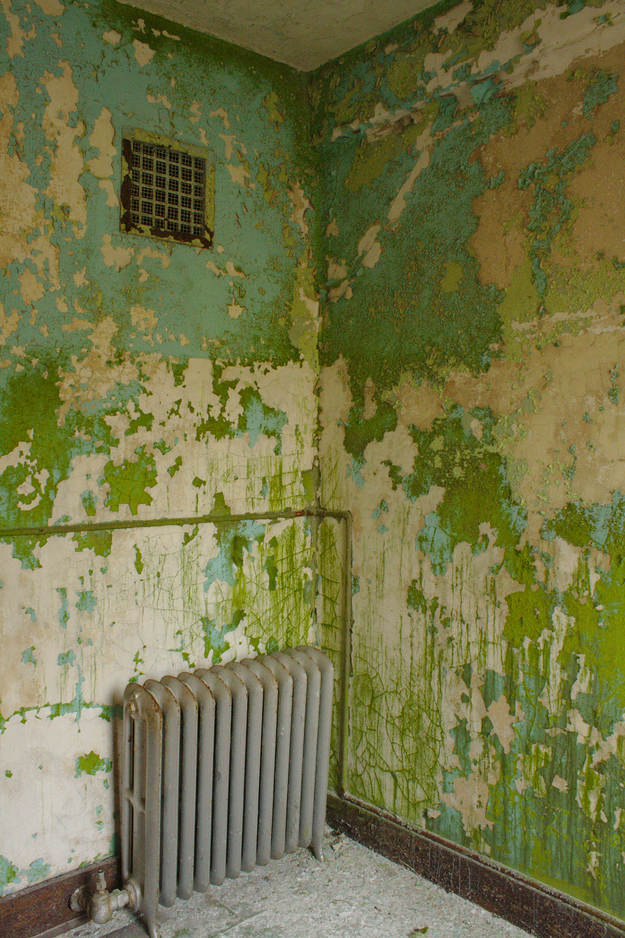 02: Off Center
A light covering of mold or mildew is steadily eating away the paint on this wall and exposing the drywall underneath.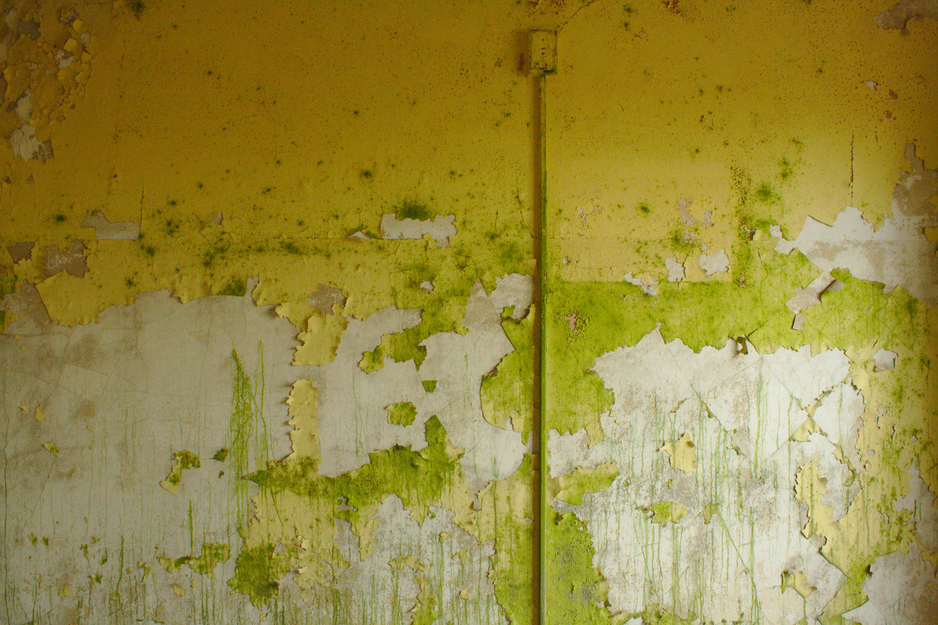 03: Web Funnels
Evidently a popular spot for spiders to make their home. Also a popular spot to get eaten by spiders.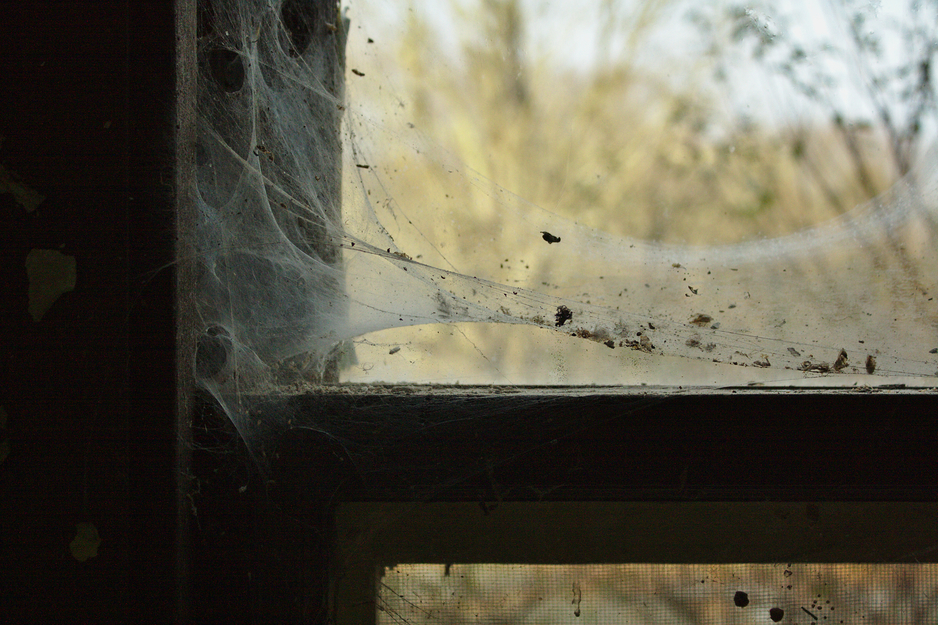 04: Green Bricks
This photo somehow came out blurry despite me being dead sure I focused the camera. Old habits die hard, I guess.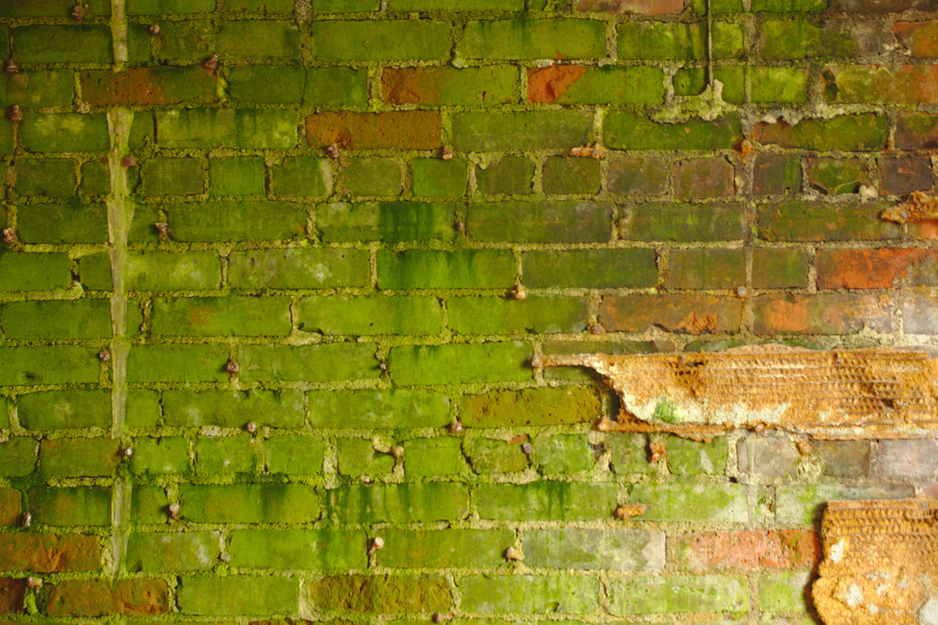 05: Annex
This photo is crooked because Darktable was unable to rotate it straight without also making it absurdly blurry and corrupting some parts of the image. Oh well, there's always next time.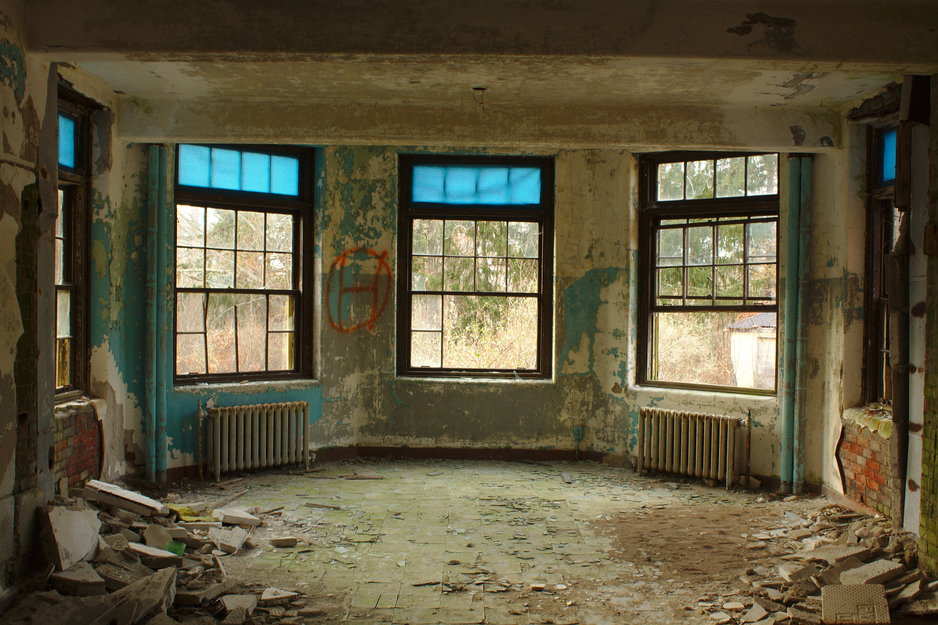 06: Leaves of Blue and Green
More of the fabulous peeling and moldy paint throughout [REDACTED]. The colors in this building really are fantastic.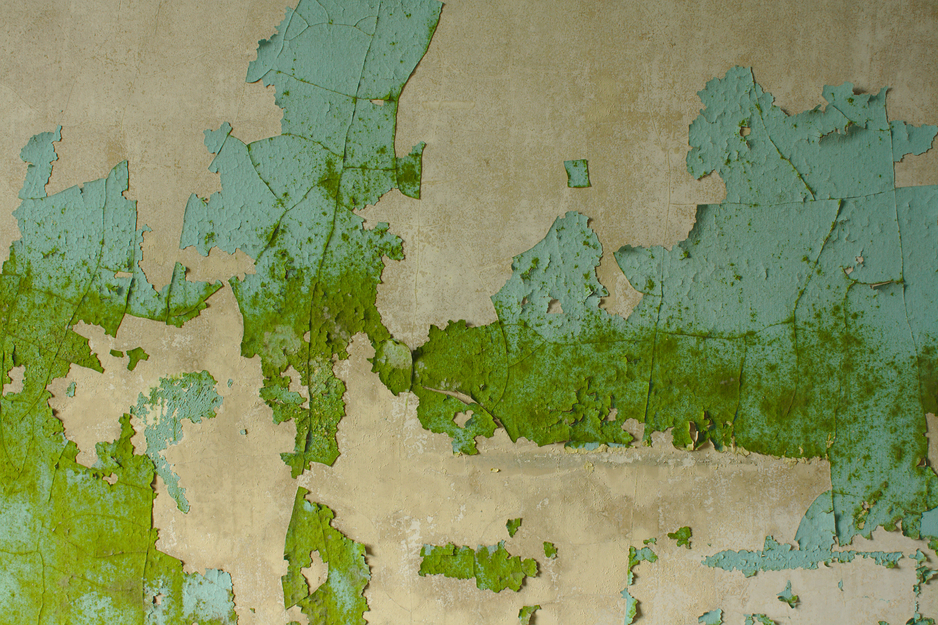 07: Washroom
A small side room with naught but a sink. Perhaps there was once a toilet, or perhaps there were shelves, or perhaps there was nothing at all.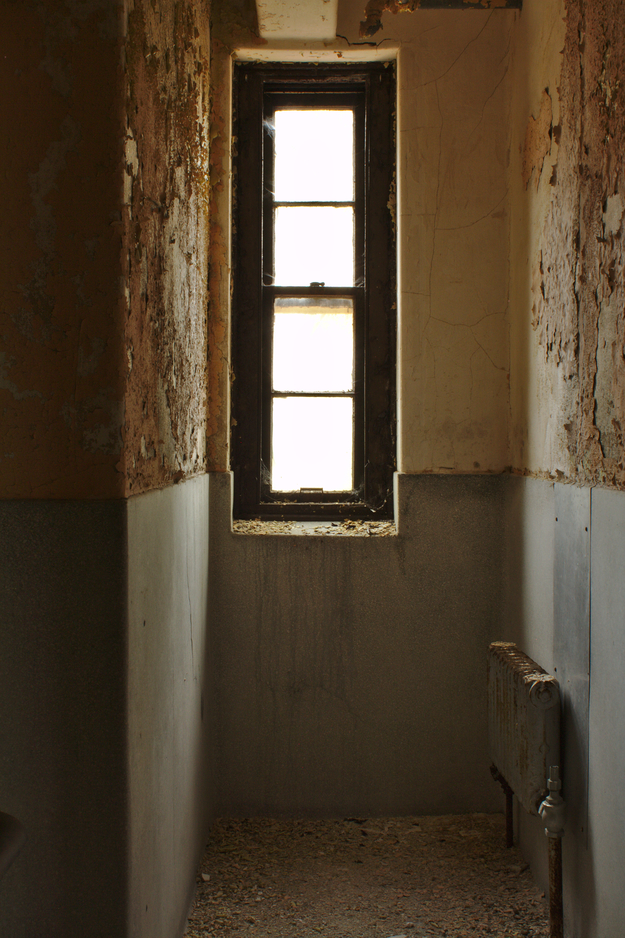 08: UE Poop Tub
We found another poop tub besides this one, and one poop sink. None of them had poop in them - yours could be the first!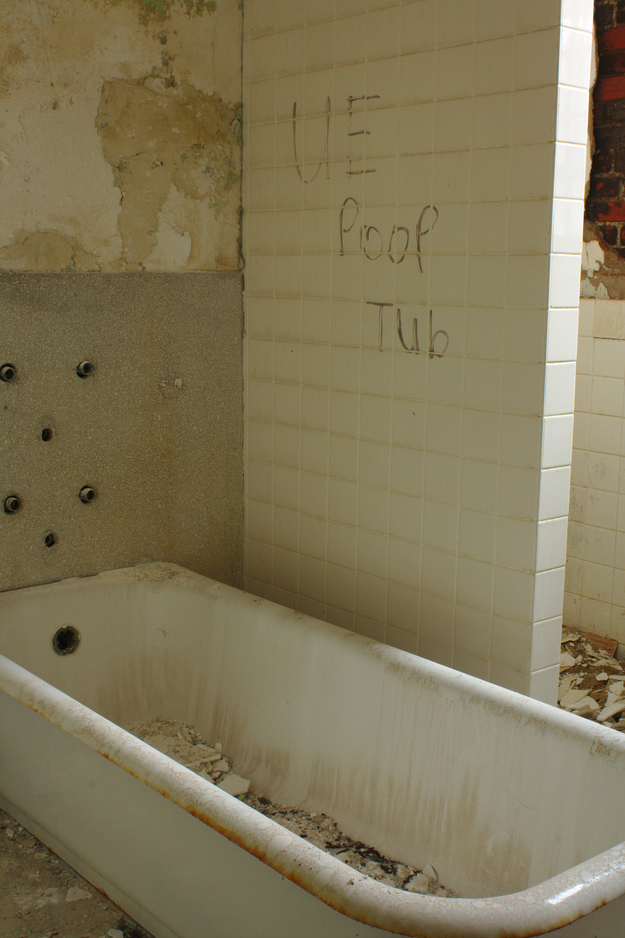 09: Patient Hallway
Every door led to a new menagerie of wall colors and patterns. Even the hallway itself had some blue and green left. A far cry (and a preferable change) from the pea soup or depression blue of modern hospitals.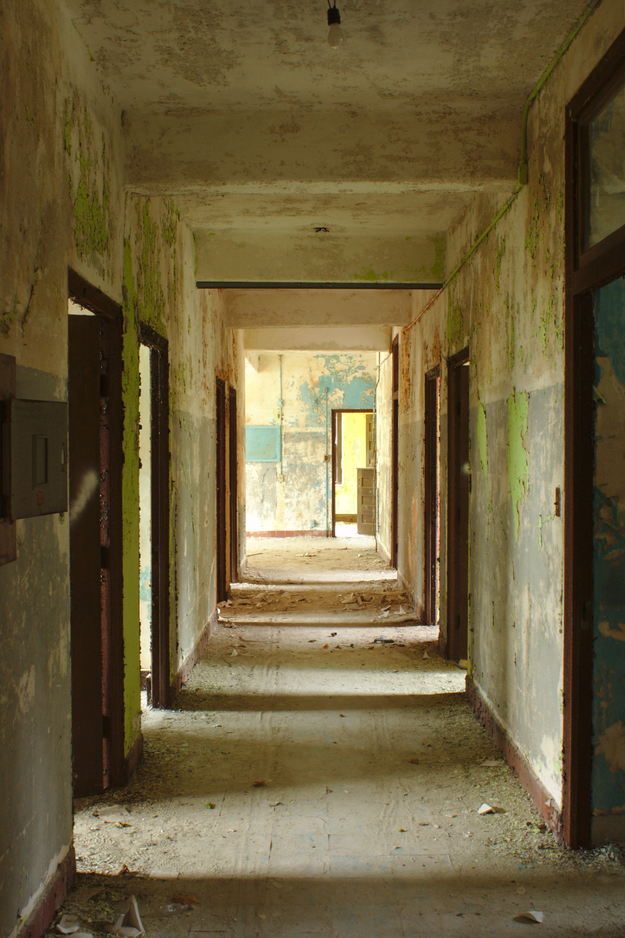 10: Yellow Division
Around this time, two guys and two girls came wandering in from the distance, making quite a racket as they approached the building. My friend and I kept silent and observed to be on the safe side. One of them appeared to be the guy with the gray sweatshirt from before, but now he had a blue baseball cap. They walked off in the direction of the campus cottages. Several minutes later they came back, split up, and disappeared. We didn't see them again for the rest of our stay.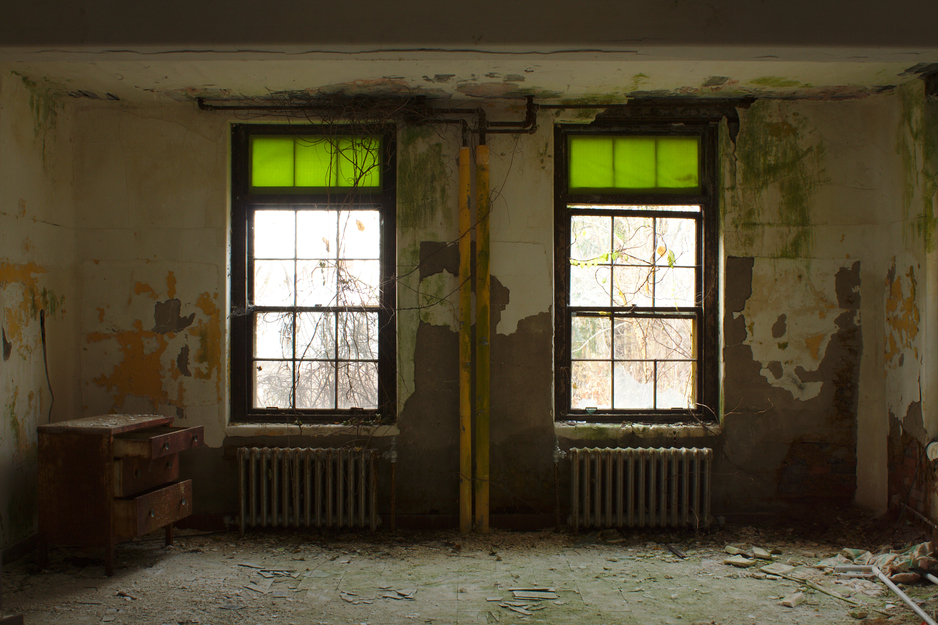 11: Pail:
A small brick room with a patchy ceiling. I don't remember what was in the bucket.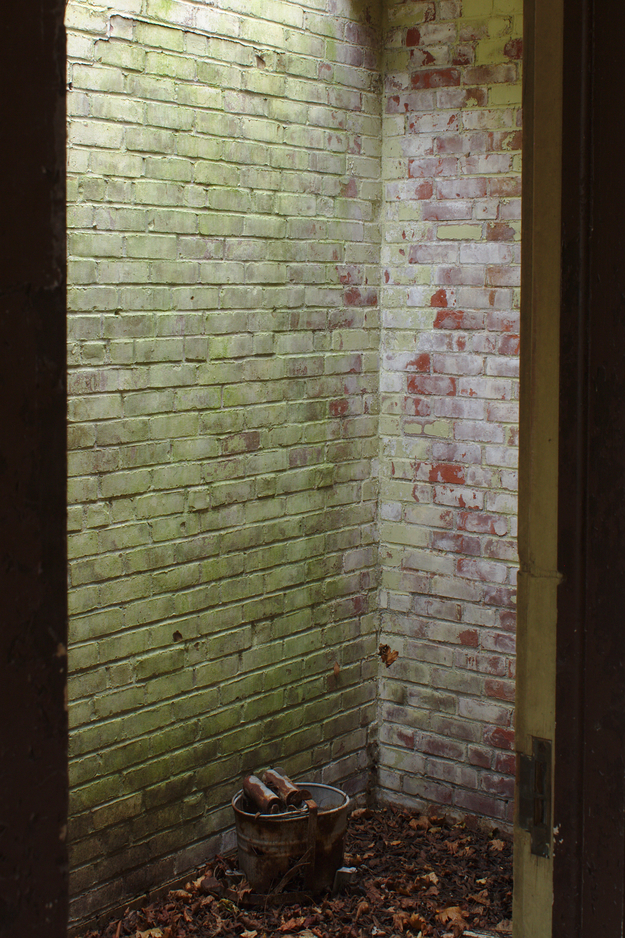 12: Enter the Courtyard
[REDACTED] is so large that it actually has two courtyards. The building itself is, as my friend described it, "a huge bisected rectangle". Both courtyards were about the same size, buried under pine needles, and littered with escaped roof shingles.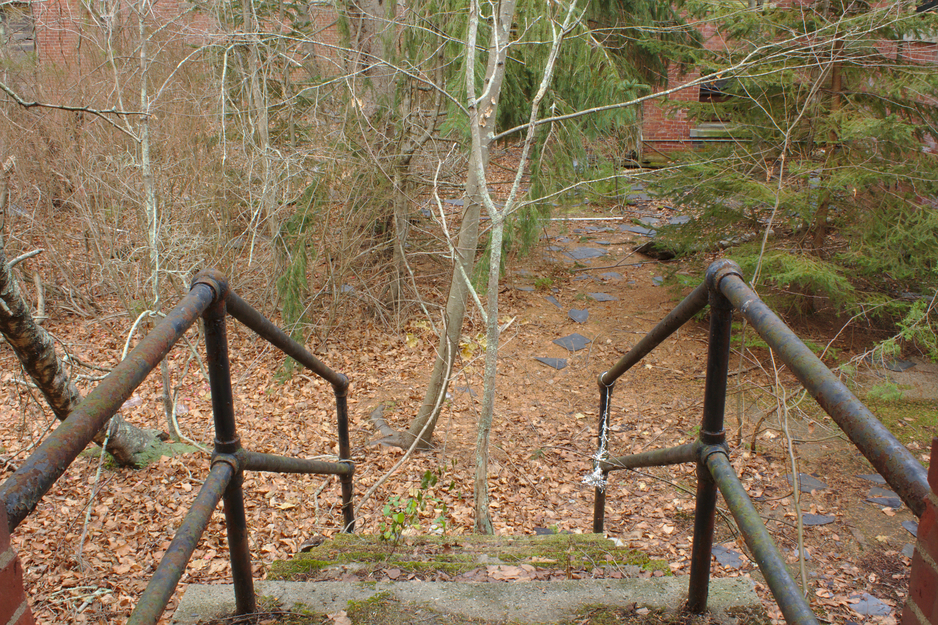 13: Side Door
The courtyard had a few access points, some more viable than others. Not shown in these photos is the fire escape - one of the upper floors has a metal catwalk and stairs that connect down into the courtyard. If the building catches on fire, escapees could flee into the courtyard and presumably suffocate as the place burned down around them.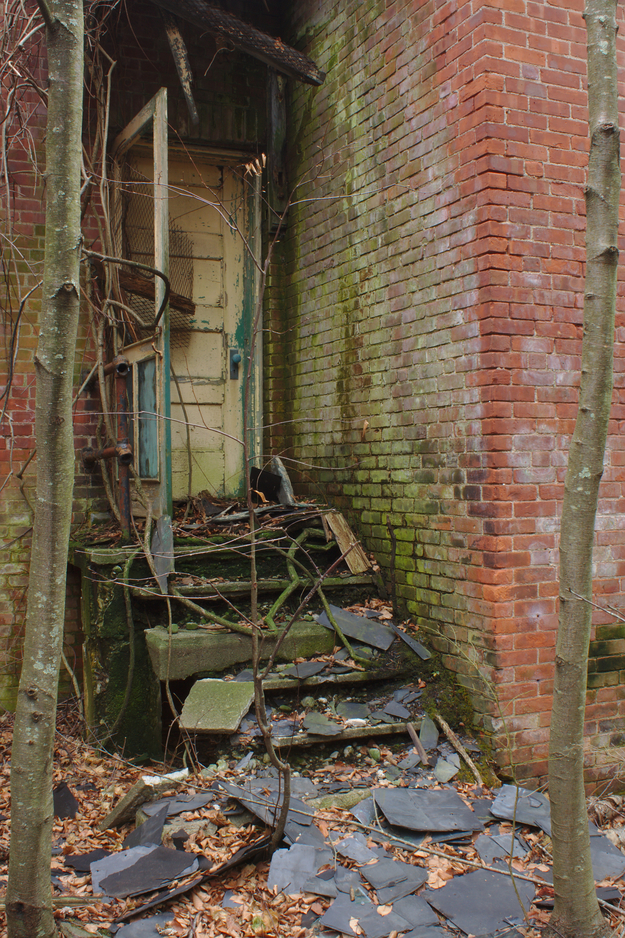 14: Kitchens, Probably
This wing of the building was in horrendous condition. Most of the roof had collapsed and years of all four seasons took their toll.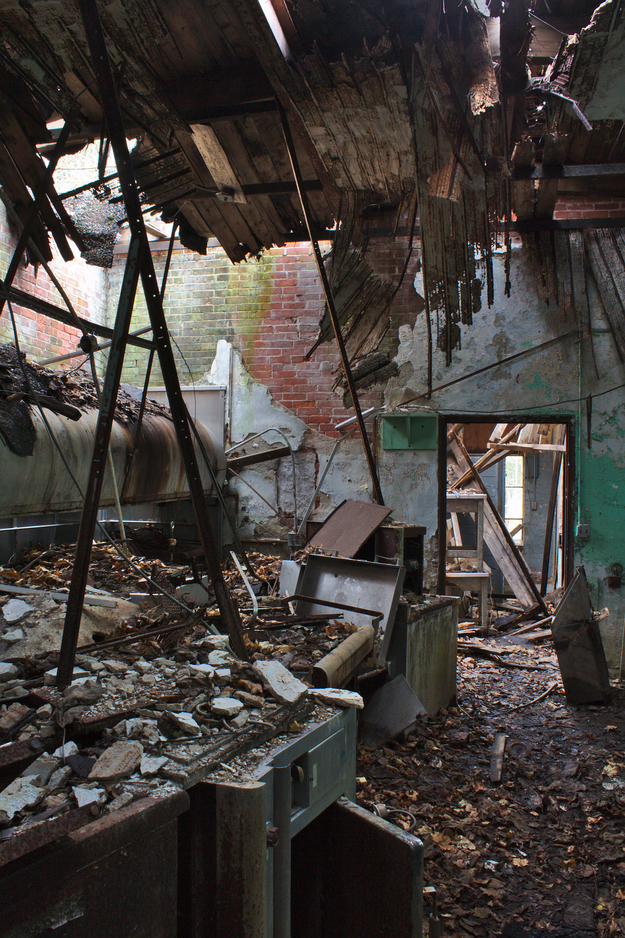 15: Fire Regulations
Where now only one double door stands there were two, letting the kitchen staff come and go as needed.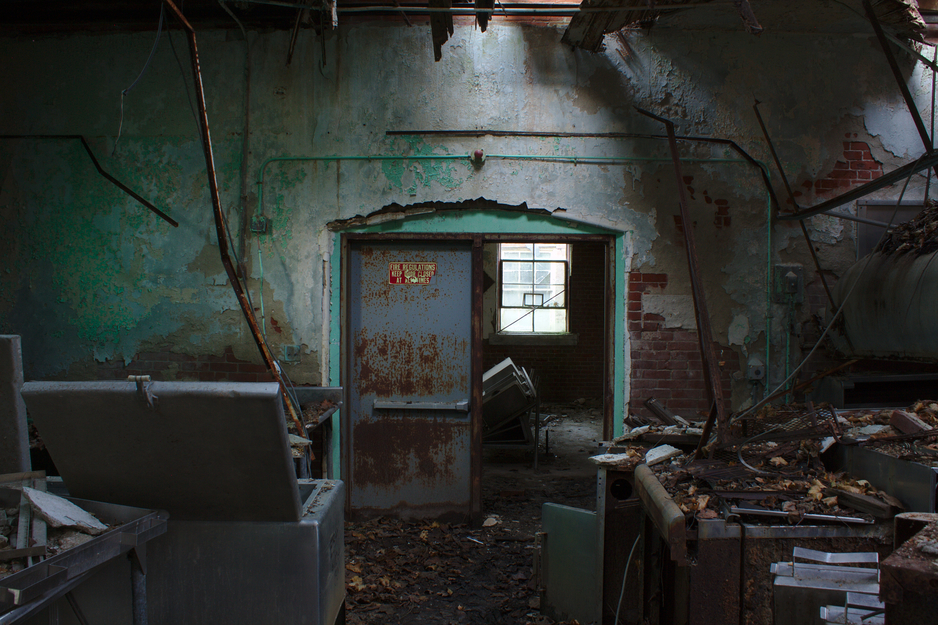 16: Block Glass
These kinds of windows are pretty uncommon these days, but they're so cool. The light on the other side is the cloudy sky growing ever darker as we neared twilight.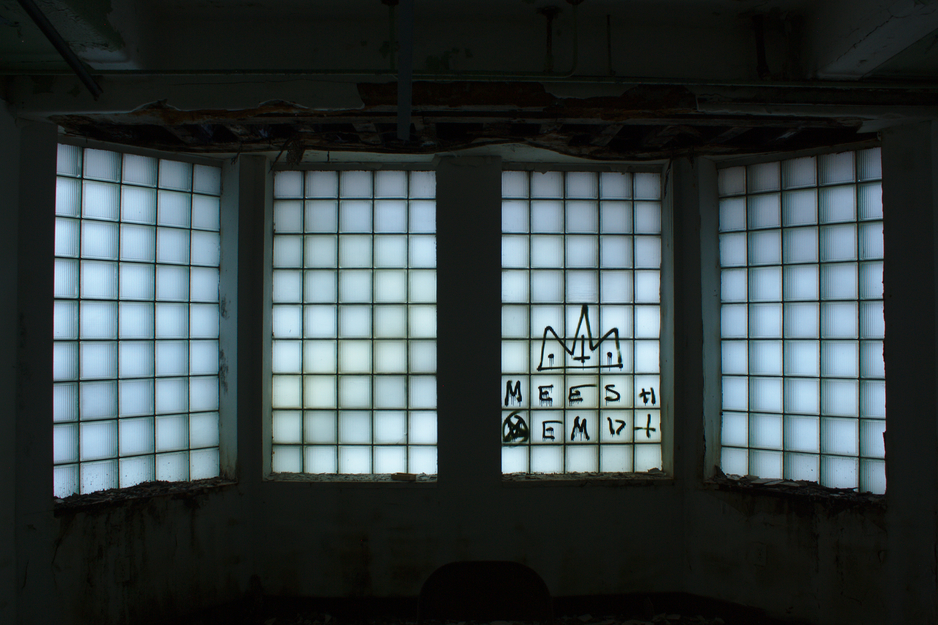 17: Two Doors
Will you choose green, or will you choose yellow? Trick question, they both lead to the same place. The attic in this part of the building (there were three attics, none of which were connected) had two staircases entering on opposing sides of one particular wall and leading up to the same spot. I assume this is because the wards were separated by male and female, but even that is a poor excuse.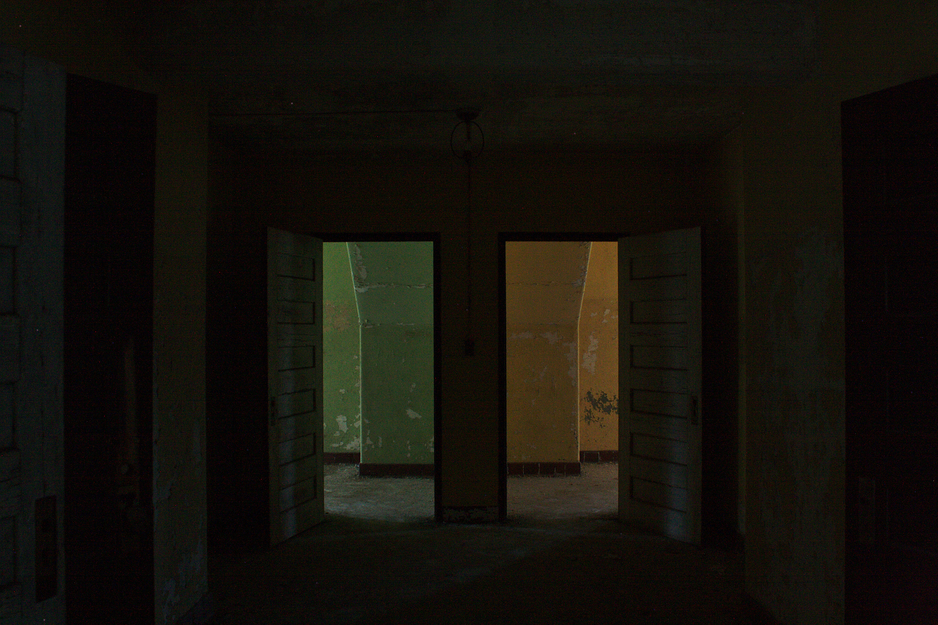 18: Twilit Roof
The many halls and wings of [REDACTED] all featured the same slate roof around the entire building.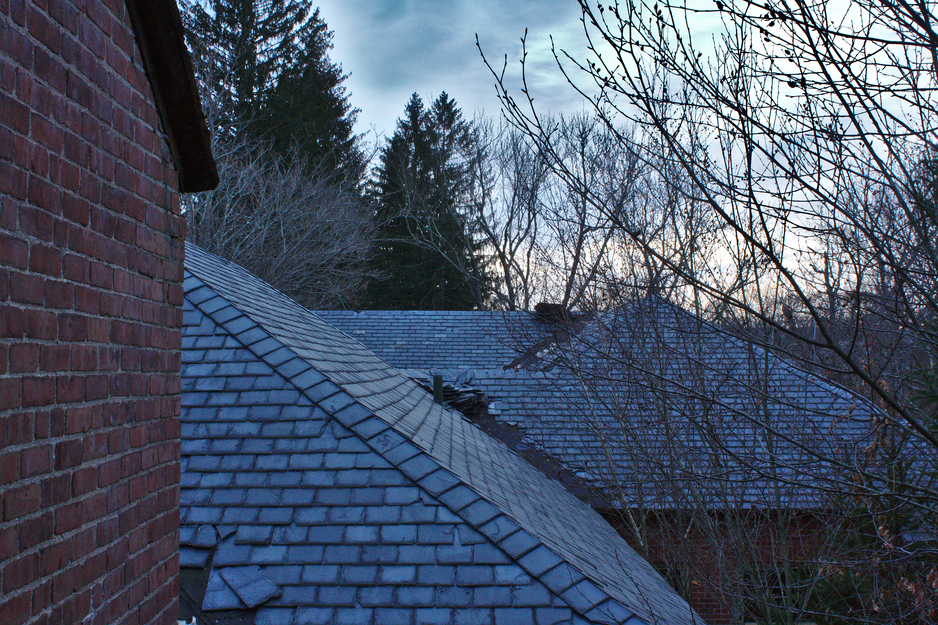 Epilogue
After taking that last photo I decided to call it quits for photography and packed up the camera equipment as the lighting inside was exceedingly dark and the building stands very close to the main road. However we didn't call it quits for exploring, and ventured further down into the basement were we found the patient record storage for this hospital and miles and miles of soggy EKG charts. One entire room was filled up solid with over two feet of damp EKG charts. At some point we also found a strange room with thick but tiny window slots, a tiny zig-zagging access hall, and some serious power switching equipment; in the basement we found a huge breaker labelled "X-RAY" and figured that weird room must have been the x-ray lab. We also found a couple rooms whose floors were entirely littered with other patient records, documentation, manuals, and other things. We hope to examine these more on our next trip.
On our way out of the campus, we noticed an unmarked police SUV idling in the same parking lot we'd parked in, headlight pointed almost right where we were coming out of. We just kept walking and acted like law-abiding citizens and despite there being only one possible place for us to have exited, the officer didn't do anything. Thus, we got Subway sandwiches and went home.