(These photos are from 2016-09-25)
I figure it's safe to post these now; the building has been complete for several months and is now open, but in September 2016 it barely had it's walls up yet.
----------
A solo exploration.
For a long time I wanted to explore this these dorms after driving past them almost every day for a year. Eventually I caved and, in a 2AM fit of madness, went by myself.
01: The Approach
The place was lit up like a Christmas tree on New Year's. On foot I approached from a side road after leaving the car parked somewhere inconspicuous and used my camera's long exposure times and telescopic lens to stake the place out.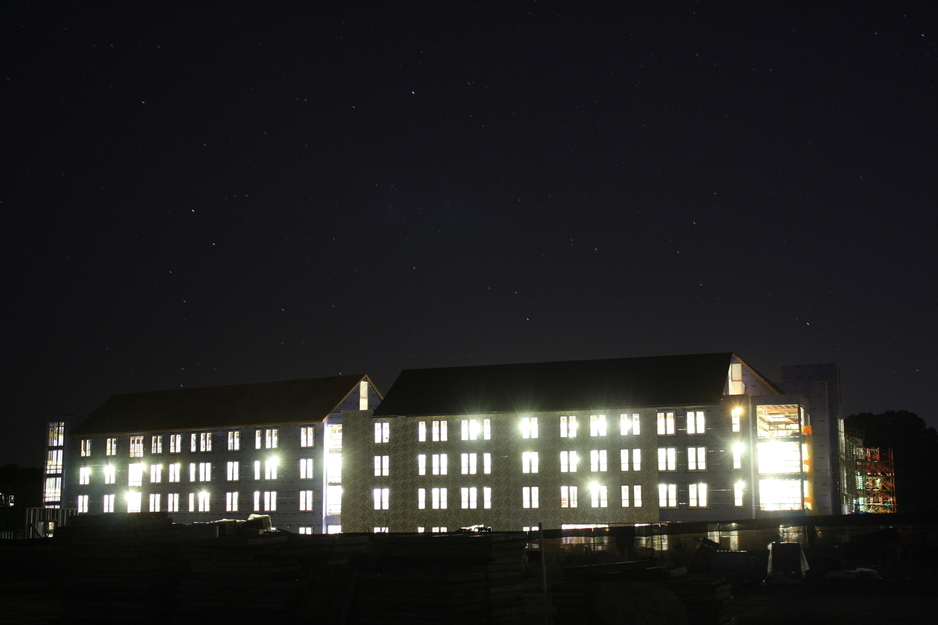 02: Starry Sky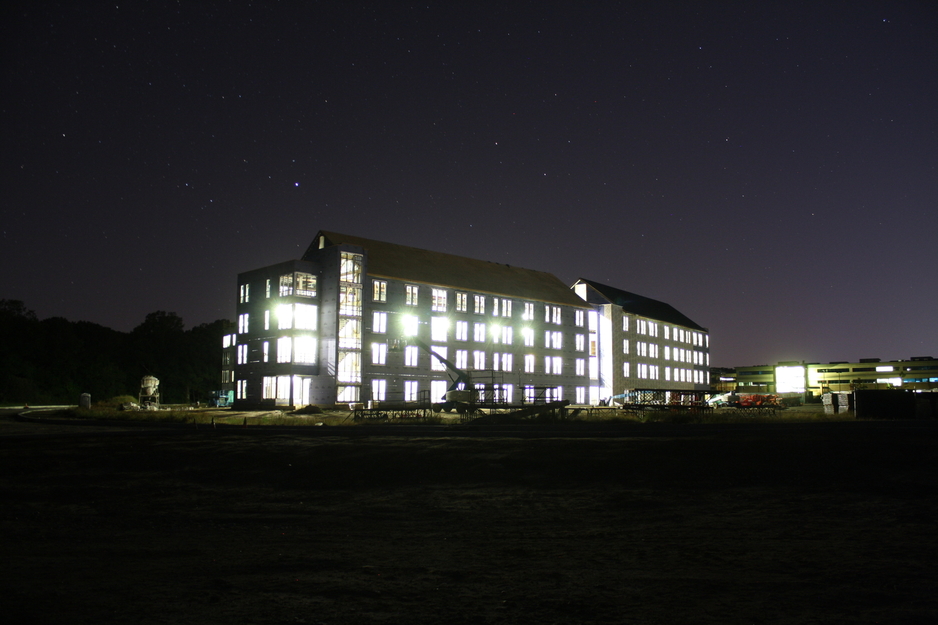 03: Closer
For a solid half an hour I slowly made my way along the outer perimeter of the construction site and took my time so that if security showed up, I could still maybe weasel my way out of it.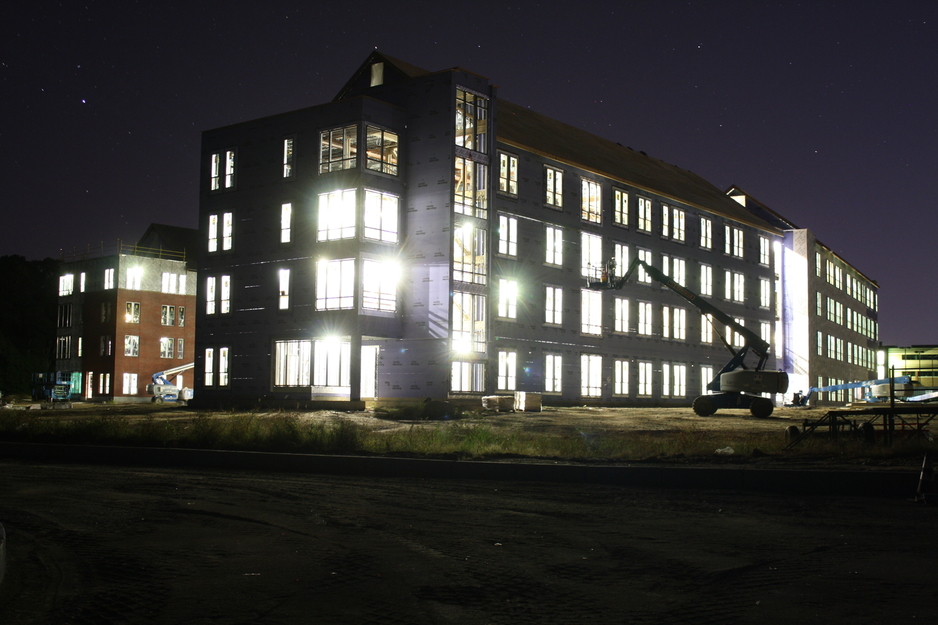 04: The Rubicon
But security never appeared, and I found an easy way in. Heart pounding, I admit to hesitating in front of this doorless door.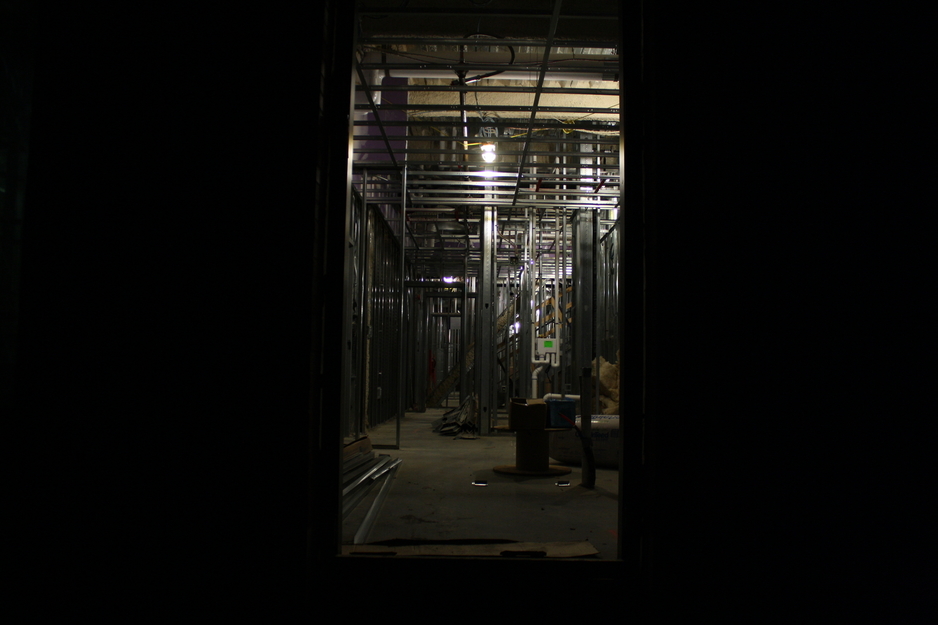 05: Step Out of the Dark
I was now standing inside of the unfinished dorm building.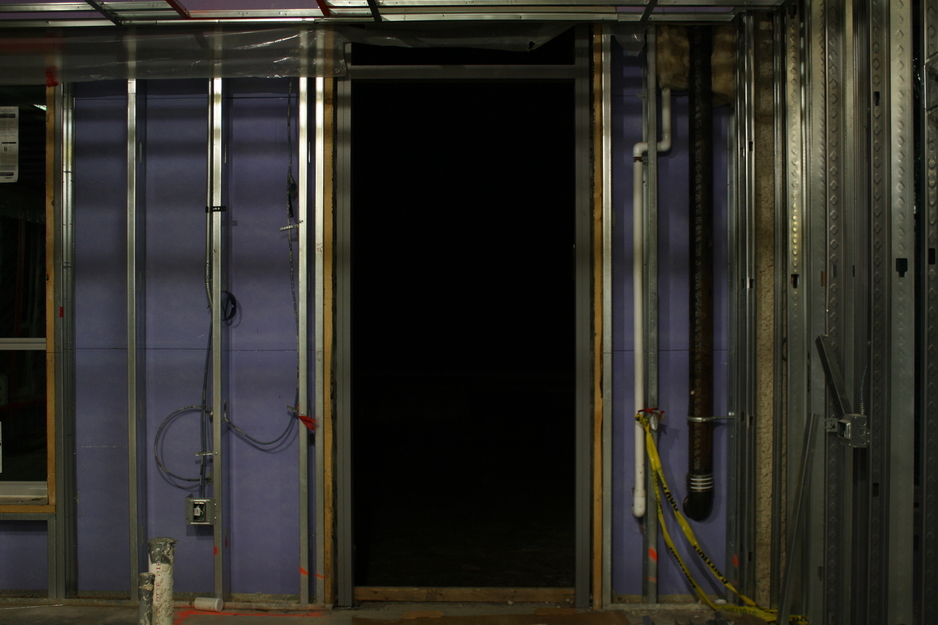 06: Aluminum Lattices
This building features a concrete and steel construction with smaller metal frameworks all throughout to form the floorplan. The doorway I entered through is off the left side of this photo.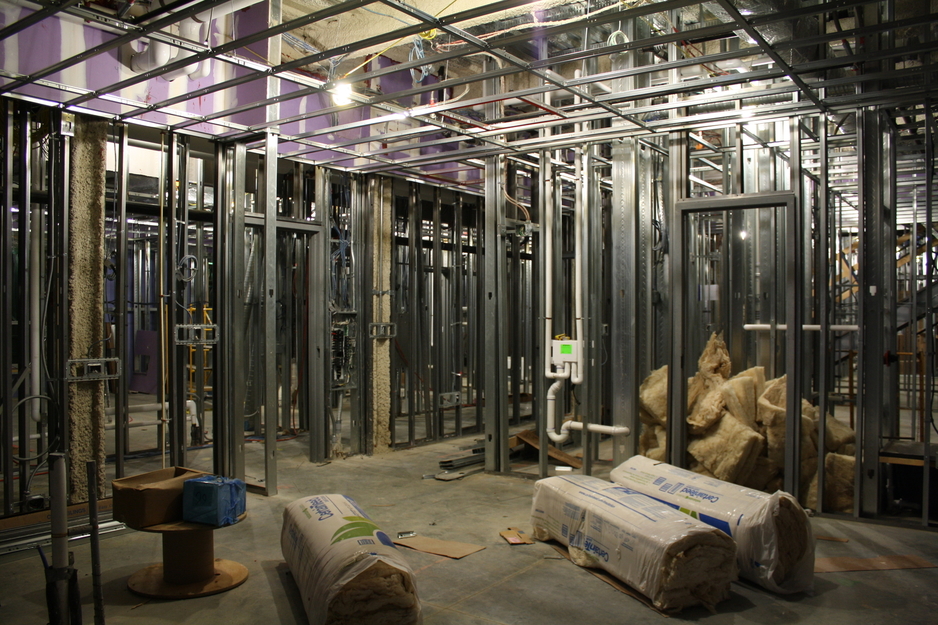 07: Down the Hall
This room turned into a long hallway with unfinished rooms on either side. I couldn't tell if they were to be dorm rooms, common areas, or maintenance facilities.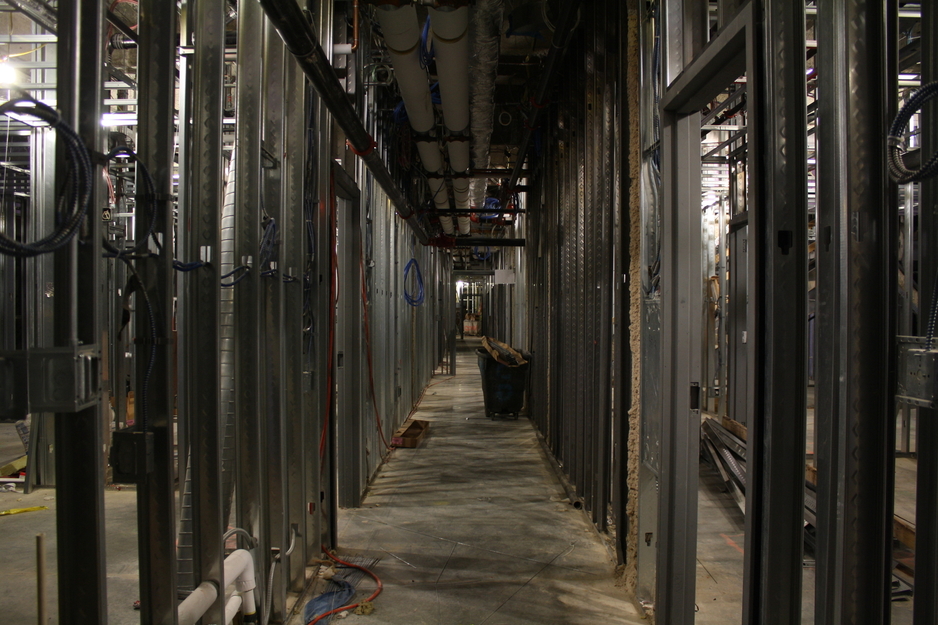 08: Newton Approved
They looked recent and I had half a mind to eat one... but thought better of it.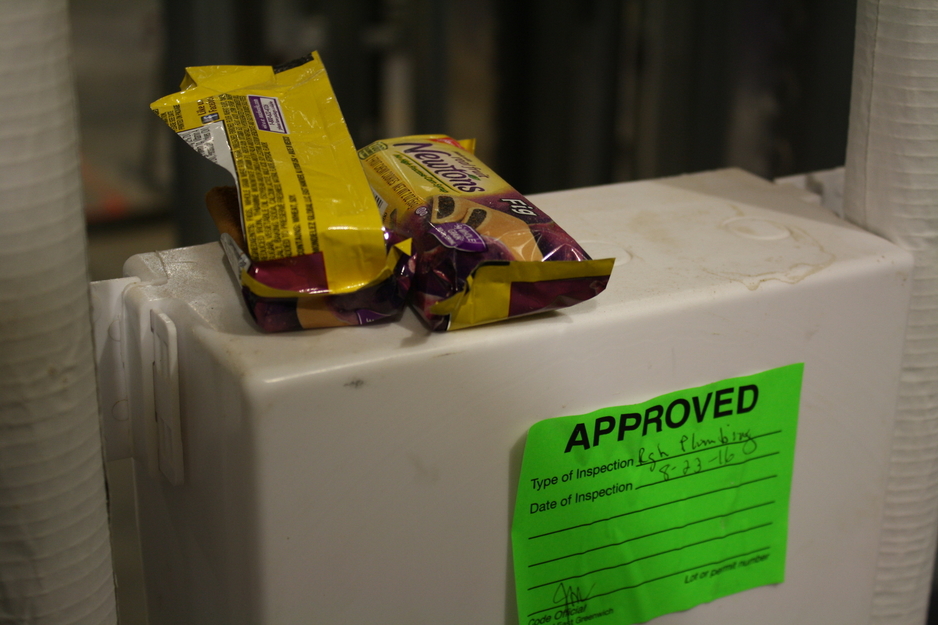 09: Orange Lift
An open window and just a smidge of fiberglass. Hopefully the students will get windows that open as well.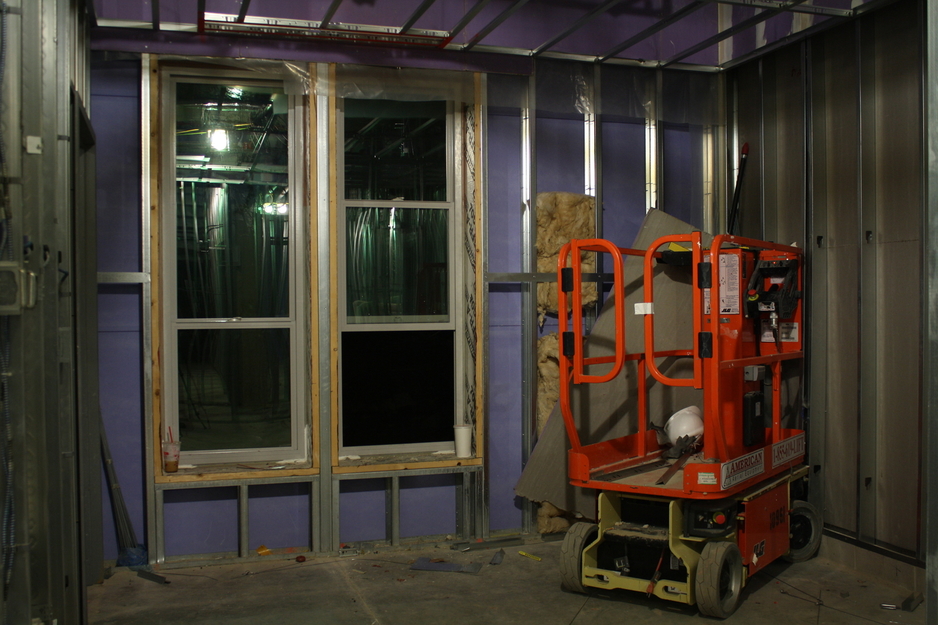 10: Drywall and Boxes
Venturing down the hallway got me into some maintenance rooms full of large boxes and heavy equipment.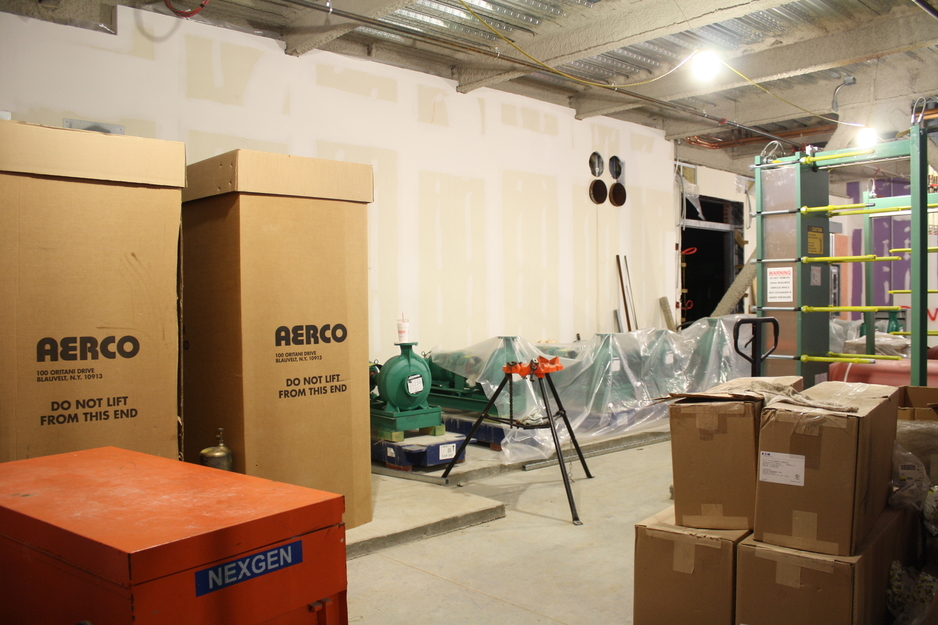 11: OSHA REQUIRED
I wasn't sure if that big metal thing was the heat exchanger nor whether it was active, but I sure as shit didn't want to find out at 3AM.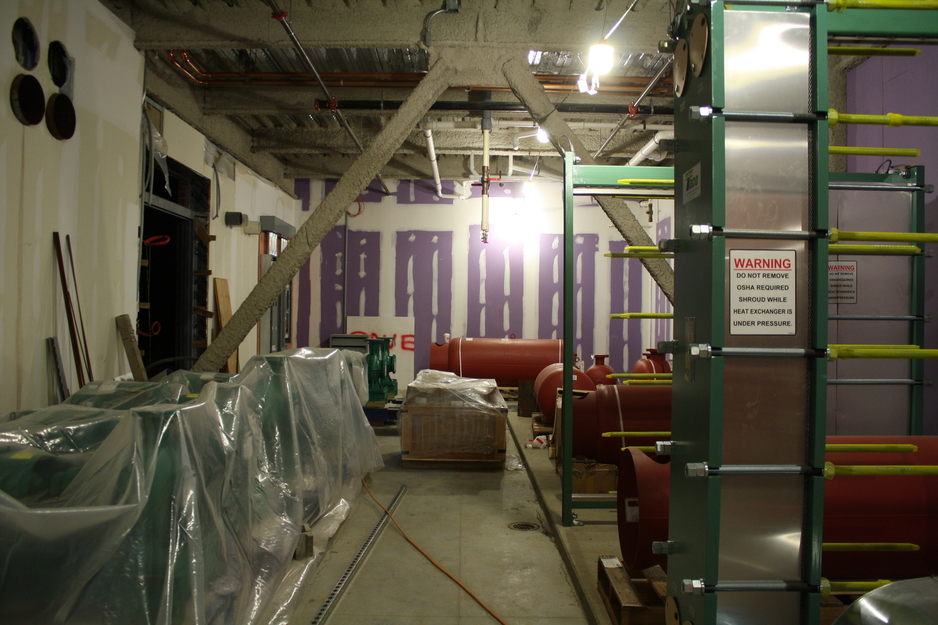 12: Power Control
These gray mammoths seemed to be the dorms' electrical distribution center. "Take only photos, leave only footprints" is both a good explorer's philosophy and a good strategy to not vaporize yourself.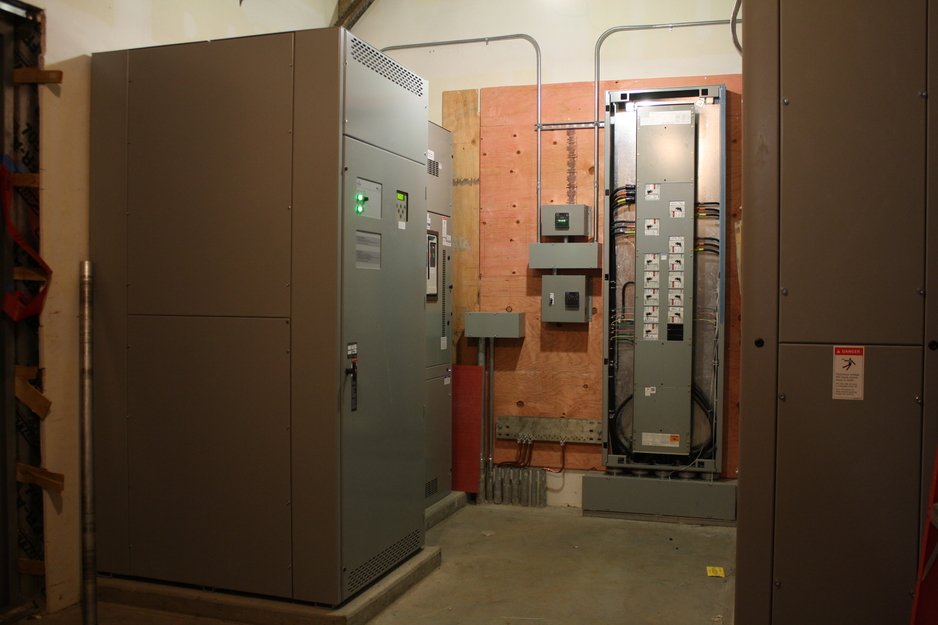 13: Second Floor
Eventually I'd made my way around the first floor and found the stairs up to the second. It looked almost identical.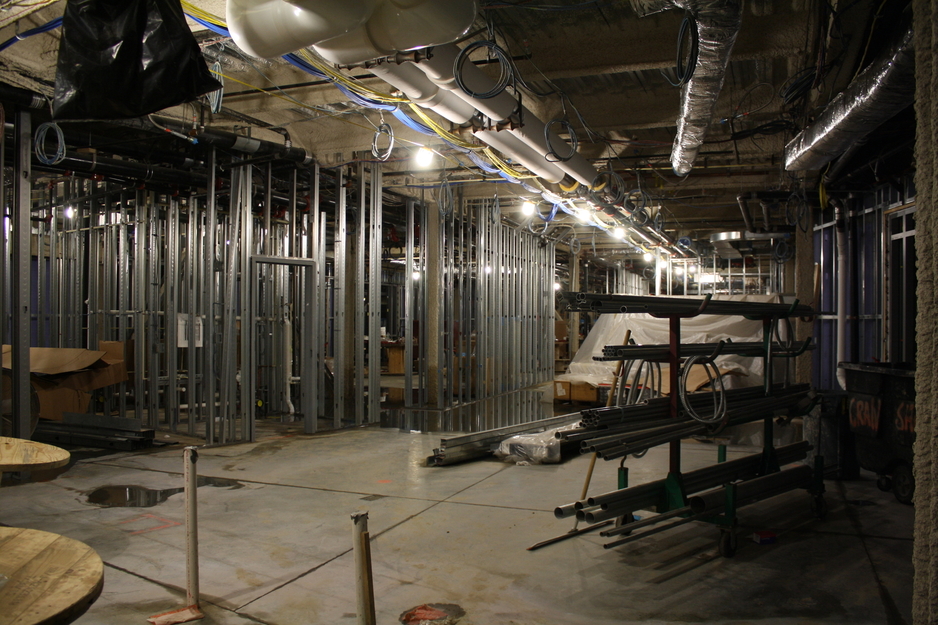 14: Loops
A ton of wiring conduits hung all over shiny new copper pipes.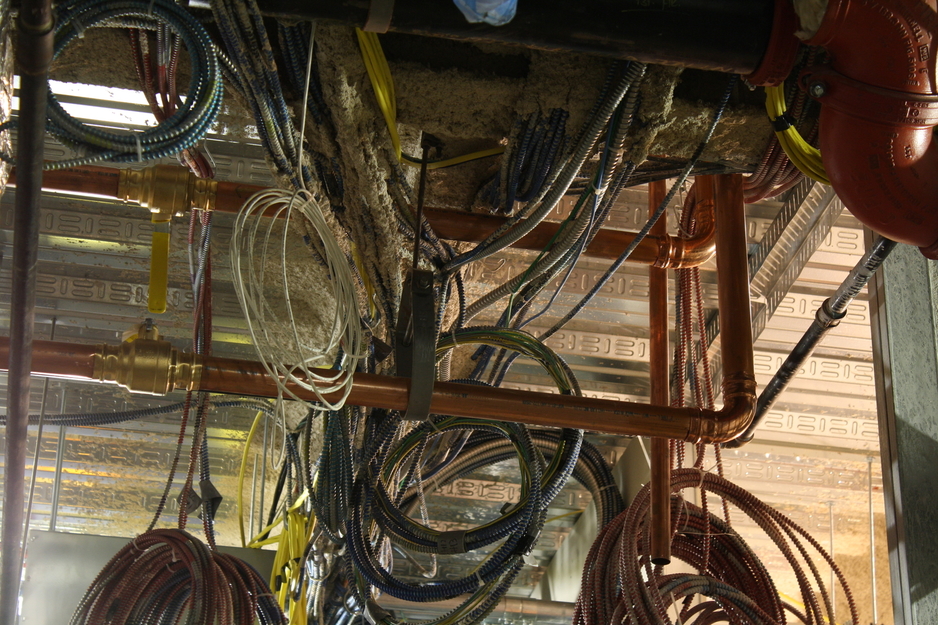 15: Stairs to the Third
Clearly they weren't done with this flight yet.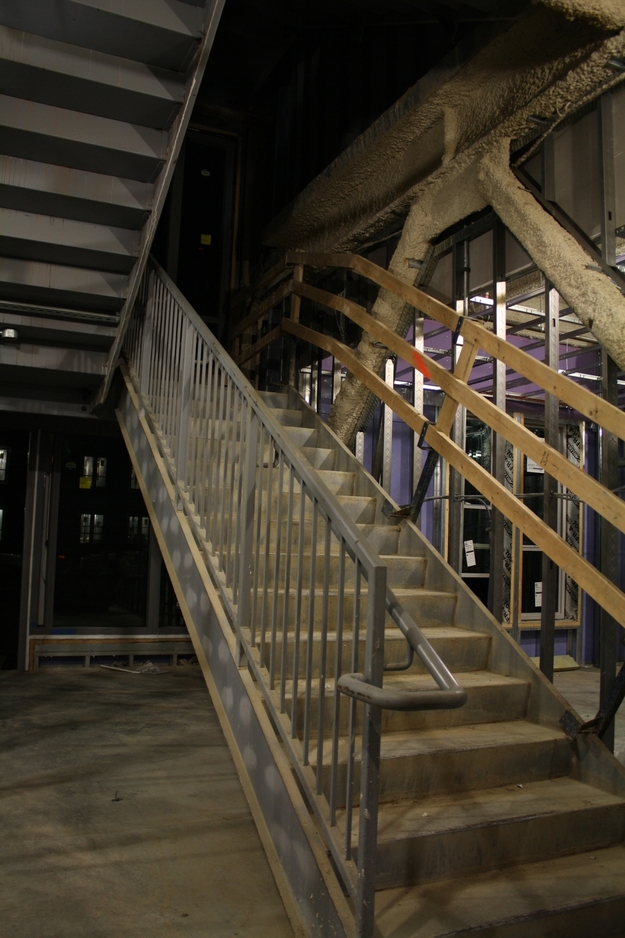 16: Purple Halls
I'm not sure what these walls were made off, but this wasn't purple paint.
This was very clearly a residential floor. Unfinished dorms flanked the hallways on each side.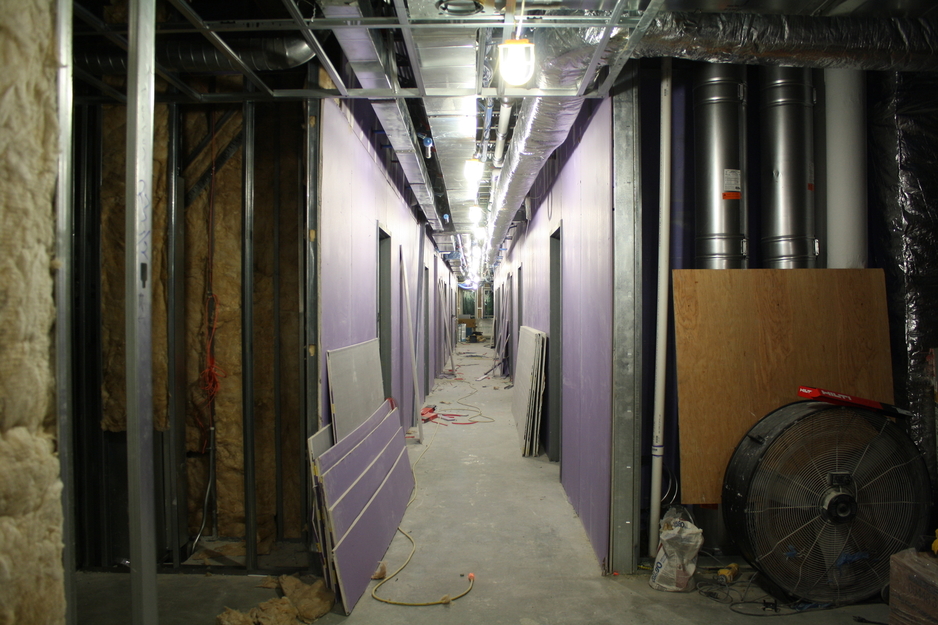 17: Inside a Dorm
Walking into a dorm presents two windows, which, if they work like the downstairs ones too should open enough to fit a fan into.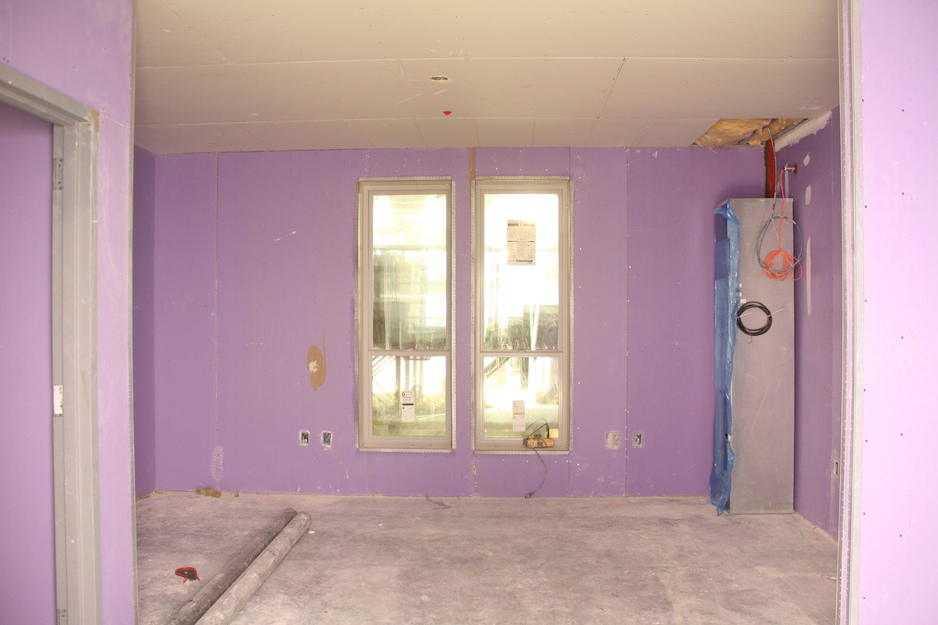 18: Inside a Dorm (Entrance)
The dorm's door opens into what looks like a small space for coats or something.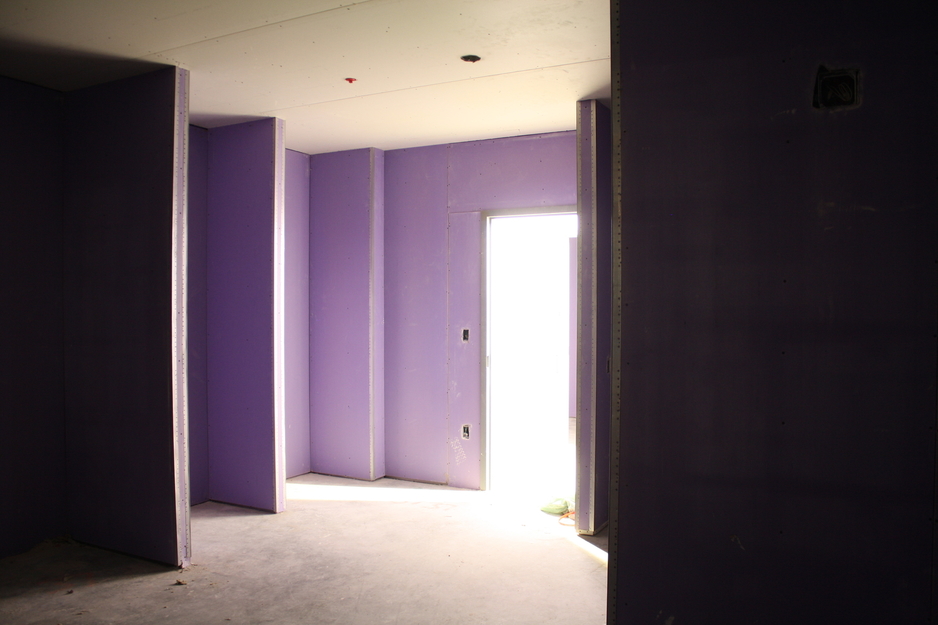 19: Shadowy Stretch
As I moved into the other side of the building, it became clear which side they were closer to finishing.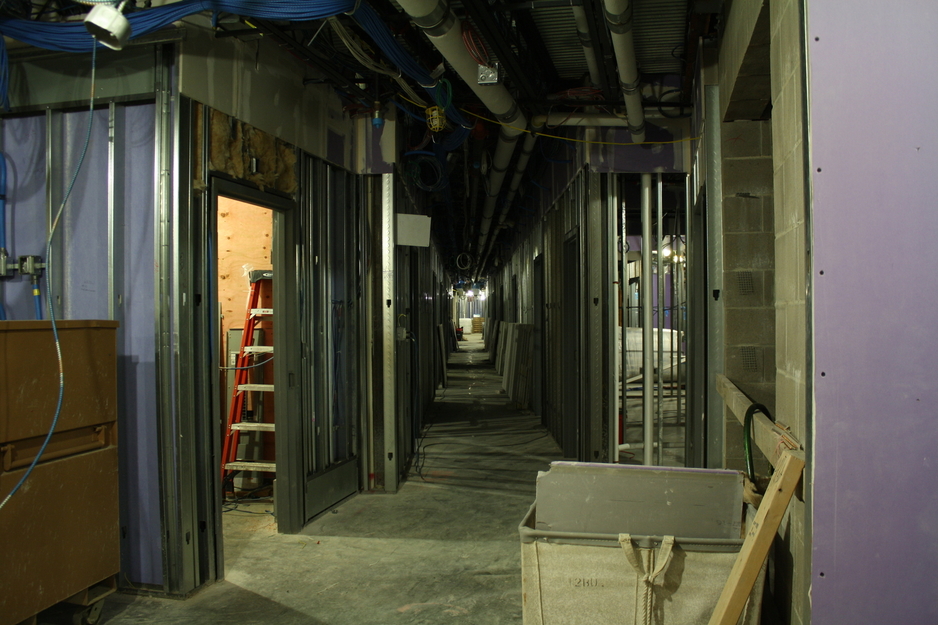 20: Atrium
The front of the building had a large open space for hanging out.
21: Atrium (2)
The railing was just wire tied to metal posts so I didn't lean over too far. This is when I started getting antsy, as the light were on here and These big windows are clearly visible from the college itself.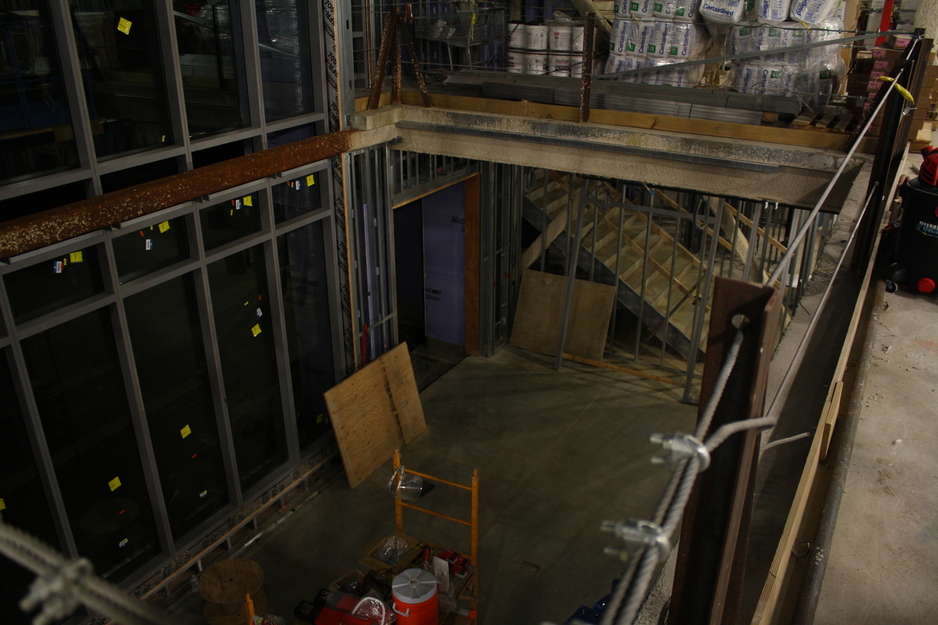 22: Loading Bay
It seems they deliberately left this wall open to bring in various materials without having to squeeze through doors or deal with the stairs.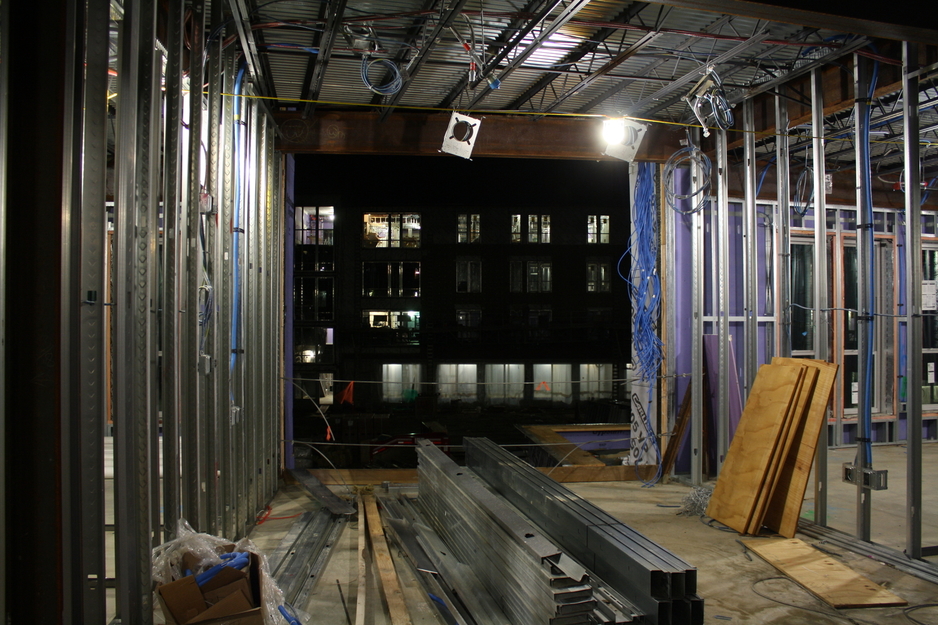 23: The Final Flight
My heart was thumping hard by the time I reached these stairs. I'd been here almost an hour, undisturbed, and this was the last floor of the building. I knew I'd never come back here after how nervous I'd been the whole time; I'd either see the fourth floor tonight, or I'd never see it at all.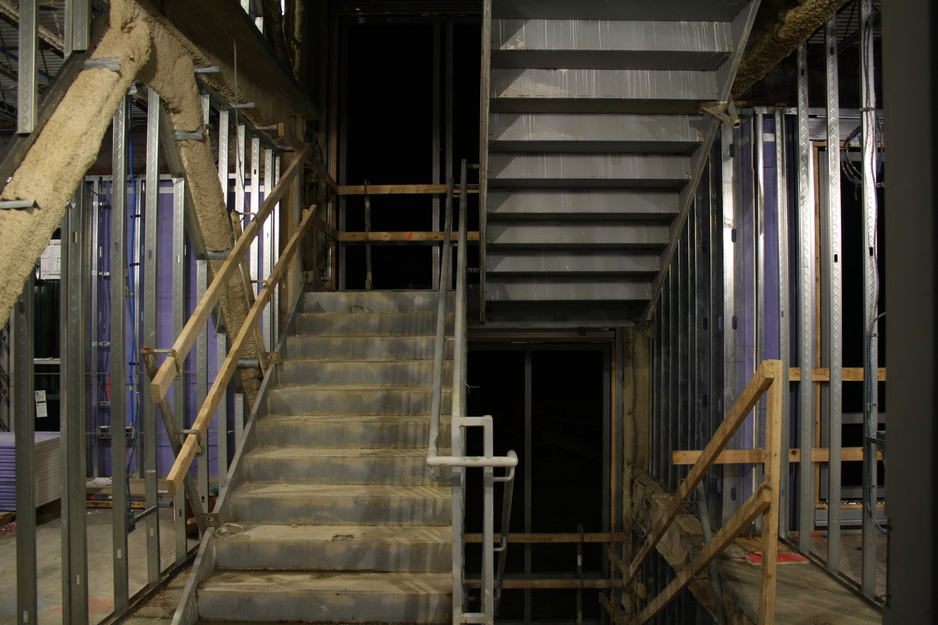 24: The Fourth Floor
This was it. The fourth floor. Upon setting foot here, I noticed a ripping sort of noise... like someone knifing through plastic sheets or cutting open boxes. The noise caught me off guard and it was at this moment that I began to panic. I quickly turned tail and began jogging back down to the third level. But I wasn't satisfied; I had no photo, no evidence, no proof of reaching the fourth floor!
And so I turned around and tiptoed back upstairs.
The tripod made no sound when it touched the floor, and I barely breathed. I focused, adjusted, and pressed the shutter - and my camera began its two second beeping timer. I wound up with overexposed nonsense and took this second shot with my heart in my throat.
Before the camera's preview was even over I swept up the tripod's legs, descended each staircase with extreme haste, and made my exit back through the same door I entered through.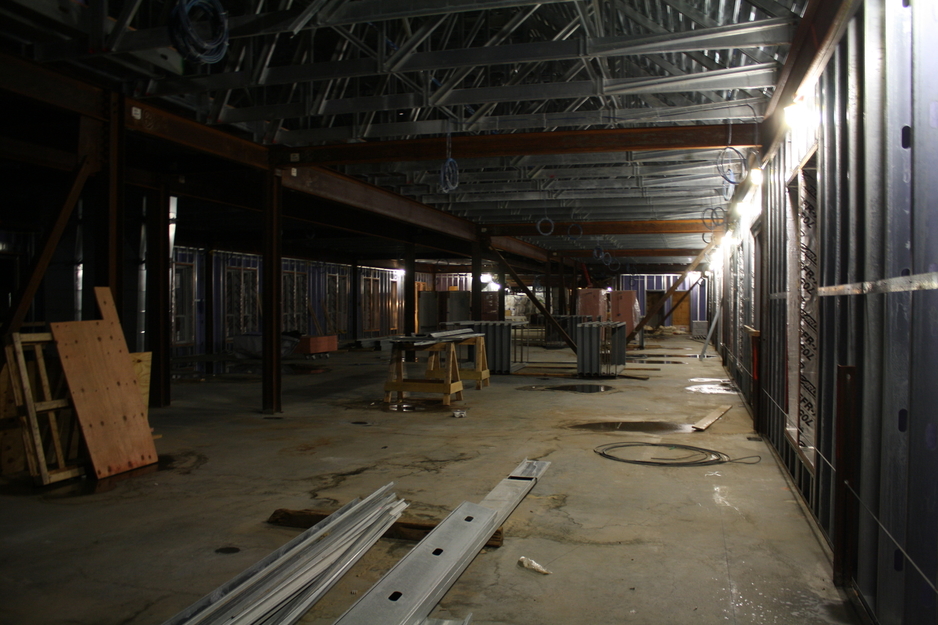 Epilogue
Now out of the building I retraced my steps around the perimeter. I still hadn't seen anyone, but the noise I heard earlier had me spooked and ready to leave. Tripod over my shoulder and bag swinging back and forth I approached some big dirt hills from earlier excavations. I was about halfway there when I began seeing a dim light moving across the leaves to the right.
I looked left, at the one thing I absolutely did not want to see: a flashlight pointed at me.
The flashlight redirected straight down almost immediately after I looked at it. Either the flashlight-holder got spooked too or they just didn't want to deal with the situation at what had become 4AM, because I made it behind the dirt pile and nobody followed me.
Continuing to trace my steps I reached the road I entered from and broke into the sprintiest sprint I could while carrying a tripod and other camera equipment. The paranoia was in full swing by this point and I took a long and circuitous backroad home.
What became of the guy with the flashlight or why they never followed me I'll never know, but now I drive past the building every day and remember this trip.