There's this big beautiful boat docked in the Fraser River that I've had my hungry eye on for a few weeks.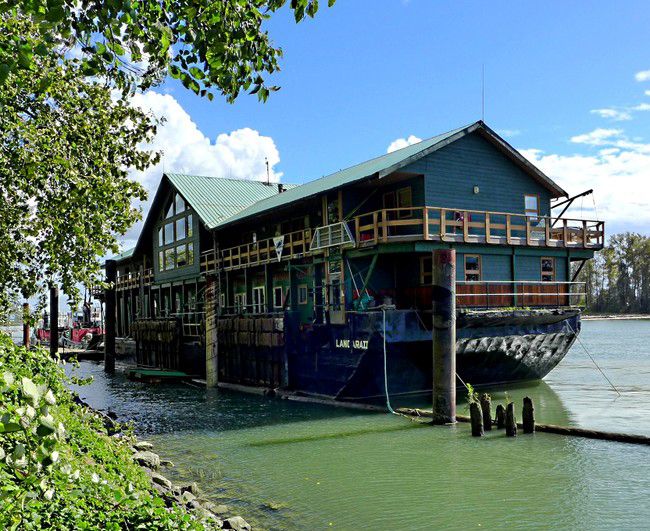 Not my photo. (Credit suppressed by ninjitsu.)
In fact it's a fishing lodge that makes its way up to Haida Gwaii every summer. At night you can peer from the shore through its large windows into its soft lamplit comfort. It looks like an empty floating hotel. I wanted inside that thing.
I was a bit shy about hopping over the fence into the shipyard at night, since it's well lit and there are always vehicles parked there. I couldn't be sure that there wasn't some kind of night watchperson. Also, though it looked unlikely, it was conceivable that someone might actually live in that floating hotel. It would be not nice to climb aboard someone's house at night.
The eternal debate: Go stealthy by night, and risk appearing so much more guilty if you get caught, or saunter in by day, but be much more likely to be caught or stopped? I wavered, and meanwhile went back several times, by night and by day, to look, and to yearn.
Today, though it was late in the day on a holiday, the gate was open, and I just decided to go straight to the office and ask for permission. The office was locked. I strolled alongside the big boat, trying to look like a photographer mentally composing photos. I strolled up the ramp and right on board. It was wide open, and no one in sight. Christmas!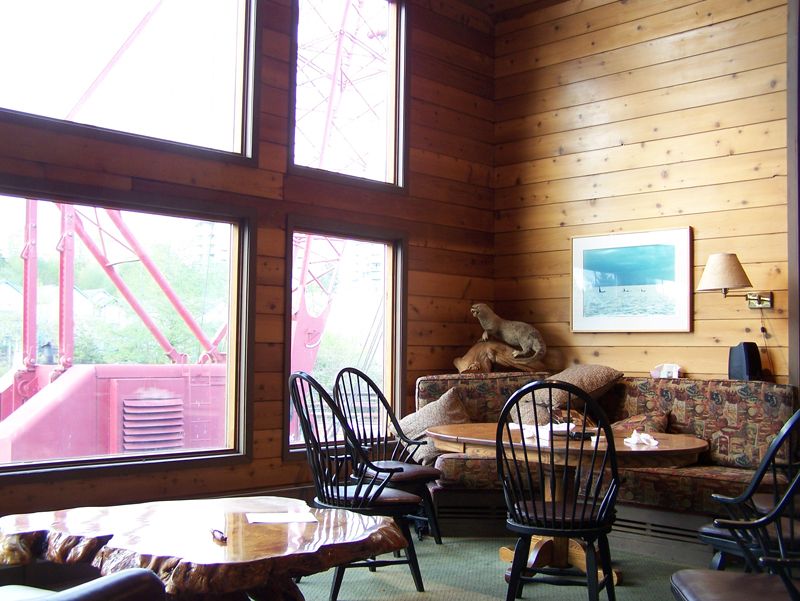 I was prepared to hail the first person I saw, and grin and say, "Hi there! I was LOOKING for someone to ask permission to take a few photos." But when I reached the large common hall area and still hadn't run into anyone, I decided just to take a few photos.
Blurry panic shot -- with tripod!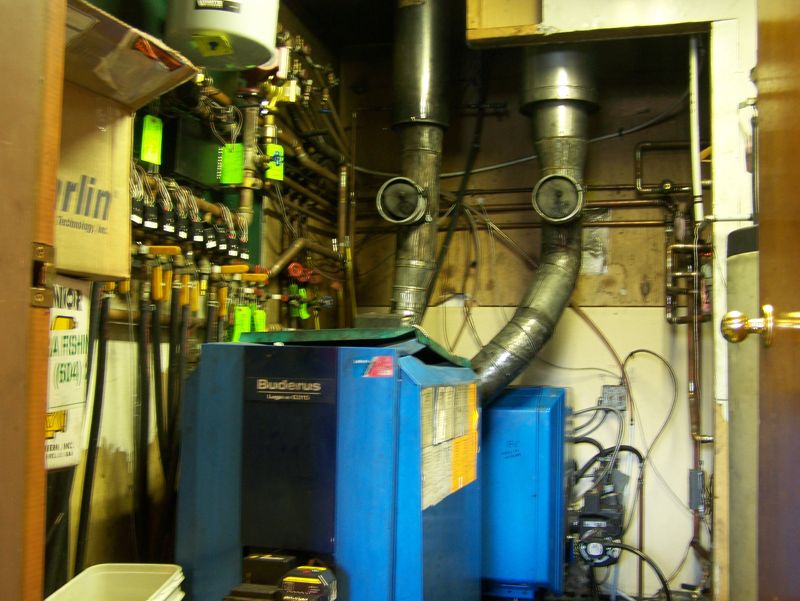 Blurry panic shot with tripod.
Aside from a small mechanical room and a small laundry room, I peered into a number of guest rooms. Most of these were stripped down, or cluttered with boxes, or filled with bags of linen. Clearly the lodge was still being prepared for its summer glory. There were also tool belts and coffee cups lying around.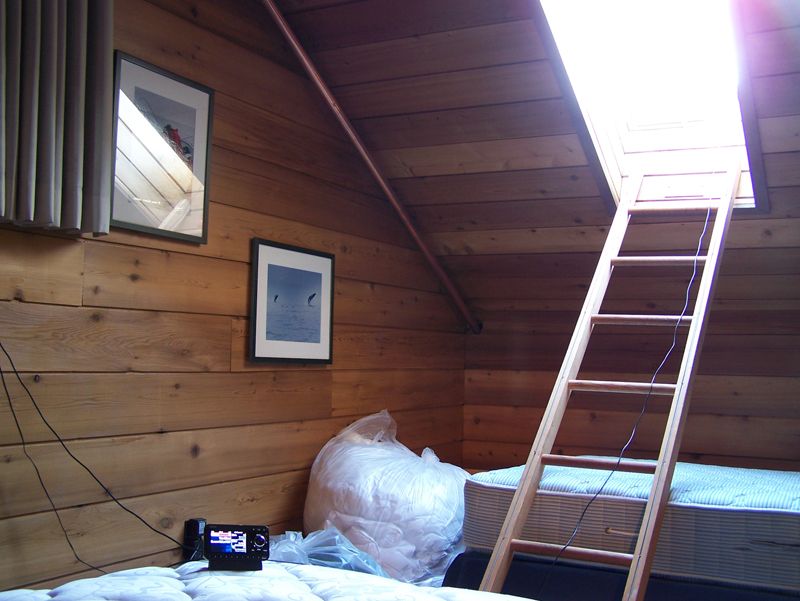 Satellite radio was playing Stevie Nicks.
I went upstairs and looked at more guest rooms, then decided to go downstairs, in search of picturesque engine rooms or, I don't know, steam tunnels. At the bottom of the stairs I looked down one hall, then down the other. I thought I could see a bit of someone's back sitting in a chair, and decided to return upstairs.
I prowled around a little more, took a few more photos, and tried to tell myself NOT to tiptoe -- that was suspicious behavior. (Again the debate: be a stealthy creep, or a noisy innocent?) At the far end of the "main" floor hallway, I stepped out onto the deck, then opened the door to Suite 14, which I thought must be something special if it has a separate front door. It was very warm in there, and I saw two pairs of shoes sitting neatly by the entrance. I had the feeling someone lived here. I closed the door quietly.
Then I put away my camera, took a deep breath, and decided to go downstairs and ask whoever I encountered for permission to take some photos.
Halfway down the stairs, I heard a voice, changed my mind, and turned back.
I decided that this had been a successful infiltration, and called it a day.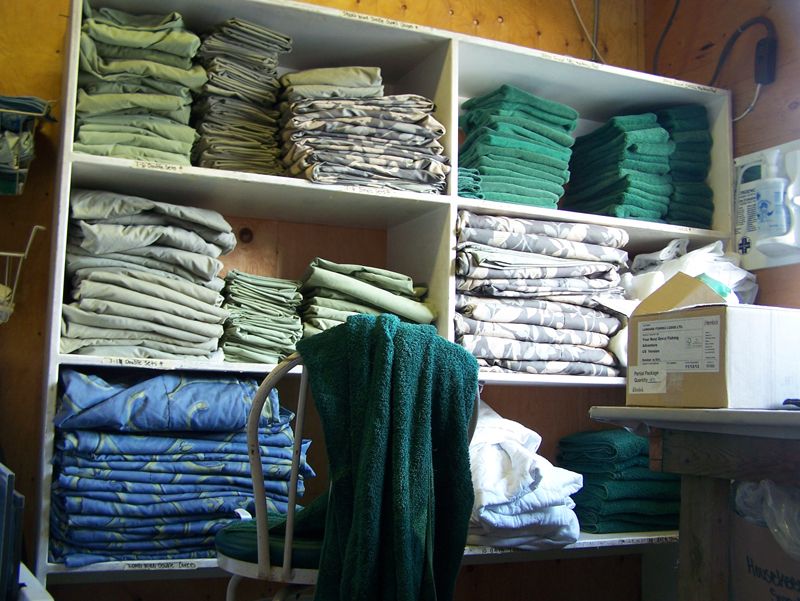 Strolling back towards the gate, the same way I'd come, I spotted a guy through one of the boat's windows, and he spotted me. I waved and came closer, while he quizzically opened his sliding patio door.
"Hi there," said I. "I was wondering who to talk to about maybe getting a tour of this boat, or asking permission to take some photos of it."
"Okay, first of all, was the gate open?"
"Yes, it is open."
He said it shouldn't be. He told me that this was private property, and that just walking in here was the same as walking in to someone's house.
I said I was sorry about that.
"I'm amazed the way people will just walk in to an industrial site like this, an active site where, if they got hurt, we'd be liable."
"Yeah. Curiosity, I guess."
He said some more to the effect that it wasn't okay.
I agreed and said, "But speaking for myself, not being litigious, I'd never dream of blaming someone else if I got hurt ..."
"Yeah, anyway. If you come back during business hours, Tuesday to Friday this week, you can talk to John. He's the lodge manager."
"And he'll be where, here on the boat?"
"Right where I'm standing. You can ask him about a tour or taking photographs."
"Okay, thanks. I did check the office over there first, but didn't find anyone to talk to."
"That's because it's a holiday." He repeated that the gate shouldn't be open. I offered to close it on my way out. "Never mind. You don't know the code."
I thanked him, apologized for the inconvenience, recapped the information he'd given me, and said goodbye.
Later, biking away, I thought how funny it was the way people get angry at you for putting yourself in a position where you might hypothetically get hurt, then hypothetically sue them for not doing a better job of keeping your trespassing ass out of harm's way. And hypothetically get laughed out of court.
I also thought it was funny that he chastised me for "endangering" myself and for showing up after hours, then urged me to come back during business hours, when all that alleged dangerous industrial activity is actually happening.
I wonder if he'd have been as civil if he'd found me on his boat.
-- Postscript. I didn't go back between Tuesday and Friday, because I was busy. Now the lodge is on its way north.